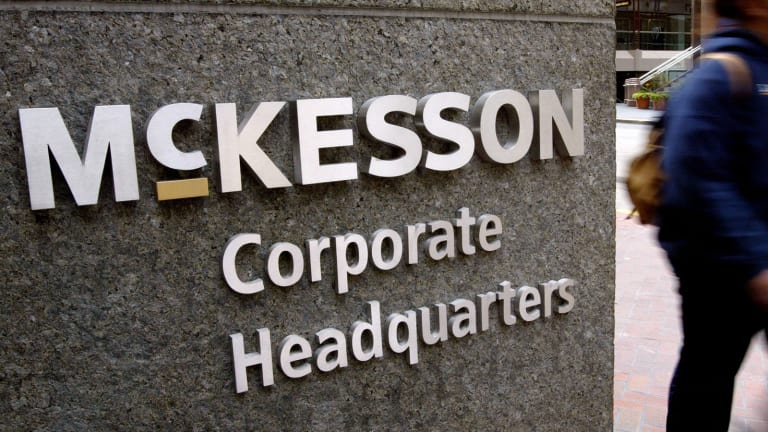 Teamsters to Protest McKesson's Shareholder Meeting Wednesday
ISS and Glass, Lewis echo the union's call for management to address the drug distributor's role in the opioid crisis.
McKesson Corp. (MCK) - Get McKesson Corporation Report will face some opposition at its annual shareholder meeting this Wednesday, July 26 from an unconventional activist investor -- a labor union.
The International Brotherhood of Teamsters not only plans to attend the shareholder meeting, but will also hold a protest outside the meeting's doors with the intent to shed some light on McKesson's position in the opioid crisis and "demand accountability for its role in fueling the epidemic", according to the union's most recent press release. Protesters will hold signs reading "McKesson CEO Makes a Killing as America Drowns in Opioids."
"Inside, we'll be pressing the company, outside there will be a protest," said Michael Pryce-Jones, Senior Governance Analyst at Teamsters. "We feel that this is a corporate governance issue that has impacted the opioid crisis." 
The union, a long-term shareholder of McKesson, is calling for reform in the company's governance and executive pay system. Earlier in July, Teamsters sent a letter to McKesson shareholders urging for a vote in favor of the union's independent chair proposal and against the company's executive pay proposal. The independent chair proposal would separate the chairman position from the CEO position whereas the executive pay proposal would re-structure the company's compensation plan. The Teamsters said pay plan would not sufficiently link executive pay to performance.
The union has some high-profile allies in the campaign, proxy advisory services Institutional Shareholder Services (ISS) and Glass, Lewis & Co. both reiterated Teamsters' sentiment in their own recommendations. ISS believes that the company's compliance program "should be closely monitored" and also believe that shareholders would "benefit from stronger independent board oversight." Glass Lewis issued McKesson a "D" grade in the company's pay-for-performance model.
In a report obtained by The Deal, Glass, Lewis said McKesson's "management of product governance issues is considered sub-standard, as demonstrated mainly by its lack of oversight regarding opioid prescriptions. In addition, there is no evidence that McKesson has implemented a board-level committee to oversee [environmental and social risks] or that it links environmental and social targets to executive remuneration."
Glass, Lewis also recommended that shareholders vote against the reelection of McKesson director Bryant, who also serves as executive chair of Intel Corp. (INTC) - Get Intel Corporation Report and on the board of Columbia Sportswear Co. (COLM) - Get Columbia Sportswear Company Report . The advisory service said Bryant serves on too many boards.
McKesson did not immediately respond to a request for comment. The company's shares rose 82 cents to $166.74 Monday.
According to Teamsters' General Secretary-Treasuer Ken Hall, McKesson should be held accountable for their role in fueling the opioid crisis.
"McKesson's failed oversight of prescription opioid distribution not only contributed to the rapid spread of this deadly epidemic -it has created significant financial and reputations risk for shareholders," Hall wrote in a statement sent to TheStreet. "There must be accountability for McKesson's poor performance on this critical issue. It's a matter of life and death."
McKesson is the largest drug distributor in the United States and has a hand in dispensing a third of all medications in North America. In 2015, the United States Department of Justice announced a $150 million settlement with McKesson for the company's failure to report a suspiciously large amount of opioid orders.
A lawsuit is brewing in West Virginia, one of the states hit hardest by the epidemic that is seeking billions in damages. Over a five-year period, McKesson in junction with Cardinal Health (CAH) - Get Cardinal Health, Inc. Report and AmerisourceBergan Corp. (ABC) - Get AmerisourceBergen Corporation Report , shipped enough doses of hydrocodone and oxycodone to provide 235 pills per person throughout the entire state. Walgreens Boots Alliance (WBA) - Get Walgreens Boots Alliance Inc Report and CVS Health Corp. (CVS) - Get CVS Health Corporation Report are also named in the lawsuit.
More of What's Trending on TheStreet:
Trump Just Resurrected the Ugly Practice Known as Civil Forfeiture for No Reason
60 Second Tips: Best Return on Your College Investment
I