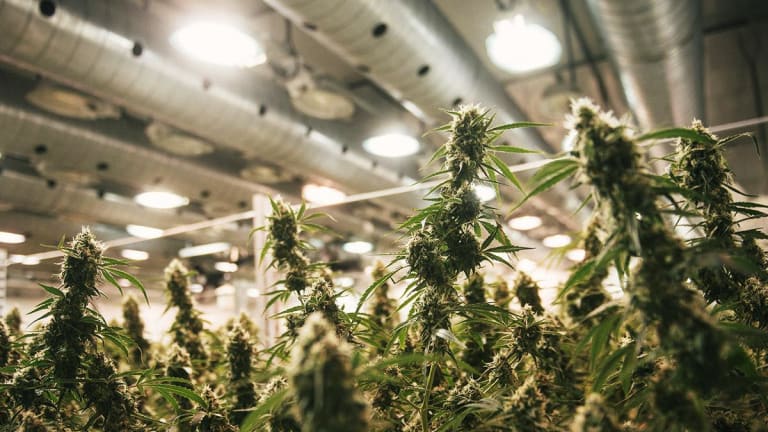 What Are the Side Effects of Marijuana? Experts Explain in 2018
As cannabis becomes increasingly legalized in a recreational and medicinal capacity, what actually are the side effects of marijuana? Experts told TheStreet the things you need to know about how the plant affects you.
Recreational Cannabis is now officially legal in Canada. But with this wave of legalization approaching the U.S., research on marijuana and its effects is still a bit behind compared to other legal drugs like tobacco and alcohol. In fact, the effects of cannabis have been debated even with the limited evidence procured by the medical community. Due to the fact that marijuana is still federally illegal (being classified as a Schedule 1 drug by the Food and Drug Administration), research is somewhat difficult. Still, marijuana use, both in recreational and medicinal capacities, persists. And, in fact, the market seems largely bullish on marijuana. 
But with the surge of cannabis investing taking the U.S. by storm, what do you need to know about the plant's actual effects? And, is it safe? 
What Is Marijuana?
Let's get back to basics.
Marijuana (also referred to as cannabis) is a plant comprised of over a hundred compounds that have varying effects on the body. And while you may associate marijuana use with, well, getting high, the plant actually has a variety of uses in its various forms.
One particular group of compounds, terpenes, are responsible for marijuana's different scents and flavors. And, when you hear people referencing what "strain" of cannabis they have, they are typically referring to either sativa or indica. Different strains have different effects on the body, as some are higher in certain compounds than others which impact the experience. Learn more about the difference between the two here. 
But when determining the various uses and effects of marijuana, the plant is typically siphoned off into two compound categories: cannabidiol (CBD) and tetrahydrocannabinol (THC).
THC vs. CBD
While just two of around 113 compounds in cannabis, CBD and THC are perhaps the two most utilized in cannabis products - and not just smoking. 
But what's the difference between the two? And how are their side effects different? 
Put simply, as the psychoactive component of marijuana, THC is the compound in marijuana that gets you high. However, the compound also has been shown to help treat various ailments including nausea, joint and headache pain, asthma and even eating disorders. Still, THC's uses remain primarily recreational given the psychoactive component - although with the recent legalization of recreational marijuana in Canada, its uses may span even farther. 
On the other hand, CBD has no psychoactive element, so no matter how much CBD you use, you won't get the same buzz as with high levels of THC in cannabis. But CBD has a wide variety of medical applications that have helped it become the key ingredient in certain medications, including GW Pharmaceutical's (GWPH) - Get GW Pharmaceuticals PLC Sponsored ADR ReportEpidiolex. As a medication used for treating epilepsy, Epidiolex capitalizes on CBD's qualities that have been shown to treat not only seizures but a variety of other health conditions including Parkinson's disease, anxiety, and possibly even cancer.
Learn more about the differences between THC and CBD. 
What Are the Side Effects of Marijuana? 
But, what are the actual side effects of marijuana use - whether you smoke it, eat it, brew it, apply it, or use it in another form? 
Consuming marijuana activates receptors in the brain that release dopamine, and are often associated with pleasure like those experienced when eating or having sex. The immediate effects of smoking or ingesting marijuana (with THC) include feeling euphoric, lightheaded, giddy, relaxed, and often hungry. Additionally, some marijuana users may experience a feeling of time being altered or of colors being more vivid. 
However, several adverse effects have been noted, primarily with high-THC marijuana. The National Institutes of Health (NIH) reported that side effects like paranoia, psychosis, impaired judgment and impaired cognitive and coordination functions. 
According to the Potency Monitoring Project, the levels of THC in marijuana have increased in the past several decades from 1% in the 1970s to over 13% in 2013. This rise has prompted concern in the medical community over the effects of high-THC marijuana, especially following an increase in marijuana-related emergency visits in Canada.
Still, with cannabinoids (CBD), the CB1 and CB2 receptors in our bodies interact with the compound when it travels through the bloodstream and into the brain. 
With pure CBD or a CBD-heavy strain of marijuana, side effects like pain relief, relieving insomnia, anti-inflammatory effects, and even neuroprotective properties have been shown. CBD is often used as an oil for topical pain relief, but has found a lot of uses in the medical community for treating things like epilepsy and multiple sclerosis. 
However, some of the side effects of smoking marijuana, apart from possible paranoia or loss of cognitive functions and coordination, are tied to how you consume it. In fact, pulmonary specialist Dr. William Checkley, M.D., Ph.D. from Johns Hopkins University, who participated in a 2017 National Academies of Sciences, Engineering and Medicine study on the Health Effects of Cannabis and Cannabinoids, has some concerns.
"One of the biggest issues with cannabis is when you smoke it. It is not just the drug that you're smoking in...there are also all different kinds of components that come in with the burning of any substance," Dr. Checkley told TheStreet this summer. "There is substantial evidence supporting an association between cannabis smoking and respiratory symptoms. And people who smoke cannabis have more frequent episodes of respiratory symptoms and in particular, chronic bronchitis, which is a combination of cough and phlegm."
Although a general lack of knowledge on the long-term effects of marijuana use makes most studies somewhat inconclusive, the cannabis industry has certainly been heating up. 
But, is there a difference between short and long term effects of using cannabis? 
Short-Term Use vs. Long-Term Use
According to new research this year, the negative cognitive effects of marijuana use among adolescents and young adults may not be as harmful as previously suggested - in fact, studies show that certain cognitive effects like memory loss, attention span and other functions had very little impact after 72 hours. This lack of effect was even consistent with long-term users. However, users should still be cautious.
"There have been very important studies showing evidence for irreversible damage (from marijuana use), and so there needs to be more research in this area," Kevin Sabet, assistant adjunct professor at the Yale School of Medicine and president of the nonprofit Smart Approaches to Marijuana, told CNN this year. 
Additionally, on the scarier side, the NIH reported a variety of negative long-term effects like chronic bronchitis, addiction (about 9% of users overall), impaired coordination and cognitive skills, among others. However, those like Dr. Checkley still find it hard to associate marijuana smoke with the same kind of harmful effects as tobacco.
"It's clear that if you stop smoking cannabis, your respiratory symptoms can improve," Dr. Checkley explained to TheStreet. "What is less clear is that we couldn't really separate how it is with people who smoke cannabis frequently or chronically -- whether they are high risk of developing chronic obstructive pulmonary disease, which is what you see with tobacco smoke."
On the short-term user side, some of the effects of marijuana are the positive ones like feeling relaxed and euphoric, but also include more dangerous side effects like diminished motor skills - which, according to Dr. Checkley and multiple studies, puts marijuana users at a 20% to 30% higher risk of a vehicle crash. 
Still, the effects of marijuana vary depending on whether it is consumed recreationally or medicinally.
Recreational vs. Medical Marijuana
The side effects for recreational marijuana are often the positive ones traditionally associated with "smoking pot" - including those relaxation and lightheaded effects mentioned earlier. 
Recreational marijuana is consumed in a variety of ways, including smoking, vaping, tinctures, edibles and topicals.
On the other hand, medical marijuana has found a wide variety of uses - and is starting to become a major area of interest for pharmaceutical and consumer companies alike.
Studies have shown the effectiveness of CBD in dramatically improving symptoms for post traumatic stress disorder (PTSD), epilepsy, multiple sclerosis, anxiety, migraines, and a variety of other ailments. 
Some doctors have even claimed CBD and medical marijuana may be used to treat certain cancers. Dr. Aung-Din, M.D., a general neurology and neuro-psychiatry specialist, told TheStreet earlier this year that he has used CBD and marijuana compounds to treat a variety of patients.
"I'm treating patients with PTSD, fibromyalgia, cancers [and] finding cancers regressing when chemotherapy was not helping, so it's a pretty amazing journey," Dr. Aung-Din said.
In fact, the approval earlier this year of Epidiolex by the FDA seems to have opened the floodgates for new CBD-based medications.
"I think that the approval of Epidiolex in the United States is likely to usher in a new era of cannabinoid-derived pharmaceuticals," Kris Krane, president of 4Front Ventures, told TheStreet earlier this year. "The only real cannabinoid-based pharmaceutical that was out there was Marinol, which is a synthetic THC, and has not proven particularly effective or popular. But having a naturally-derived cannabinoid-based medicine is positive. I know there are other companies out there that are working on different types of cannabinoid-based drugs, so I think it's likely to usher in a new era of cannabinoid-based pharmaceuticals and that's overall positive."
Where Is Marijuana Legal? 
Currently, marijuana is legal in 29 states plus Washington, D.C. in some form or other (either for recreational or medicinal use). 
However, recent interest on the political side in legalizing marijuana is giving investors and consumers alike renewed optimism in the so-called "Green Rush."
"The process to legalize and properly regulate marijuana should be seriously reviewed and advanced," New York Senate Democratic Leader Andrea Stewart-Cousins (D-Westchester) claimed in a statement earlier this year. "More and more New Yorkers understand the harm that has been done by criminalizing marijuana, arresting and giving records to millions of our youth, and allowing shadow markets to flourish. We need to start to undo the damage from this misguided policy, and that means advancing common sense legalization efforts."
And with the most recent legalization of marijuana in Canada, it seems as though the fire may be under the government's feet. 
How to Invest in Marijuana 
There are a variety of options to invest in the blossoming cannabis industry.
Some popular pot stocks include OrganiGram (OGRMF) - a licensed producer and grower of medical marijuana, Canopy Growth Corporation (TWMJF) and, of course, the ever-volatile Tilray (TLRY) - Get Tilray, Inc. Report which saw a shocking 21% share price increase after its IPO. 
Still, if you're looking to invest in other options, stocks like Scotts Miracle-Gro, Co. (SMG) - Get Scotts Miracle-Gro Company Class A Report , which acquired some cannabis companies, or even a pot ETF like ETFMG Alternative Harvest (MJ) - Get ETFMG Alternative Harvest ETF Report might be a better bet.
Learn more about investing in cannabis here, and follow TheStreet for updates.