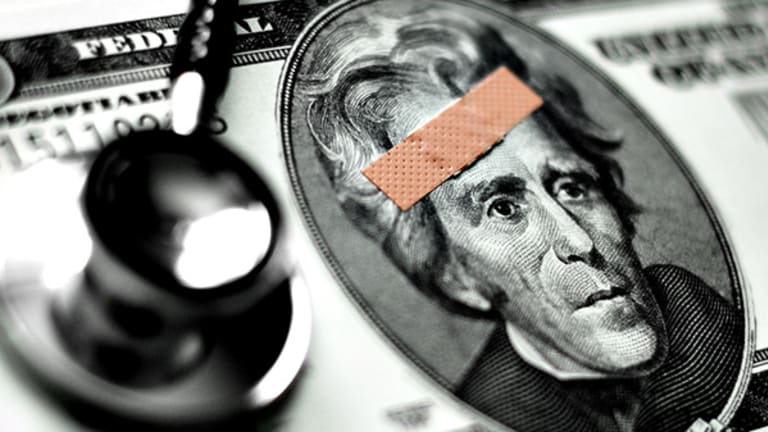 Should Retirees Tap Into Home Equity to Pay for Medical Costs?
Is it a good idea to use home equity to cover the high costs of injury or illness? Maybe so, but only under these conditions.
Health care costs are skyrocketing, and for retirees and near-retirees who have not prepared properly, those costs can engulf a household budget.
Consider these figures, from a 2017 study by Health View Services: a U.S. retired couple who both live to their late 80s can expect to pay over $400,000 in total healthcare costs.
A separate study from Nationwide Mutual shows the vast majority of U.S. adults state that "one of their top fears in retirement is their health care costs going out of control (74%) and they are terrified of what health care costs may do to their retirement plans (64%)."
With huge health care costs on the horizon, U.S. retirees, especially those 77 million Baby Boomers heading into their golden years, will need to access any financial option they can to cover skyrocketing healthcare prices. But should those options include household equity, long used as a resource for common, everyday financial needs?
Some experts say yes, mostly because so many retirees have no choice. For them, the way out is using home equity to pay for long-term health care needs.
More of What's Trending on TheStreet:
Walmart Is Pulling Off a Surprising Feat in This Major Country
Fort Knox Has a Mind-Blowing Amount of Gold Currently Hidden In Its Vaults
"Whether it's Medicare, Obamacare, TrumpCare or NoCare, health care costs are one of the biggest challenges facing Baby Boomers, both retirees and pre-retirees," says Greg Cook, a reverse mortgage specialist at Reverse Lending Experts, in Temecula, Calif.
In a perfect world, families would have saved enough to cover the unforeseen expenses that face them as they approach (or live in) retirement, says Cook, who sees retired couples grapple with health care costs on a regular basis. "However, it would have been impossible to plan for the skyrocketing health care costs as well as the increasing costs of every day goods and services," he says. "Yet a person's home, or more accurately the equity in their home, is the most valuable asset they have. But as long as that equity is trapped in their home it has the same cash value as Monopoly money."
While retirees could tap into their retirement accounts to pay for health care needs, those funds are subject to state and federal taxes, Cook explains. "That means they would need to borrow an additional 15% to 20% in order to meet their income tax obligation," he says. "Plus, if they are already receiving Social Security payments, those additional funds could trigger a tax torpedo and make up to 85% of their Social Security income subject to federal taxes. But using funds from home equity is not considered income and therefore not subject to taxation. That's a good option for so many seniors who are swimming in equity but drowning in debt."
Home equity loans are a great idea, because they allow you to pay a lower interest rate than you might otherwise have to for other types of loans, offers Jennifer Roquemore, a specialist at Jump Trading, and a former home equity specialist at a mid-sized commercial bank.
"Just make sure you read the terms and conditions of your loan carefully to understand any potential interest rate risks that you may be incurring," Roquemore advises. "If you have a variable interest rate loan and the rates rise soon after you borrow the money, you could get yourself into trouble if you're not prepared."
More of What's Trending on TheStreet:
Walmart Is Pulling Off a Surprising Feat in This Major Country
Fort Knox Has a Mind-Blowing Amount of Gold Currently Hidden In Its Vaults
A good alternative to home equity loans is cash-out first mortgage refinancing, Roquemore adds. "Because a home equity loan is essentially a second mortgage, many lenders are reluctant to offer it since they are behind the first lender in line to be paid if you default," she says. "However, a cash-out refinancing allows you to refinance your first mortgage and also cash some of the equity from your home."
Even so, not all financial professionals are sold on the idea of using home equity to cover long-term health care costs.
"Absolutely not," says Chris Cooper, an investment advisor at Chris Cooper & Co. in San Diego.
Cooper's reasoning is unique, but instructive for Baby Boomers and other retirees worried about rising health care costs. "Medical bankruptcies are special compared with general consumer bankruptcy (Chapter 13)," he explains. "You can get relieved from most medical debt in most states, but definitely will not get out of consumer type debt like mortgages, home equity loans, and credit cards."
"Also, most states don't protect your home in bankruptcy -- only Florida and Texas do this," he adds. "Other states may let you keep a minimal amount of equity, like $5,000." 
Cooper has one more idea that seniors may or may not like -- but one that could become another way out of high health care charges.
"Here's a better idea," he says. "Go to another country to have medical [care] or surgery where you can afford to pay cash."
More of What's Trending on TheStreet:
Walmart Is Pulling Off a Surprising Feat in This Major Country
Fort Knox Has a Mind-Blowing Amount of Gold Currently Hidden In Its Vaults