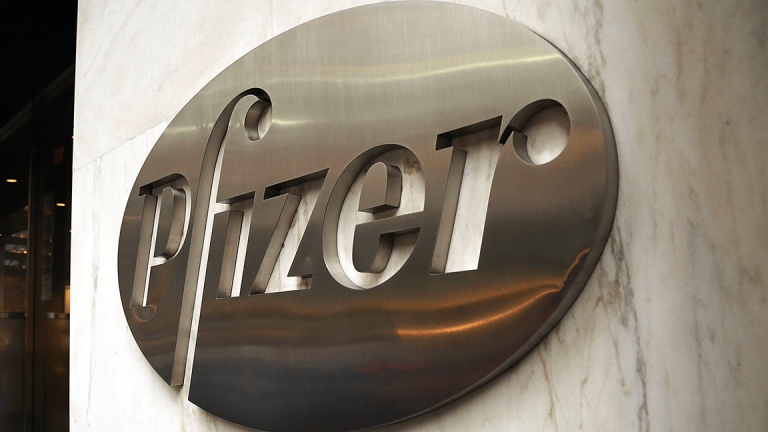 Senator Asks Drug Companies What They'll Do With Extra Cash From Big Tax Cut
Senator Tina Smith wants some answers from a group of Big Pharma companies about how the new cash flowing from the corporate tax break will be spent.
U.S. Sen. Tina Smith, D-Minn. would like some answers from Big Pharma.
In a letter to Abbott Laboratories (ABT) - Get Report  , AbbVie Inc. (ABBV) - Get Report  , Johnson & Johnson Inc. (JNJ) - Get Report  , Merck & Co. (MRK) - Get Report  and Pfizer Inc. (PFE) - Get Report  , the junior senator wants the pharmaceutical companies to tell her what they plan to do with the cash the quintet will realize from the Tax Cuts and Jobs Act.
The letter questions whether the tax cut from 35% to 21% for companies will have a benefit beyond enriching the pharma companies or their investors. "Given the growing national concern over the skyrocketing price of many prescription drugs, I would expect you to take every opportunity to lower the price of the drugs you produce, reducing the burden on consumers," the senator wrote. "However, on February 22nd, Axios reported that top pharmaceutical companies have announced significant so called 'buybacks,' which benefit shareholders by driving up the value of their stock. This suggests that pharmaceutical companies have used these tax breaks to enrich investors, a decision that comes at the expense of lowering the price of prescription drugs, investing in research and development that could lead to new cures, or passing along savings to consumers."
According to company data, Merck, AbbVie, and Pfizer plan on a buyback that could total $10 billion each. J&J hasn't made a statement indicating a specific figure for buyback activity. The company embarked on a $10 billion buyback program in Oct. 2015. Abbott hasn't made a statement about any buyback program; the company bought $3 billion of its own shares beginning in 2014.
Abbott's inclusion on Smith's list is a bit of head scratch since Abbott doesn't do prescription business in the United States.
AbbVie, J&J, Merck and Pfizer did not respond to a request for comment regarding Smith's letter.
The pharma companies Smith points to are not alone in wanting to buy back their own shares. Mylan NV (MYL) - Get Report  has said it will purchase $1 billion of its own stock this year. Celgene Corp.  (CELG) - Get Reportintends to buy $5 billion of its own shares and Amgen Inc. (AMGN) - Get Report   is shopping for $10 billion worth of its own stock.
It is clear from Smith's letters that she is hoping that the pharma companies will look beyond the corporate bottom line when making decisions to deploy tax cut proceeds or, for that matter, cash brought back from overseas. She is hoping that buybacks don't "come at the expense of lowering the price of prescription drugs, investing in research and development that could lead to new cures, or passing along savings to consumers."
Smith took over for Al Franken in January after Franken resigned following sexual misconduct allegations made by several women.
The pharma companies called out by Smith are not alone in wanting to boost share price by buying back shares. According to Trim Tabs Investment Research, more than 100 companies have announced they intend to buy back at least $214 billion in stock in 2018.
The tax break was sold to the public by the Trump administration as a way to cut corporate tax rates so that companies could invest those savings back into the companies to grow as well as creating new American jobs.
The reality so far is that some companies like Disney (DIS) - Get Report  and Bank of America (BAC) - Get Report  have given one time bonuses and other companies like Walmart (WMT) - Get Reporthave bumped up employee wages. But for the most part, headlines have been dominated by tales of company's looking at stock buybacks, executive bonuses and larger dividends.
The pharmaceutical industry is under a closer watch than other sectors thanks to other issues that include high prescription prices as well as the heightened profile of the opioid crisis. So critics like Smith and others are spending more time not only making political hay over how the pharma industry behaves, but also shining a light on how the tax break is playing out for consumers.
Jim Cramer and the AAP team hold a position in Abbott Laboratories for their Action Alerts PLUS Charitable Trust Portfolio. Want to be alerted before Cramer buys or sells ABT? Learn more now.