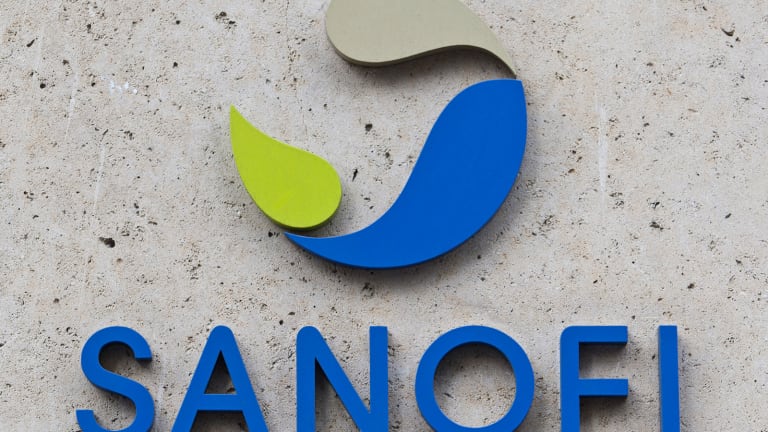 Sanofi Quarterly Earnings, Sales Slide, but It Reiterates Discipline on Medivation
Sanofi says currency headwinds will erode 4% from full-year earnings per share.
French pharmaceuticals company Sanofi (SNY) - Get Report reported a decline in second-quarter sales and earnings that was marginally worse than expected amid problems in Venezuela and competition in the U.S. in its diabetes division.
The company, which is engaged in a three-month pursuit of San Francisco cancer drug developer Medivation (MDVN) , said sales fell 4.3% to €8.87 billion ($9.8 billion). That compared with a forecast for sales of €8.94 billion, Jefferies noted, while what Sanofi calls business net income - its preferred measure of net profit - declined 8.7% to €1.68 billion, just short of the €1.69 billion expected.
The figures include the impact of headwinds for Sanofi from the dollar and emerging market currencies. In addition, Sanofi's Venezuelan business, centered on its 2012 purchase of Genfar, was both buffeted by the country's economic crisis and found itself unable to exchange payments made in the plunging bolivar for dollars because of currency controls.
The Sanofi Genzyme division, which develops treatments for rare disease, was the star performer in the second quarter, with sales rising 20.1%. General medicines and emerging markets proved the weakest, with revenue down 5.6%, mainly because of problems in Venezuela.
U.S. diabetes product sales fell 7.1%, pushing  overall diabetes sales down 3.1% to to €1.88 billion. The unit's flagship drug is insulin product Lantus, which faces competition from similar drugs in the U.S.
Sanofi is pursuing Medivation to gain a pipeline for a portfolio depleted by such patent expiries.
Earlier this month Medivation agreed to sit down with Sanofi and other potential suitors, ending a tussle in which the French group had briefly threatened to oust its board. Pfizer (PFE) - Get Report is among the companies said to have held talks with Medivation.
Sanofi CEO Olivier Brandicourt reiterated on Friday in comments to Reuters that the company would remain disciplined on the price it was prepared to pay for Medivation.
In a website interview also said he expects he expects an asset swap with Germany's Boehringer Ingelheim to "lift us into a global leadership position" in consumer health. Last month Sanofi agreed to hand its €11.4 billion Merial animal medicines business over in exchange for the German company's over-the-counter medicine's business and €4.7 billion of cash.
"Based on recent public statements by our global peers, we believe Sanofi's CHC [consumer health] business has an industry-leading business operating income margin contribution of 30%. BI's CHC business is less profitable than Sanofi's but, going forward we anticipate the combined entity will achieve a similar margin contribution of around 30%," he said in the interview.
Sanofi expects what it calls business earnings per share to be "broadly stable" year-on-year at constant exchange rates but it expects currency headwinds to dent earnings per share by about 4%.
Sanofi shares were recently up €0.35 at €76.64.