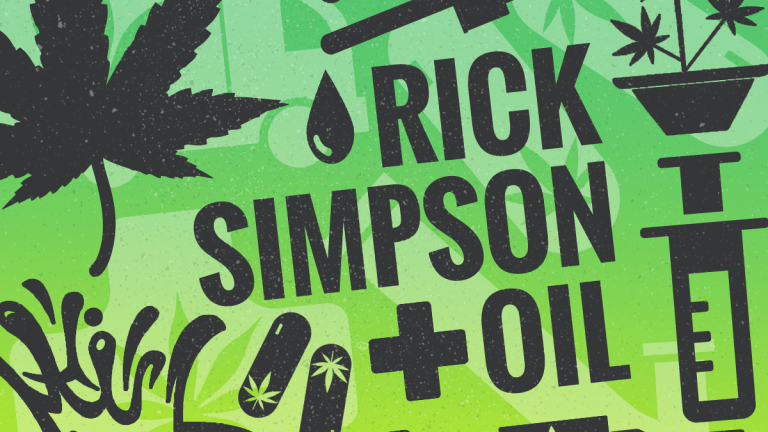 Rick Simpson Oil (RSO): Benefits, Effects and Research
Rick Simpson oil (RSO) is a form of concentrated cannabis oil often used to treat diseases and cancer, and was popularized by marijuana activist Rick Simpson.
The cannabis market seems to keep getting higher and higher.
After marijuana was legalized completely in Canada this October, investors can't seem to get enough of the cannabis industry. And while several marijuana stocks like Tilray  (TLRY) - Get Tilray Brands, Inc. Report or Canopy Growth Corporation  (CGC) - Get Canopy Growth Corporation Report have been somewhat rocky lately, the overall market seems fairly bullish on cannabis and its applications.
When it comes to knowing your pot, most people can wager a guess at what CBD or THC is, and often are aware of the effects of cannabis. But, what is Rick Simpson Oil (RSO), and what does the oddly-named cannabis oil do? 
What Is Rick Simpson Oil? 
Created by Canadian medical marijuana activist Rick Simpson, RSO is a cannabis-derived oil that has an especially high concentration of marijuana's psychoactive compound, tetrahydrocannabinol (THC). THC has some pretty potent effects that, when concentrated, have shown signs of being able to treat a variety of ailments. RSO is generally made with indica-heavy strains of marijuana, and Simpson himself recommends making your own RSO. 
By using a high-THC strain like Cannabis indica, RSO's sedative effects supposedly aid in healing the body from a variety of ailments. 
Simpson originally created the so-called "Rick Simpson oil" in 2003, when he was diagnosed with a form of skin cancer called basal cell carcinoma. Simpson had had success in treating other ailments in the past, and decided to try treating his skin cancer with high-THC cannabis oil. Simpson reportedly read a study by the Journal of the National Cancer Institute which showed cancerous cell regression in mice by using THC, and decided to try it. Simpson allegedly applied the oil to bandages and left them on his cancerous spots for several days - after which the spots allegedly disappeared. And despite his own doctor's refusal to acknowledge the benefits, Simpson began making his oil and proclaiming the benefits.
But, what is actually in RSO? 
RSO can be made by reducing cannabis in alcohol (typically 99% isopropyl alcohol), which concentrates the plant's compounds like THC. For this reason, RSO is typically made with THC-heavy cannabis strains like indica. 
Uses
RSO is perhaps most commonly used as an alternative to cancer treatments. But the oil has also been used to treat a variety of other health issues including asthma, multiple sclerosis, anxiety, depression, inflammation and a variety of other conditions. Since RSO is high in THC, it possesses similar medicinal qualities to the compound itself. THC has been known to potentially treat the same conditions and many more - including Alzheimer's, Parkinson's disease and even eating disorders. 
Benefits of Rick Simpson Oil 
The principle benefits of using RSO have been publicized in relation to cancer treatments, but span into other categories as well.
As a concoction high in THC, RSO has been said to have benefits that include treating arthritis, insomnia, depression, high blood pressure, and a variety of other major diseases. Still, due to the lack of research on RSO, experts are reserved in touting its benefits. 
Rick Simpson Oil and Cancer
One of RSO's principle uses and alleged benefits is as an alternative treatment for cancers. 
Simpson pulled from an original study that showed THC being used to reduce cancerous tumors in mice. But other studies have shown similar results. A 2014 study by the American Association for Cancer Research showed that THC and CBD were helpful when used alongside traditional radiation treatments for cancer. In fact, the study showed that the two compounds may be useful in enhancing the effectiveness of the radiation treatment due to the THC and CBD may help better condition cells for reception to radiation therapy. 
Additionally, some studies have shown that the use of CBD and THC (both of which are present in RSO, although THC is more concentrated) can slow the progress of cancer cells or even stop them altogether. In fact, medical cannabis supporter Dr. Aung-Din, M.D. -- a general neurology and neuro-psychiatry specialist -- told TheStreet earlier this year that he has seen massive improvement in a variety of areas with cannabis use - including cancer.
"I'm treating patients with PTSD, fibromyalgia, cancers [and am] finding cancers regressing when chemotherapy was not helping, so it's a pretty amazing journey," Dr. Aung-Din said. 
A commonly referred to case in favor of RSO treatment is a case of a 14-year-old girl who used RSO to treat terminal acute lymphoblastic leukemia with a Philadelphia chromosome mutation, detailed in a 2013 study. The girl used RSO and hemp oil regularly, which appeared to help treat the cancer but ultimately remained inconclusive due to her subsequent death from gastrointestinal problems. In fact, the case report concluded:
"...[The] numerous research studies and this particular clinical case are powerful enough to warrant implementing clinical trials to determine dose ranges, cannabinoid profiles and ratios, the methods of administration that produce the most efficacious therapeutic responses and the reproducibility of the results."
Still, even alongside chemotherapy, THC has been known to help alleviate some of the symptoms like nausea and can increase appetite. 
RSO, as a concentrated THC treatment, has been known to exhibit some of these benefits in relation to cancer treatment, but the lack of studies should leave users and readers wary. 
Effects and Risks of Rick Simpson Oil 
Still, there are multiple effects and risks of RSO to be aware of. And while there may be some medical concerns regarding THC, a large part of the risk of RSO is in making the oil itself. 
Negative Effects
Some studies, like a 2004 American Association for Cancer Research report, showed that cannabis compounds THC and CBD might actually increased the growth of cancerous tumors in the lungs and brain for some cancers. The study involved human cells. 
But while the jury largely seems out on the long-term effects of THC and RSO on cancerous cells, some of the more immediate negative effects of RSO and THC use are perhaps more apparent.
A variety of studies show that THC use may be linked to effects like paranoia, red eyes, low blood pressure, depression, issues with sleeping or irritability and even impaired memory or bodily functions. In 2017, the National Academies of Sciences, Engineering and Medicine released a study on the Health Effects of Cannabis and Cannabinoids.
A 2007 study claimed that, "in a clinical trial THC did not have any significant effect on ongoing and paroxysmal pain, allodynia, quality of life, anxiety/depression scores and functional impact of pain." Still, there is more recent research that may suggest otherwise. Learn more about the health effects of THC here. 
Risks
But apart from the potential concerns or lack of effect, one of the bigger risks of using RSO lies in the manner in which the oil is made.
Simpson has long advocated for people to make their own RSO. The problem with making RSO is that many of the ingredients used to concentrate the cannabis include somewhat (or outright) toxic agents including naphtha (an ingredient in many camping fuels), petroleum ether, or isopropyl alcohol which can prove toxic. 
Additionally, RSO uses cannabis which isn't federally legal in the United States yet. Recreational and medicinal cannabis are legal in 29 states plus Washington, D.C. in one form or another, but are not legal across the board. So, it's important to figure out where cannabis might be legal and in what form in your state before trying to use or make your own RSO. 
How Is Rick Simpson Oil Dosed? 
RSO is created by using a solvent to break down cannabis into a highly concentrated form, and is often taken in doses. As a disclaimer, anyone thinking of taking RSO should consult their physician before proceeding.
However, for maximum health benefits, Simpson advocates for a dosage regimen that consumes 60 grams of RSO over a 90-day period.  
Doses are typically done in different week segments, where week one would include three doses per day of about 1/4 a drop of RSO, weeks two to five would double the dosage each time until you reach one gram per day, and weeks five to 12 dole out one gram per day until reaching the full 60 grams over the 90 days. 
However, because of the lack of research and evidence of the efficiency of the RSO system, it is advisable to refrain using the oil or to consult with your physician.