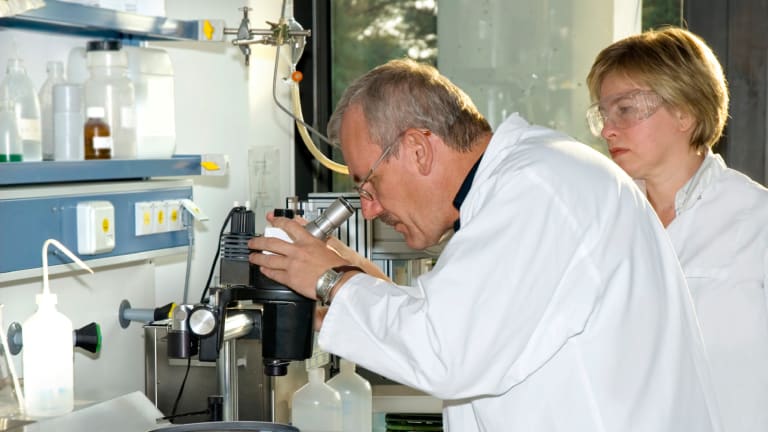 Prothena Raises $155.3M to Bring Anti-Organ Failure Drug to Market
The biotech company plans to commercialize its treatment for AL amyloidosis, a disease that causes protein to build up in the blood.
Prothena (PRTA) - Get Prothena Corp. Plc Report , a biotechnology company focused on protein immunotherapies, said Friday it has sold 2.7 million ordinary shares at $57.50 apiece, raising gross proceeds of $155.3 million.
The offering is expected to close on March 8.
In addition, the Dublin, Ireland-based firm has given the underwriter, Cantor Fitzgerald, a 30-day option to buy up to an additional 405,000 of its ordinary shares.
In a preliminary prospectus supplement filed with the Securities and Exchange Commission on March 2, Prothena said it intends to use net proceeds from the offering to "conduct our ongoing clinical trials for drug discovery activities, including preclinical and clinical trials for other potential product candidates targeting misfolded proteins and for activities relating to the potential commercial launch of NEOD001, if approved."
NEOD001 targets AL amyloidosis, also known as primary systemic amyloidosis, which causes protein build-up in the bloodstream that deposit on organs, impeding normal function and cause organ failure. AL amyloidosis can impact multiple organs including the heart, kidney, liver, skin, gastrointestinal tract, and/or the autonomic or peripheral nerves.
Net proceeds not used for those activities could be utilized for working capital and other general corporate purposes, the company said.
The company's other protein immunotherapy programs target potential indications such as Parkinson's disease and other related synucleinopathies (PRX002), inflammatory diseases, including psoriasis and psoriatic arthritis (PRX003) and ATTR amyloidosis (PRX004).
Shares of Prothena were trading at $56.32 on Friday, down 6.3%.
Prothena on Feb. 14 reported a fourth-quarter net loss of $48.9 million and revenue of $0.2 million.
"How should you play tech and other stocks in March?Here's what Jim Cramer and four of our top columnists recommend."