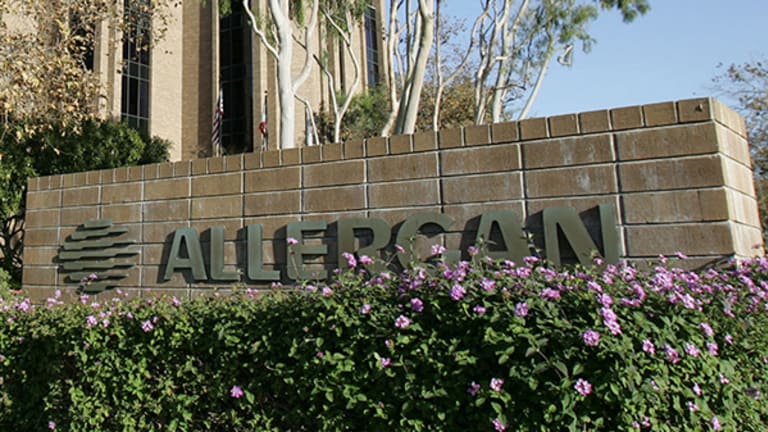 Pharma Firms Hit With Lawsuit From Oklahoma AG Over Opioid Marketing
Oklahoma Attorney General Mike Hunter alleged that the firms engaged in misleading marketing practices and "waged a fraudulent, decade-long marketing campaign to profit from the anguish of thousands of Oklahomans."
Oklahoma Attorney General Mike Hunter on Friday, June 30, sued Purdue Pharma, Allergan plc (AGN) - Get Report , Teva Pharmaceutical's (TEVA) - Get Report Cephalon and Johnson & Johnson's (JNJ) - Get Report Janssen Pharmaceuticals, alleging that they engaged in misleading marketing practices that fueled the state's opioid epidemic.
"These companies have waged a fraudulent, decade-long marketing campaign to profit from the anguish of thousands of Oklahomans," Hunter said in a news release. "These companies have made in excess of $10 billion a year, while our friends, family members, neighbors and loved ones have become addicts, gone to prison or died because of the opioid epidemic."
The lawsuit follows a suit filed by Ohio Attorney General Mike DeWine in May against Purdue Pharma, Endo Health Solutions (ENDP) - Get Report , Janssen, Cephalon and Allergan, alleging that they contributed to the opioid crisis by misrepresenting the addictive nature of their painkillers.
John Puskar, a spokesman for privately held Purdue, said in an email on the heels of the Oklahoma lawsuit on Friday that while the company vigorously denies the allegations, "we share the attorney general's concerns about the opioid crisis and we are committed to working collaboratively to find solutions.
"OxyContin accounts for less than 2% of the opioid analgesic prescription market nationally, but we are an industry leader in the development of abuse-deterrent technology, advocating for the use of prescription drug monitoring programs and supporting access to Naloxone -- all important components for combating the opioid crisis."
Allergan spokesman Mark Marmur said in an e-mail that the company "has a history of supporting -- and continues to support -- the safe, responsible use of prescription medications." They include opioid medications, "which when sold, prescribed and used responsibly, play an appropriate role in pain relief for millions of Americans," Marmur said.
A source familiar with the company said that as part of Allergan's sale of its Actavis generic drug business to Teva last year, all generic opioid products that were made and marketed by Actavis were transferred to Teva, along with the liability for those products. The source added that although Allergan retained rights to two branded opioid-containing pain relievers, they have not been promoted by Allergan since 2012 and accounted for about 0.2% of Allergan's sales in 2016.
Meanwhile, Janssen spokesman William Foster said in emailed comments that while Janssen recognizes that opioid abuse is a serious public health matter that must be addressed, "we firmly believe Janssen has acted responsibly and in the best interests of patients and physicians with regard to these medicines, which are FDA-approved and carry FDA-mandated warnings about possible risks on every product label."
Foster added that Janssen is committed to providing healthcare professionals with complete and accurate information on how to prescribe its opioid medicines.
According to Janssen, it has not actively promoted opioid pain medications since 2015.
A Teva representative did not immediately return a request for comment.
Shares of Allergan closed at $244.04 on Friday, down 0.4%; Teva's American depository receipts closed at $33.22, up 1.2% and Johnson & Johnson shares finished the trading session at $132.29, down 0.3%.
Jim Cramer and the AAP team share their thoughts on Walgreens Boots Alliance Inc.'s (WBA) - Get Report deal to buy 2,186 Rite Aid Corp. (RAD) - Get Report stores. Find out what they are telling their investment club members. Get a free trial subscription to Action Alerts PLUS.

Meanwhile, over on Real Money, Jonathan Heller writes that Monomoy Capital Partners, which is buying West Marine Inc. (WMAR) for $12.97 per share in a deal announced June 29, "is getting a heck of a bargain at that price."