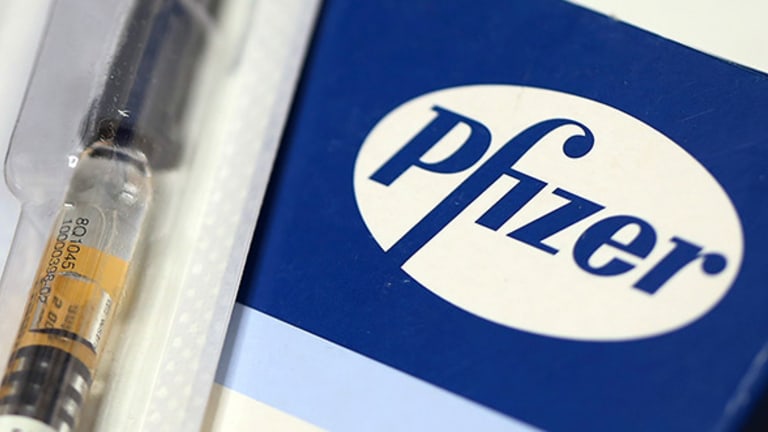 As promised, Pfizer Inc (PFE) - Get Pfizer Inc. Report reported quarterly earnings during pre-market, but the anticipated release failed to impress after the pharmaceutical company didn't maintain expectations.
Revenue missed Wall Street projections, dipping 2% from $13.15 billion to $12.9 billion. Pfizer fell 0.98% in Monday trading to $33.31 a share.
"Every time I see the Pfizer quarter I recognize why they needed to do the Allergan [plc]  (AGN) - Get Allergan plc Report  deal," said Jim Cramer, TheStreet's founder and portfolio manager of Action Alerts PLUS Charitable Trust.
Cramer continued by expressing his confusion about Pfizer's lack of breakthrough work and their inability to distinguish themselves from their competition.
Pfizer's Chairman and Chief Executive Officer Ian Read, however, said demand for Pfizer's oncology department remains strong as they further curate their R&D sector for checkpoint inhibitors, though sterile injectables appear weak, down 7% quarter-over-quarter. Ibrance shows promise, though, with a stellar European launch.
The pipeline also remains strong, he said.
"Over the next five years, we project the potential for approximately 25 to 30 approvals of which up to 15 have the potential to be blockbusters, and we believe half of these potential blockbusters could receive approval by 2020," Read said in a press release. "Our strategy remains focused on maximizing in-market opportunities while continuing to advance the pipeline and managing our cost structure to deliver attractive financial performance over time."
Geron Shares Dip After J&J Unit-Led Trial Falters, Endo Pops: Biotech Movers
According to data from Bloomberg, Ibrance reaped in $757.7 million in revenue, trailing behind Prevnar's $1.232 billion and Lyrica's $1.288 billion for the second quarter. Viagra pulled in $358.857 million, but is expected to drop to $351 million during the third quarter ending Sept. 30.
Investors, though, have grown weary given the looming patent expiration of Viagra (sildenafil citrate), used for erectile dysfunction, and Lyrica (pregabalin), used for neuropathic pain/fibromyalgia.
To be sure, the Viagra patent is not up until 2020 though Teva Pharmaceutical Industries Ltd. (TEVA) - Get Teva Pharmaceutical Industries Limited Sponsored ADR Report will have the opportunity to manufacture a generic version starting in December 2017.
Leerink Partners LLC's Seamus Fernandez wrote in a note Tuesday morning that the company saw strong growth in key products, Xeljanz and Ibrance, which had combined sales of $1.19 billion, representing a 63% year-over-year increase.
However, Fernandez notes, these gains were "more than offset by declines in legacy brands including Prevnar & Enbrel, which declined 8% and 19% Y/Y, respectively." Jefferies added that sales for Pristiq, Viagra and the Consumer Healthcare business were below consensus expectations, as well.
"A mix of all other, older products also came in below our estimates, but we do not expect investors to focus much attention there," the analysts added in a note Tuesday.
Despite Pfizer teetering on the NYSE see-saw, the dividend is investor-friendly, coming in with a 3.91% yield.
The drug maker also offered a correction for its adjusted earnings. Before, Pfizer forecast its shares to fall along the spectrum of $2.50 per share to $2.60 per share, but now are ball parking adjusted earnings to shuffle in-between $2.54 per share to $2.60 per share.
The pressure is on for the N.Y.-based company to find ways to boost growth. For now, all eyes are on Pfizer, especially as the speculation brews for their next potential acquisition.
It has been a busy week already for Pfizer. On Monday the company watched Anabella Villalobos, its VP and head of medicinal synthesis technologies, join Biogen Corp. (BIIB) - Get Biogen Inc. Report . Villalobos will lead Biogen's BTMS organization in the delivery of "high-quality, differentiated molecules" to the clinic, according to a statement.
More of What's Trending on TheStreet:
Teva Is Still Being Pounded After Horrific Week
Apple and Bitcoin Make These Monday's Hot Tickers: AAPL, AMD, NVDA, S, TSLA
Microsoft Has Been Reborn Under CEO Satya Nadella -- Here Are His 6 Crowning Achievements
There Is an Element of Fatal Attraction in This Part of the Stock Market: Market Recon
Watch More with TheStreet:
5 Ways Companies Are Using AI to Secretly Change Your Life
Around the World in 5 Insane Pizza Hut Pizzas
Tesla's Elon Musk Is All Jokes as the Model 3 Accelerates into "Production Hell"
Editors' pick: Originally published August 1.
Action Alerts PLUS, which Cramer manages as a charitable trust, is long AGN.