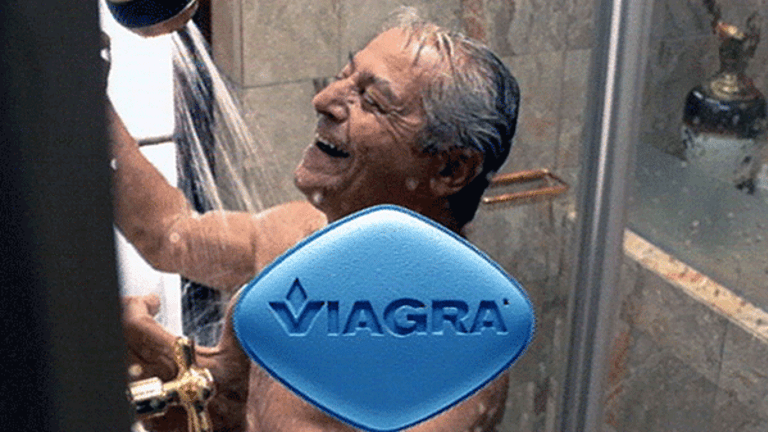 Pfizer Investors Keep Eyes on Pipeline as Viagra, Lyrica Approach Patent Cliff
A glimpse of what to expect during Tuesday's pre-market.
Before the bell rings Tuesday morning pharmacy giant Pfizer Inc.  (PFE) - Get Pfizer Inc. Report is expected to have released their second-quarter earnings, where a lot of eyeballs will be delving into the company's pipeline.
Analysts speculate that earnings may climb by a cent or two and that the company could report $13.02 billion in revenue, and earnings per share of about 65 cents, according to analysts polled by FactSet Research. Shares of Pfizer currently trade at $33.28 apiece. The company is up 0.84% year-to-date, though the stock is down 10.8% year-over-year.
Credit Suisse analysts noted that there is "limited near-term upside potential" and that they were weary of the company given looming patent expirations of Viagra (sildenafil citrate), used for erectile dysfunction, and Lyrica (pregabalin), used for neuropathic pain/fibromyalgia, are swooping in December 2017 and December 2018, respectively -- which could stunt growth if not addressed by the company.
To be sure, the Viagra patent is not up until 2020 though Teva Pharmaceutical Industries Ltd. (TEVA) - Get Teva Pharmaceutical Industries Ltd. Report will have the opportunity to manufacture a generic version starting in December 2017.
Credit Suisse switched their rating from "Outperform" to "Neutral," on Thursday, July 27. The analysts recommended Johnson & Johnson (JNJ) - Get Johnson & Johnson Report and Merck & Co. (MRK) - Get Merck & Co., Inc. Report -- though, they did note that more limited drivers of growth should appear in Pfizer's future over the next six to 12 months.
Total viagra sales were $340 million during the three months ended April 2, while Lyrica brought in about $1.3 billion during that same period. Viagra brought in $1.56 billion in sales in 2016, while Lyrica had about $4.9 billion in sales in 2016.
Pfizer's other blockbuster drugs such as Lipitor (atorvastatin), used in lowering LDL blood cholesterol, Diflucan (fluconazole), an oral antifungal, Zithromax (azithromycin), an antibiotic, and Celebrex/Celebra (celecoxib), an anti-inflammatory are safe patent-wise -- for now.
Glancing at Pfizer's pipeline would leave most with the impression that it's fairly well-rounded, checkpoint inhibitors remain one arena that the company should consider improvement in.
According to Tony Butler, an analyst at Guggenheim Securities, all eyes are on PD-1 groups. Butler notes that Pfizer has a PD-1 in development, so checkpoints aren't a complete hole for Pfizer, so to speak, but the company certainly has a long way to go compared with competitors like Merck & Co.
"Pfizer has a road map, but they're a little bit late to the [PD-1] game," said Butler. "The key is: how will this translate in the future for their ability to catch up in the space."
Pfizer's short-term slip is noticeable, which is echoed in the recent Credit Suisse downgrade.
Butler doesn't foresee AstraZeneca (AZN) - Get Astrazeneca PLC Sponsored ADR Report nor Bristol-Myers Squibb (BMY) - Get Bristol-Myers Squibb Company Report falling into Pfizer's acquisition lap as he does not believe the companies are for sale. He also didn't think a hostile takeover was a likely scenario, though he did consider serial small acquisitions to be a better idea. Pfizer under CEO Ian Read has been acquisitive.
The $5.2 billion acquisition of Anacor Pharmaceuticals back in June 2016 followed by the $14 billion acquisition of Medivation in Sept. 2016 attests that Pfizer may be shopping around in the neighborhood for some small cap's. Looking ahead, serial small acquisitions and alleviating their patent problems could be the next on Pfizer's to-do.
Despite the obstacles the company faces with its patents, Pfizer has managed to retain investor interest with a strategic dividend increase and stock-buyback initiation, albeit, Butler remarks that these buy-backs are "somewhat myopic".
The company's commercial operations are broken down into two spheres: Innovative Health and Essential Health. Innovative Health encompasses six business groups that focuses on commercialization and development of medicines while Essential Health retains well-known brands and branded generics, a field that has certainly been a dilemma of Pfizer's in the past as well as the near future.
More of What's Trending on TheStreet:
Tesla, Amazon, Altria Are Monday's Smoking Hot Tickers
Amazon Is Attracting Sizable Enemies and Its Stock Should Be Avoided, Doug Kass Reveals
Snap Has No Way to Make Money, One Analyst Says as Lockup Period Expires