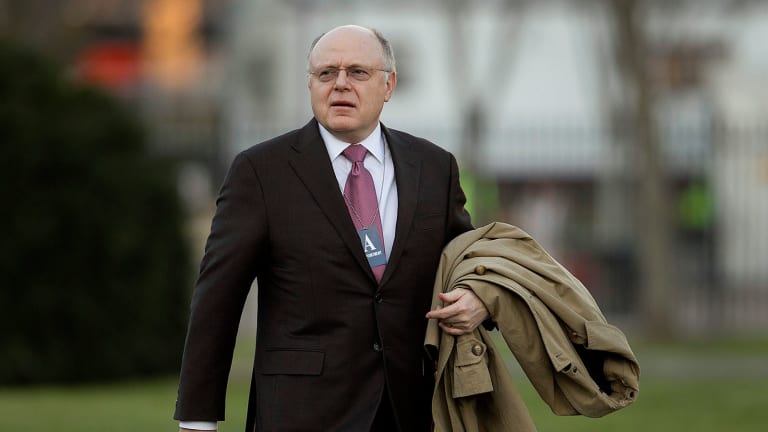 Pfizer CEO Ian Read Gets 61% Raise to Keep Him From Considering Retirement
Pfizer's CEO Ian Read could make almost $28 million in the next year to keep him from retiring. Strangely enough, he may earn it given the healthcare and political environment.
The cost of healthcare in the U.S. keeps climbing and Pfizer Inc. (PFE) - Get Pfizer Inc. Report is going to find out what kinds of results $27.9 million can buy.
The pharma giant just bestowed a 61% raise on CEO Ian Reed to keep him from considering the green pastures of retirement. Read's bump included a specially constructed equity bonus of $8 million if Pfizer's stock returns an average of 25% for 30 consecutive days sometime between now and the end of 2022.
Pfizer's proxy statement says that for Read to pull down almost $28 million he needs to remain in the executive suite until next March and if he leaves he needs to stay out of the pharmaceutical business for two years. Read is 64 years old.
The filing points to Read's tenure returning 178% on Pfizer's shares versus the 25% return of the S&P 500 over the same time period, since 2010. The proxy also stated that those returns took place even as Viagra and Lipitor lost their patent protection.
But Pfizer's return dipped last year, returning 16% as compared to 22% for the S&P 500. Read could wind up earning his large cash given the projected sales of pneumonia vaccine Prevnar and breast cancer drug Ibrance. Moreover the cancer drug sector is becoming more competitive and Pfizer candidates have been moving through trials at a sluggish pace with lackluster results.
Pfizer has been looking to sell its over-the-counter business since late 2016. It includes brands such as lip balm Chapstick, multivitamin Centrum and pain med Advil. A price of $14 billion has been bandied about, but the business has been on the block for a while without a sale.
Investors and industry observers have also speculated that Pfizer needs to get into the M&A game in a bigger way and the chatter about a possible romance with Bristol-Myers Squibb Inc. (BMY) - Get Bristol-Myers Squibb Company Report won't go away. But Read said in an earnings call that while the industry was headed towards some consolidation, Pfizer didn't need to rush into any deals. At the same time he offered the boilerplate comment that if the company could add value by doing a deal, it would.
This year's tax reform has only pumped up the volume on the merger chorus as the company could bring as much as $24 billion home from offshore coffers, giving it plenty of fuel for a merger.
Read may not feel compelled to get a deal done and the company may be sailing into some choppy waters given the fact that healthcare will be a central issue in the mid-term elections and drug pricing is drawing more scrutiny as well.
While Read made investors happy with the news the company will take some of its tax savings and plow them into a $10 billion share buyback, that move didn't make the company any friends on Capitol Hill nor in the court of public opinion.
The decision by Pfizer in January to abandon its neurological platform demonstrates the company's desire to focus on areas with better odds of success as well as higher margins. Earlier this month, the company sold its schizophrenia drug PF-04958242 for $75million to Biogen Inc. (BIIB) - Get Biogen Inc. Report , with the possibilities of $515 million in royalties.
But slicing that platform will cost 300 employees their jobs. While other companies besides Pfizer have found the neurological sector both challenging and expensive, from the outside the change looks as if the Trump administration handed out a tax break, and Pfizer decided to chop jobs, do a large stock buyback and now sweeten the CEO's salary by 61%.