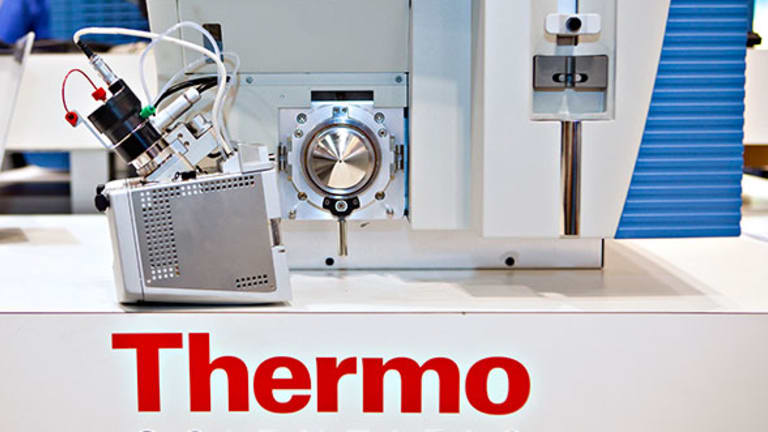 PerkinElmer Among Targets Fitting Thermo Fisher's M&A Criteria
After acquiring Amsterdam-based Patheon, TMO will continue its focus on collecting future companies into its back pocket.
After Thermo Fisher Scientific Inc.'s (TMO) recent acquisition of Patheon NV  (PTHN) , forecasters are predicting that Thermo's insatiable buying binge isn't stopping anytime soon. 
Average growth rates of Thermo Fisher remain positive, with Thermo reaping in 11.45% cash flow for fiscal 2016. But, as it continues to amass companies in the industry (inking almost 70 acquisitions throughout its history, according to FactSet), Thermo's growth may stagnate unless a larger-cap company falls onto its acquisition table.
"There is limited numbers [of companies] that they can acquire that could move the needle because of their size," said Bryan Brokmeier, of Cantor Fitzgerald LP. "In order for anything to be meaningful, they would have to acquire a larger sized company."
PerkinElmer Inc.  (PKI) , for one, resides as a potential acquisition target. Its recent acquisition of Tulip Diagnostics is expanding its international footprint in Goa, India.
"As one of India's largest domestic in-vitro diagnostic providers, Tulip Diagnostics brings a strong product portfolio, channel access, and broad footprint to help accelerate PerkinElmer's growth in India," said Robert Friel, CEO of PerkinElmer. "As we continue to build out our Diagnostics business on a global scale, this acquisition further positions PerkinElmer for long-term growth in emerging market diagnostics, an attractive end market and key area of focus."
PerkinElmer also purchased CambridgeSoft Corp. in 2011, gaining access to the company's ChemDraw software that is tailored to chemists and widely used by students. ChemDraw functions as a visual sketchpad and aids in conceptualizing molecule structures -- it is a friend of researchers and college students alike.
Other potential hits on Thermo's dart board? Bio-Techne Inc.  (TECH) , a Minneapolis-based biotechnology holding company committed to serving the needs and interests of research labs. According to Brokmeier, Bio-Techne's proteins, antibodies, and assay kits bring unique value and would complement TMO's business. Perhaps more than one complement lingers since the current CEO of Bio-Techne is Chuck Kummeth, a previous employee of Thermo Fisher Scientific. 
With their recent intent to acquire Patheon, Thermo is continuing to grow as they inch through Fiscal 2017. Analyst Puneet Souda believes that Thermo "will continue to keep M&A in focus and execute its capital deployment strategy with 60% - 75% of capital deployed towards M&A and the rest 25%-40% for share repurchases or dividends," according to a research report published by Souda.
Much of Thermo's growth is attributed to their developmental strides in biopharma, a sector that has driven their expansion thanks to their bioproduction products and services. But, one of the most strongest assets that TMO offers is its variety, as seen among its product lines.
But, there's always room for improvement, which is why companies specializing in diagnostics could become meaningful opportunities. On Wednesday, June 7, Thermo joined forces with Biocrates Life Sciences to launch the industry's first comprehensive metabolome analysis kit.
Brokmeier believes Thermo's inclination to variety, in part, explains the Patheon acquisition, which would expand TMO's reach both in the pharmaceutical industry and abroad. Brokmeier estimates that the Patheon deal can add as much as 50 basis points to revenue growth once the deal is completed. The deal is expected to transpire at the end of 2017.
According to Thermo's recent 10K, there is some area of concern encompassing the Affordable Care Act, which would induce a price fluctuation on drug prices paid for by government programs. Concern murmurs around the future of the North American Free Trade Agreement as well.
"There's a lot of risk on potential pricing pressure on pharmaceuticals [especially] on any increases in regulation [with] any potential repeal with the Affordable Care Act," said Brokmeier. "So, we're seeing investors looking at the tools space which could drive multiple expansions with TMO."
Brokmeier did not provide potential targets in the tools space though Milford, Mass.-based Waters Corp. (WAT) and Mettler-Toledo (MTD) are the closest competitors to Thermo. Brokmeier said these companies would be more long-term targets for Thermo as the company does not have the current wherewithall to take on companies with near $14 billion market caps. 
As a multinational corporation, Thermo Fisher has outsourced divisions of labor and production in the past. However, when exposed to fluctuations of exchange rates, this can adversely affect the company's generation of cash flow.
Still, the company is revered as the leader on the healthcare block, something that CEO Mark Casper wants analysts to keep in mind.
"We are uniquely positioned to capitalize on the trends in our industry and continue to gain market share," said Casper on analyst day.
This article has been updated to reflect the acquisition of CambridgeSoft.
Read More Trending Articles:
Tesla Could Have a Near Monopoly That Sends Its Stock Up Another 30%, Says Firm
There Are Two Possibilities Right Now, One Being a Stock Market Correction: Market Recon
Apple Is a Very Strong Brand, and Jim Cramer Is Sticking With the Stock: Mad Money