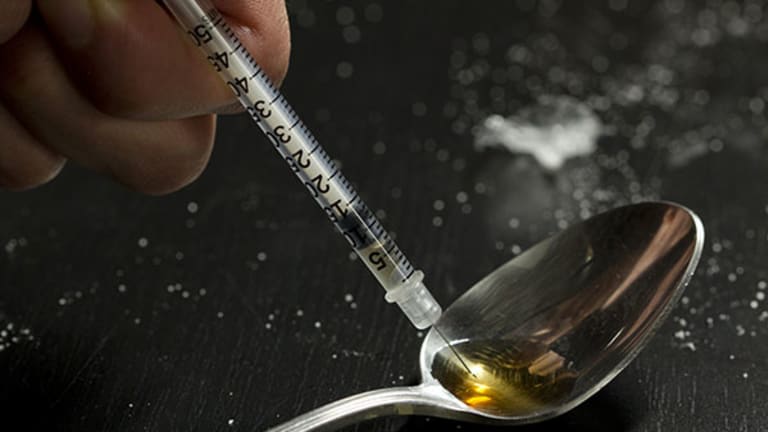 Opiant Pharmaceuticals Looks to Create a Heroin Vaccine and Treat Addictions
Overdoses kill 91 people a day.
Opiant Pharmaceuticals Inc. (OPNT) - Get Opiant Pharmaceuticals, Inc. Report is best known today for its Narcan Nasal Spray used to treat opioid overdoses. But CEO Roger Crystal hopes to make overdoses a thing of the past for most addicts by developing a vaccine that can end heroin dependence.
Only one in 10 addicts receive proper treatment today, according to a Surgeon General's report, and the Santa Monica, California-based company sees an immediate business opportunity and a lot of public benefit expanding its treatment franchise beyond opioids to alcohol and binge-eating addictions too.
But it also aims to one day provide vaccines that will cure addictions, Crystal told TheStreet in a recent interview. It has a particular focus on the U.S. opioid epidemic in which overdoses kill 91 people a day but sees opportunity to expand to an even larger populations with technology it is already using.
"We are the only company that has approaches to the three behaviors that are killing the most people in America: opioids, alcohol and food," said Crystal, 40, who is originally from Manchester, U.K. "We're here; we're for the now as well as committed to investing in the future."
In November 2015, the U.S. Food and Drug Administration approved Opiant's Narcan Nasal Spray to treat opioid overdose. The medication uses naloxone, an opioid antagonist, to bind to receptors in the brain, blocking opioid molecules from doing so and stopping an overdose. Using that same technology, Opiant is testing a spray using naltraxone, another opioid antagonist, to treat alcohol use disorder. Earlier this month, the company completed a phase I clinical trial of the drug, which showed the spray built a presence of naltrexone faster and three times greater than another intranasally dosed naltrexone formulation.
Although the company incurred $3.2 million in operational income losses in its fiscal-year quarter ending in April, its shares are up more than 100% in 2017 to date and reached an all-time high of $15.29 on Thursday, July 27. Crystal said although Narcan is bringing in an income for Opiant, it has sold off some royalties and milestones to investors, who have invested $13.7 million into the company. Once the investors receive $20 million, Opiant will begin collecting the royalties and milestones from its drugs again.
"One way or the other, we're committed to research and development," Crystal said. "We see the alcohol opportunity and the eating disorder opportunities as bigger markets with greater revenue potential, so we felt justified in reinvesting."
In the United States, 16 million meet the criteria for alcohol use disorder though only 400,000 people are receiving treatment, according to the National Institute on Alcohol Abuse and Alcoholism. Meanwhile, up to 15% of Americans have some serious eating disorder, according to the National Eating Disorder Association. The National Survey of Drug Use and Health reported 12.5 million misused prescription pain killers in 2015.
Opiant, however, has committed itself to finding cures for the addictions, as well, Crystal said. In partnership with the Walter Reed Medical Institute and Research Center, Opiant is conducting preclinical trials on its heroin hapten and liposome adjuvant vaccine. The concept behind the approach is that over several doses, a heroin addict would build an immunity to the dope and be unable to get high from it. If successful, the drug would eliminate the need for opioid treatments such as methadone or buprenorphine, which can be additive themselves. The approach also would eliminate diversion of those opioids for illicit use.
Since heroin addiction is a disease that affects people from pilots and soccer moms to inmates, Crystal said there is an opportunity for such a vaccine to help many people.
"What's very troublesome for these patients is when they're release from prison, they're at the highest risk period of their life of dying because what happens they get released, they've been craving and desiring to take heroin again," he said. "Unfortunately, they often overdose and die because they're not used to-the tolerance that they had previously built up has been depleted, but they still shoot it up again not realizing that, so they overdose. It's very sad."
While Opiant continues its development of the vaccine, it continues the clinical trials for its treatments of alcohol use disorder and bulimia nervosa, a binge-eating disorder, the two diseases on which Opiant originally focused before learning about the gravity of the opioid epidemic in 2011. Narcan Nasal Spray went from concept to market in three years.
Crystal said the medication's performance has been "phenomenal" but could not provide numbers because of a licensing agreement with Adapt Pharma Inc., which markets the medication. The CEO said he hopes access to Narcan will increase as more states adopt policies for doctors to co-prescribe opioid medications with nalaxone. Narcan's retail value is $125 and carries up to five times as much punch as injectors, which can can cost up to almost $4,000.
"If I were to receive an opioid, overdose and die, yet [Narcan] could have been prescribed, there's some exposure from a legal perspective from the prescriber," Crystal said. "If there's a blanket recommendation, a mandatory co-prescribing that everyone has to be co-prescribing [Narcan], then that's probably a safer, more standardized approach."
Before entering business, Crystal specialized in ear, nose and threat surgery in addition to spending some time in trauma, emergency rooms and oncology centers in the United Kingdom. From his time in medicine, he found a passion for influencing healthcare at a larger scale. That continues to be his goal at Opiant, he said.
"When I'm thinking about how a drug is going to work, how a doctor is thinking about it, how will a patient be receptive to it, I absolutely draw upon that experience," Crystal said. "And [the opioid epidemic is] an area where you can an impact people at a population level."