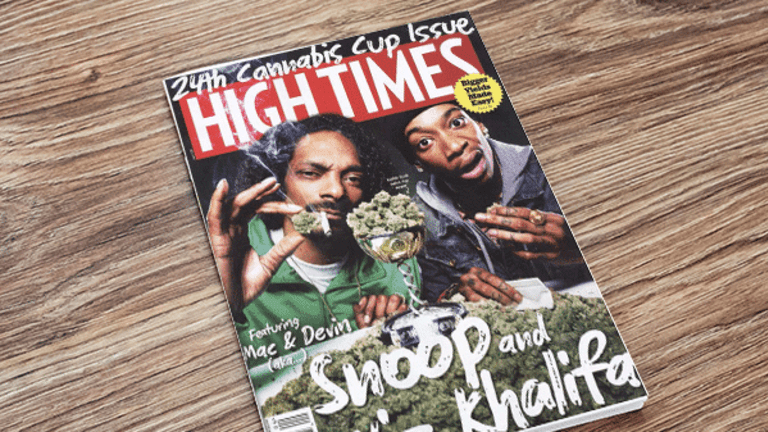 Now, You Can Buy Shares of Popular Pro-Pot Periodical High Times
The marijuana industry is welcoming its newest publicly traded company, a cannabis-centric magazine.
Hightimes Holding Corp. and Origo Acquisition Corp.  (OACQ)  said on Thursday that they're merging the iconic pot periodical publisher High Times, known for centerfold shots of budding cannabis plants, with the shell company in a deal that will make the magazine a publicly traded entity.
But make no mistake, this isn't an IPO.
Origo already trades on the NASDAQ as what's known as a special purpose acquisition company, or SPAC. That means that Origo will swap all its 24.5 million shares for all of Hight Times' equity.
High Times' shareholders will own 83% of the new company and Origo's will get 17%.
Once the transaction closes, High Times will be a publicly traded company on the NASDAQ.
"As a leading authority in a rapidly growing and evolving industry, we believe the public market is the best vehicle for capturing and funding substantial market opportunities and championing the innovations emerging across the globe in this industry," Adam Levin, Chief Executive Officer of High Times, stated in a press release.
As marijuana legalization ascends on the public agenda, a public High Times has the potential to light up the index it finds itself on. The budding publication is a marijuana exclusive magazine that advocates for the legalization of cannabis. It caters towards a subculture familiar with cannabis products, but has slowly shifted away from a counter-cultural and edgier crowd and more towards commercialized vibes. Covers are less artsy and more flashy, often featuring celebrities like Snoop Dogg and James Franco, two faces that are easily marijuana icons.
Their 420th issue was released in January 2011, which no doubt, feels like a missed opportunity on the marketing team's behalf -- but by no means has that halted their success. High Times runs various multimedia events, rendezvousing with clientele at events such as its annual Cannabis Cup. The event, referred to as the world's leading marijuana trade show, features competitions, seminars, expositions, product offerings and showcases, and concerts.
A few are on the near horizon: Canada's Cannabis Cup will take place from August 25 through 27, Detroit's Sept. 9 and 10, and Spain's will fire up sometime in October. A full event pass costs $179 and if attendees upgrade to VIP, that'll run at $329. 
Both boards of High Times and Origo unanimously approved the transaction. Completion of the transaction is subject to approval by shareholders of both Origo and High Times, along with other customary closing conditions.
EarlyBirdCapital, Inc. served as a financial advisor to Origo. In terms of legal matters, CKR LLP advised High Times while Ellenoff Grossman & Schole LLP acted as legal advisor to Origo.
Shares of Origo remained unmoved in light of the news, coming in at $10.64 during afternoon trading.