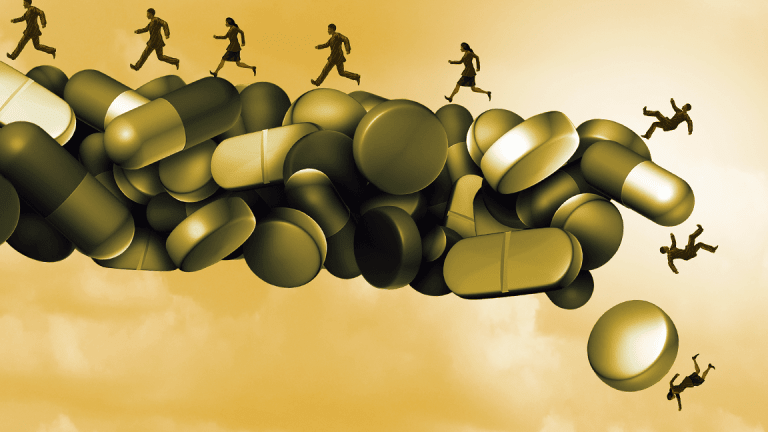 NYC Joins Cities, Counties and States In Bringing Opioid Lawsuit
New York City sues Purdue Pharma, Teva Pharmaceutical, Allergan, Johnson and Johnson, Endo International, McKesson, AmerisourceBergen and Cardinal Health over how opioids have devastated the city and its services.
Add New York City to the growing list of cities that are suing opioid drugmakers and distributors for driving the scourge of prescription drug abuse across the country.
The Big Apple brought its lawsuit against pharmaceutical companies Purdue Pharma LP, Teva Pharmaceutical Industries Ltd. (TEVA) - Get Report , Allergan plc (AGN) - Get Report , Johnson & Johnson (JNJ) - Get Report , and Endo International plc (ENDP) - Get Report . The legal action also named distributors McKesson Corp. (MCK) - Get Report , AmerisourceBergen Corp. (ABC) - Get Report and Cardinal Health Inc. (CAH) - Get Report .
The action, which seeks $500 million in damages, alleges that drugmakers used deceptive marketing and that the distributors made opioid available on a wide basis and that these actions in New York City placed a burden on the city's substance use treatments services, hospital services, criminal justice and law enforcement services as well as the medical examiner. The lawsuit maintains that misrepresentations of the safety and efficacy of long-term opioid use and distributors' oversupply of opioids enabled diversion to the illegal market fuel the crisis.
Mayor Bill de Blasio said in a statement about the lawsuit filed in state court, "More New Yorkers have died from opioid overdoses than car crashes and homicides combined in recent years. Big Pharma helped to fuel this epidemic by deceptively peddling these dangerous drugs and hooking millions of Americans in exchange for profit. It's time to hold the companies accountable for what they've done to our City, and help save more lives."
New York saw more than a 1,000 drug overdose deaths in 2016, the highest year on record.
While New York is not the first major city to bring a lawsuit over the cost of the opioids crisis, it does add scale and profile to the actions brought by other cities.
The list includes Baton Rouge, La., Cincinnati, Detroit, Indianapolis, Philadelphia, which filed last week, and Seattle. Pittsburgh is soliciting bids from law firms for its action and Nashville is considering an action.
And it isn't just big cities taking on the drug companies and distributors. On Tuesday, a group of 14 cities in Rhode Island brought public nuisance lawsuits and towns like Everett, Wash., Lorain, Ohio, and Princeton, W.Va., have brought legal actions as well.
Chicago was the first city in this wave of lawsuits against opioid makers and distributors. That city brought a lawsuit in 2014 against Purdue, Cephalon Inc., Janssen Pharmaceuticals Inc. and Endo. The action is in the discovery phase.
Countless counties have brought their own actions against the drug companies and distributors as well. And at least 41 state attorneys general have banded together to bring legal actions as well. Last month, the state of Montana withdrew from the group to bring its own action against Purdue, which faces at least lawsuits by 11 states.
The group of attorneys general as well as some states have equated the conduct of the drug companies to that of Big Tobacco and compared the hundreds of lawsuits brought by government entities as similar to the public pressure that was brought that led to a $246 billion legal settlement.
On Jan. 31, lawyers for 28 different states and Puerto Rico as well as the drug companies and hospitals and unions will gather in a courtroom in Cleveland to conduct preliminary settlement talks. Judge Aaron Polster has also invited state attorneys general to meet. Polster has said publicly that he is interested in a solution that's "not just moving money around."
Privately held Purdue is well-versed in how to handle opioid lawsuits. In 2007, the company pleaded guilty to federal charges that that it misbranded OxyContin and paid $634.5 million to wrap up a DOJ investigation.
That same year, Purdue paid $19.5 million to settle legal actions tied to opioids with 26 different states and the District of Columbia. In 2015 Kentucky picked up $24 million from Purdue to end a lawsuit.
Recently, McKesson has been on the hot seat since "60 Minutes" and the Washington Post did stories regarding a split between the DOJ and the DEA over the latter's desire to bring criminal charges against the company. The DOJ said there wasn't enough to bring an effective case and instead settled with the company paying $150 million.
McKesson has said the stories were inaccurate.
Allergan is a holding in Jim Cramer's Action Alerts PLUS Charitable Trust Portfolio . Want to be alerted before Cramer buys or sells AGN? Learn more now.