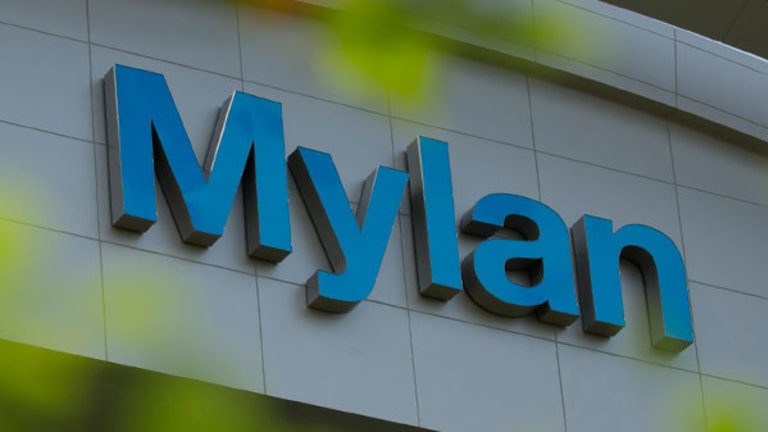 Mylan to Launch Cheaper Generic Alternative to EpiPen; Shares Rise
The drugmaker says it will launch the product in 'several weeks' at a list price of $300 per two-park carton.
Updated from 7:57 a.m. with Monday share price.
Mylan (MYL) - Get Mylan N.V. (MYL) Report shares gained in Monday trading after announcing plans to launch a generic version of its EpiPen treatment for life-threatening allergies in the next several weeks.
The company said Monday that the authorized generic EpiPen AutoInjector would be available at a list price of $300 per two-pack carton, or 50% cheaper than its wholesale acquisition price. The authorized generic "will be identical to the branded product, including device functionality and drug formulation," and will launch it in several weeks, pending completion of labeling revisions, Mylan added.
Mylan shares were up 0.35% in Monday trading at $43.18.
The drugmaker has come under fire for recently hiking the price of its EpiPen self-administered shots by more than fourfold, with senior U.S. lawmakers calling for an investigation into the company's business practices. To add to the injury, Mylan CEO Heather Bresch's salary rose 671% to almost $19 million annually from 2007 to 2015.
In Monday's announcement, Bresch said, "We understand the deep frustration and concerns associated with the cost of EpiPen to the patient, and have always shared the public's desire to ensure that this important product be accessible to anyone who needs it." She added that the decision to launch a generic version "is an extraordinary commercial response," and said it "will offer a long-term solution to further reduce costs and ease the burden and complexity of the process on the patient."
Mylan's decision to sell an authorized generic version of the EpiPen at a lower price is not motivated purely by a desire to help patients. The move could also help Mylan potentially delay other generic drug companies from developing and launching their own versions of the EpiPen. The $300 price tag for the authorized generic version of the EpiPen is still three times higher than when Mylan bought the product in 2007.
Mylan said the new product will be available as a two-pack carton in dosages of 0.15 mg and 0.30 mg. It said it also plans to continue to market and distribute the branded EpiPen product.