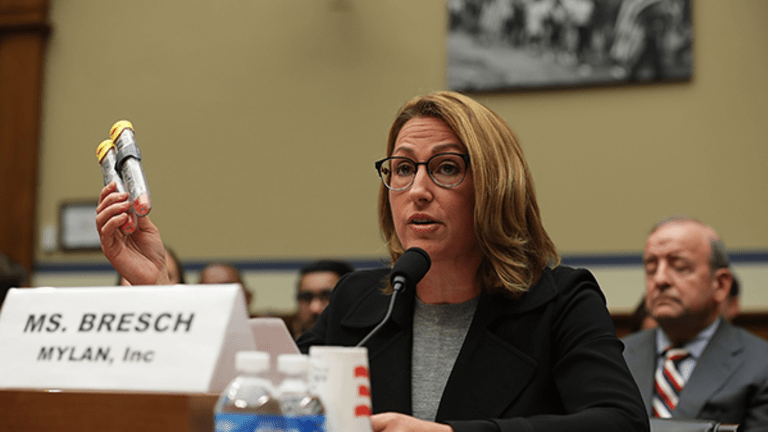 Mylan Revenue Jumps 24%
Mylan CEO Heather Bresch says the first quarter marks "a great start."
Mylan (MYL) - Get Viatris, Inc. Report total revenues jumped 24% to $2.72 billion, up in first quarter 2017, compared to the same period in 2016, the company said Wednesday morning.
North America net sales were $1.21 billion, up 5%; and up approximately 20% excluding the impact of the company's politically controversial EpiPen Auto-Injector. In Europe net sales were $892 million, up 53%, and in the rest of world net sales were up 34% to $580.5 million.
The revenue gains were pared with a similarly large percentage gain in earnings. Adjusted diluted earnings per ordinary share were $0.93, up 22% from $0.76 in first quarter 2016.
Mylan shares were up 20 cents, or 0.53%, Wednesday to $38.21.
CEO Heather Bresch commented, "Mylan's results during the first quarter marked a great start to what we believe will be another year of strong financial performance, and continue to reflect the strength and diversity of our global business and demonstrate our resilience and ability to absorb both our industry's natural volatility, as well as additional headwinds, related to particular products and/or markets."
Mylan President Rajiv Malik added that, "We continued to benefit from the successful execution of the integration of our global platform, with strong double-digit revenue growth in Europe and Rest of World and a solid performance in North America. We also continue to execute on our key pipeline programs, as outlined during our March investor day. Our overall expectations for the global pricing environment are unchanged and we are still predicting mid-single digit price erosion globally for the year."
Wednesday results were in line with analysts' expectations.
In a May 1 note BMO Capital Markets analyst Gary Nachman characterized Mylan as one of the best positioned generic companies to navigate through a challenging time and come out on top."