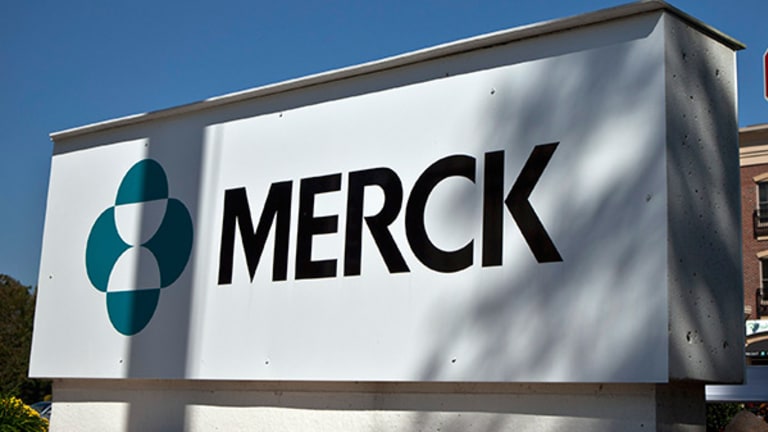 Merck Cancer Drug Test Sends Incyte Shares Higher
The companies will study epacadostat in tandem with Merck's Keytruda in patients with non-small cell lung, renal, bladder and head and neck cancers.
Shares of Incyte (INCY) - Get Incyte Corporation (INCY) Report soared Monday on the heels of news that the company and Merck (MRK) - Get Merck & Co., Inc. (MRK) Report will conduct additional Phase 3 studies evaluating the combination of two cancer treatments being developed by each company, Incyte's epacadostat with Merck's Keytruda.
Incyte shares hit a 52-week high of $118.69 before sliding back a bit to $118.29 Monday afternoon, still up 9.2% from Friday's close. Merck shares were up 1.6% to $61.26.

Under the expanded clinical trial program, the companies will initiate studies of epacadostat in tandem with Keytruda in patients with non-small cell lung, renal, bladder and head and neck cancers. The companies expect to start the studies this year.
Epacadostat is Incyte's investigational oral selective IDO1 inhibitor and Keytruda is Merck's anti-PD-1 therapy.
"Data from across the ECHO development program for epacadostat continues to be accrued, including from the ECHO-202 Phase 2 cohorts in combination with KEYTRUDA which support the decision to move forward into pivotal studies beyond melanoma," said Incyte chief medical officer Steven Stein in a statement.
Roy Baynes, senior vice president, head of clinical development and chief medical officer at Merck Research Laboratories, said in the news release that the expansion of the clinical trial program with Incyte "is an important component of our comprehensive approach to investigating the potential for KEYTRUDA in combination with promising compounds, such as epacadostat, to help make a difference in the lives of people with these cancers."