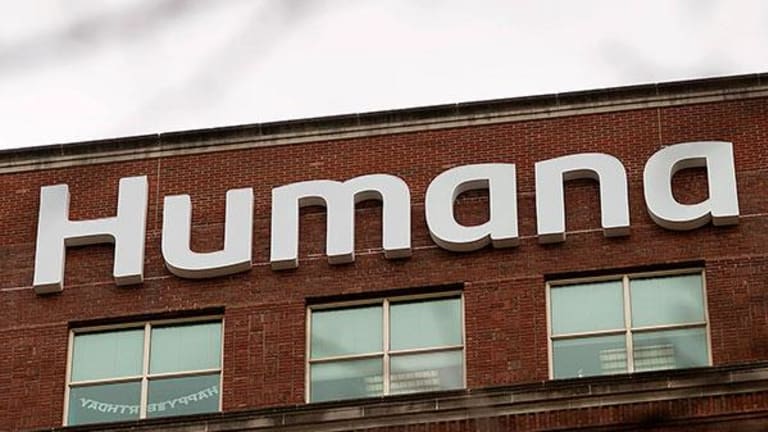 Humana Shares Rise After Pre-Announcing Q1 Results, Raising Guidance
The announcement comes a day before the insurer is scheduled to host an investor meeting in New York.
Shares of Humana (HUM) - Get Report rose nearly 3% in after-hours trading Monday after the insurer pre-announced first-quarter numbers and raised its full-year guidance.
Louisville, Ky.-based Humana reported adjusted earnings per share of $2.75 compared with $2.07 in the year-ago period. GAAP revenue was $13.76 billion, versus $13.8 billion in the same period last year. Non-GAAP revenue was $13.48 billion, compared with $12.91 billion in the first quarter of 2016.
The stock was trading at $219.99, up 2.9%.
The company's adjusted results from the prior year were recast to exclude the individual commercial medical business given the company's previously disclosed decision to no longer offer these products starting in 2018.
"The company's GAAP and Adjusted EPS results for 1Q17 were better than management's previous expectations, primarily due to outperformance in the Retail segment, largely attributable to prior period development in the company's individual Medicare Advantage business," Humana said. "All of the company's businesses performed well and early indicators are positive relative to management's initial expectations around medical utilization."
Analysts expected adjusted EPS of $2.49 on revenue of $13.6 billion, according to FactSet Research Systems.
Also on Monday, Humana upped its GAAP EPS guidance for full-year 2017 to at least $16.91 from the previous range of $16.65 to $16.85, and its adjusted EPS guidance to at least $11.10 from the $10.80 to $11.00 range previously.
The announcement comes a day before Humana is scheduled to host an investor meeting in New York.
Humana plans to release detailed first quarter results on May 3.
In February, Aetna (AET)  and Humana pulled the plug on their merger agreement on the heels of a federal judge's ruling in January blocking Aetna's $37 billion bid for Humana. Aetna said it will pay Humana a $1 billion reverse breakup fee as required by the companies' July 2015 merger agreement. After taxes Humana will get to keep $630 million.