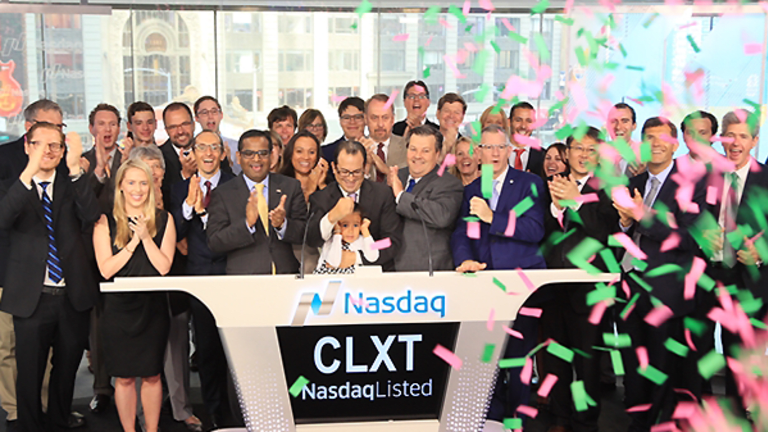 Gene Editing Company Joins NASDAQ, Jumps Over 20% on First Day
With Calyxt, perhaps you truly can have your cake and eat it too.
More than two thirds of American adults are considered overweight or obese, cementing the United States' status as one of the unhealthiest nations. One of the main culprits behind this figure is the American diet.
But that could change with a bit of meddling with a gene or two within our food, according to executives of a company that began trading publicly on July 20.
Founded in 2010, Calyxt Inc. (CLXT) - Get Calyxt, Inc. Report is a plant genome editing firm that utilizes TALEN technology to strategically edit DNA components found in food. With over sixteen years of experience between Calyxt and their parent company, Cellectis SA (CLLS) - Get Cellectis SA Report , the firm is no stranger to gene-editing.
Originally positioned to launch from $15-$18 per share, Calyxt's IPO was priced at $8 and opened at $9.50 on Thursday, July 20 on the NASDAQ. Shares jumped 22.2% to a high of $11.88 that day. Through late morning trading Friday the shares had given back some of that rise and stood at $11.23. The offering raised $53 million.
Not bad for a company that started out of a garage at the University of Minnesota.
Gene-editing differs from the related field of creating genetically modified organisms. GMOs are crops that have had new genes introduced into them, whereas gene-editing tampers with small bits of DNA already in a food's structure. DNA can be inserted, deleted, or replaced in the genome of a living organism within the mechanisms of gene-editing, which acts sort of like "molecular scissors".
In Calyxt's case, gene-editing can increase good fats in soybean oil, up the fiber content in wheat, and remove allergens across various crops -- all of which can be accomplished without changing the color or flavor of the food.
"We have this vision of making the foods we love to eat healthier for us," said Federico Tripodi, Calyxt's Chief Executive Officer. "So, what if we could apply these technologies so we could have the convenience, but also have food safety and the health aspects?"
Tripodi condensed the potential of gene-editing by comparing it to an American classic: a PB&J.
"My favorite example is the peanut butter and jelly sandwich," said Tripodi. He questions: "What if we could remove the allergens [from peanuts]"?
According to Tripodi, food-related health issues that affect our society today stem from obesity, diabetes, and life threatening food allergies.
"All of the above have a dietary component and gene editing is a fundamental change in how we think about making our food ingredients better to address these health issues in society," said Tripodi. "We've been working on farming for decades, for thousands of years -- but we've done little as a society," he says, in regards to addressing the current problem.
As Tripodi alluded to the potential that gene-editing may unlock in the years to come, he posed other questions that involved tampering with the PB&J. What if the glucose content of jam could be lowered while simultaneously increasing vitamins? He also spoke about upping the fiber content in wheat, something that Calyxt is working on to commercialize. 
As it nears the end of its Phase 3 trial, the oleic soybean is the current lead of Calyxt's product chain. The firm is building its inventory and eyeing prospective food industry customers. Calyxt is aiming to commercialize the oil in 2018, where it will be sold business to business within the food industry.
The high oleic soybean, for one, shows promise -- especially with the U.S. Food and Drug Administration ban of trans fat that will come to fruition in 2018. The soybean mirrors the health profile of olive oil with its reduced saturated fat and zero trans fat. Health labels like that may lead to fatty fried foods such as fries and chips being removed from lists naming them as top public-health enemies.
But the soybean is only a part of the trimviurate on which Calyxt is marketing its innovation. Fibrous wheat and herbicide tolerance stand with the legume among Calyxt's triple threat entourage.
Tripodi forecasts this to be just the beginning for Calyxt. As more developed nations begin to face global food scarcity head-on, scientists are turning to alternatives to alleviate the growing threat. With companies like Calyxt that are investing in other realms of food production, food scarcity may recede quite soon. 
Tripodi estimates that within the three crops (soybean, canola, and wheat), the total addressable market size in North America is $60 billion. Looking at a global scale, that market jumps to $270 billion.
A question mark remains how consumers and policymakers will respond to a technique that, at least on first blush, will strike many as similar to creating GMOs.
"We are nothing like those GMOs you've been hearing about for 20 years," said Tripodi.
But according to Stacie Orell, the Director of GMO Free NY, consumers should take a precautionary approach with gene-edited consumables.
"My opinion is that although the technique is different in terms of how the genome is modified, the net result is the same in terms of comparison with first-generation GMOs -- tinkering with an organism's genome always come with the possibility of unintended consequences," said Orell. "So until our government regulatory agencies mandate the types of safety studies that are already required for drugs and food additives before they're allowed on the market and deemed safe for human consumption, I hold that the jury is still out on the safety foods produced with gene editing."
But Calyxt has received five letters from the FDA stating that their products are non-regulated, implying they are safe for the public. To their knowledge, that's the largest amount of products of any company of any size has received for gene-editing products.
The potential that Calyxt's gene-editing techniques possess may usurp former standards of agricultural methods within food production. At the very least, it'll impact the agricultural circuit and small suppliers will certainly notice. But Tripodi hinted at future consolidation down the road.
"We hope they [small farmers] don't compete with us; we hope we partner," said Tripodi.
If Calyxt holds to that goal, it will be good news for Calyxt's competition, especially for smaller manufacturers. With giants like Monsanto (MON) and Bayer AG (BAYN)  dominating the food technology sector, the road to innovation is paved with patented obstacles.