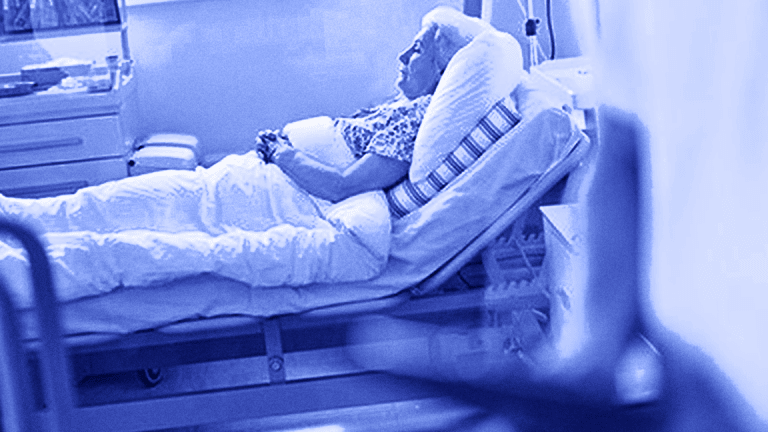 Flu Season May Make Hospital Cash Registers Feel Better ... but Maybe Not
While this year's bug may help raise first-quarter revenue for hospital chains, it may also end up being a drag on the bottom line.
The intense flu season has been bad news for those who have caught the bug, but the illness may be just what the doctor ordered as hospital chains may see increased revenue in the first quarter, according to an investor note from RBC Capital Markets analyst Frank Morgan.
The reported cases across the country increased to 7.7% of patient visits from Jan. 28 to Feb. 3 and are now approaching levels last associated with the swine flu of 2009-2010. Data from the Centers for Disease Control showed that in January there were 42 admissions due to the flu for every 100,000 U.S. residents.
The CDC estimated that between 5% and 20% of the country will come down with the flu and the illness will end up costing $10.4 billion in direct medical expenses.
In California, 36 patients under the age of 65 died from the flu in the first week of February.
This flu season may pose a challenge for public hospital chains like Community Health Systems Inc. (CYH) - Get Community Health Systems, Inc. Report , HCA Holdings Inc. (HCA) - Get HCA Healthcare Inc Report , Kindred Healthcare Inc. (KND) and Universal Health Services Inc. (UHS) - Get Universal Health Services, Inc. Class B Report .
Though revenue and margins on hospitalized flu patients aren't particularly high, the average stay is between two to four days for those who are so sick that home care won't work. But depending on reimbursement, some hospitals realize a net loss on flu admissions.
But flu admissions can cut both ways, depending on the demographics of the area and the pattern of the illness. For hospitals that skew to older patients, the flu is more likely to generate more revenue as those patients tend to be sicker for longer.
Flu cases also disrupt the normal flow of patients for some hospitals, as some flu patients end up in the emergency department. Those cases may create longer lines, delays in treatment and can result in some patients walking out altogether. Unusual patient patterns can also drive up overtime and cause supply shortages, driving hospitals to spend more cash on replenishment.
On a national basis, more than 17,000 patients have been admitted to hospitals to treat this year's version of the flu. And according to Morgan of RBC, year-over-year adjusted admissions for the first quarter of 2018 are projected for a significant increase.
But healthcare data showed that such admissions are a double-edged sword. Hospital admissions tend to generate less revenue than surgical admissions, and as hospitals see an uptick in flu admissions, staffing becomes an issue and elective surgeries are postponed.