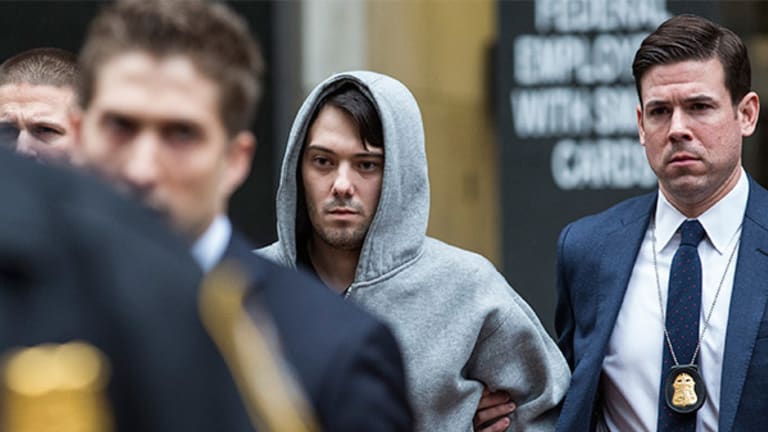 First Witness to Testify in Pharma Bro's Trial Felt 'Betrayed'
Sarah Hassan, daughter of pharmaceutical executive Fred Hassan, was ignored by Shkreli for nearly a year before she received returns on her original investment.
Martin Shkreli's hedge fund, MSMB Capital Management LLC, went from boom to bust in just thirty-one minutes, according to the first testimony in "Pharma Bro's" ongoing lawsuit.
Sarah Hassan, the first witness called to the stand, began her testimony on Thurs. June 29, explaining to the jury her belief that she had been defrauded after Shkreli took nearly a year to return her initial investment. But it appears that it may have been worth the wait, since Hassan's investment resulted in a cool $2.7 million rather than some chump change. 
Accused of defrauding investors of two hedge funds, Shkreli has found himself in a Bernie Madoff scenario, where he allegedly paid off investors using $11 million worth of Retrophin Inc.'s (RTRX) - Get Report  assets. Currently, Shkreli is under federal investigation for eight counts of securities and wire fraud. The case is playing out in Federal District Court in Brooklyn presiding under Judge Kiyo Matsumoto.
Hassan invested $300,000 of her own finances into Shkreli's hedge fund, MSMB Capital. During her testimony, Hassan said she was "pleased" and "excited" each time she received a monthly performance update showing her investment outperforming the market.
The first update, emailed on Mar. 2, 2011, claimed that MSMB delivered a 4.24% return on its stock position. Her investment continued to appreciate, much to the excitement of Hassan. Soon, however, her excitement faded to caution as the frequency of performance reports dwindled down. 
Her concern was eased, however, when she received an e-mail on Sept. 9, 2012 detailing that her investment appreciated by 45% to $435,266.
But thirty-one minutes later, Shkreli e-mailed investors that he was liquidating the fund so that he could focus his attention on "private equity opportunities."
Shkreli promised to redeem the limited partnerships of his investors by giving them the opportunity to cash out their investment, or alternatively, converting their investment into shares of Retrophin instead.
Hassan requested her initial $300,000 investment in cash, deciding that she would invest her additional $135,000 profit into Retrophin. But she wasn't seeing her cash despite Shkreli's promise to wire the investment by the end of the year.
In an e-mail sent to Shkreli, Hassan wrote: "I would like you to tell me why you are refusing to return my cash after dissolving the fund. If you need money, you can ask for it, and I will consider it."
"As a fiduciary, I expected you to honor my request," she continued. "As a friend, I will continue to trust you. I hope, as the CEO of a public company, you do not betray my trust."
Despite the obstacles that Hassan faced, she maintained faith in Shkreli because of to the contacts they shared in the pharmaceutical industry. Hassan's father, Fred Hassan, is the former chief executive officer of Schering-Plough before the company merged with Merck & Co. (MRK) - Get Report . He is currently a managing director at Warburg Pincus LLC and is a board member for Time Warner Inc.  (TWX) and Amgen (AMGN) - Get Report .
But her faith vanished in Shkreli once Hassan received an e-mail saying that "there is no longer any cash at the fund level." 
"To be frank, I felt somewhat betrayed at that point," said Hassan. "To hear over a year later that the cash was gone, it was upsetting."
Prior to her investment, Shkreli reviewed the basics with her, describing MSMB Capital as a healthcare hedge fund holding $40 to $50 million worth of assets. Hassan said on the stand that she was not aware that MSMB Healthcare was a separate entity, or aware of its existence at all.
The prosecution, however, is claiming that Shkreli drained the account of MSMB Capital through a short position on Orexigen Therapeutics, Inc.  (OREX)  The deal indebted the fund to Merrill Lynch by $7 million, leaving Shkreli's hedge fund with around $700 as of Dec. 2010. 
According to James, Lundy, an attorney at Drinker Biddle & Reath LLP and legal expert, hedge funds similar to MSMB Capital and MSMB Healthcare are charged by the Securities and Exchange Commission and the Department of Justice "all the time".
Shkreli's case differs from the likes of Bernie Madoff's case and other Ponzi schemes because of its public element: Retrophin. As interim CEO, Shkreli exercised complete autonomy over the company's funds, from which he allegedly pulled from to reimburse investors of MSMB Capital. 
"What's really unique is the involvement of the public company, using stock of that company, using false consulting agreements to then funnel to the defrauded investors and hedge funds," said Lundy. "I can't think of another case that had that latter aspect. It makes what's already a serious matter appear much worse."
Martin Shkreli's attorney, Benjamin Brafman, took the podium and fired away during the trial's first cross-examination. He delved straight into the risks sections of the agreements that Hassan had signed prior to her investments.
"You were warned that there was risk in this investment, correct?" questioned Brafman.
"Yes," answered Hassan.
Brafman finished his examination by noting the significant appreciation of Hassan's investment, discounting Hassan's anxiety and frustration that accompanied the eventual cash-out that spanned over a year.
"I know it's frustrating, trust me, I've dealt with him," said Brafman.
Instead of receiving her initial investment from MSMB Capital, Shkreli issued Hassan 58,305 shares of Retrophin instead. Hassan acquired the shares of Retrophin for approximately $5 per share, but was unable to instantaneously sell them because they were illiquid. She sold the shares approximately two years after she acquired them for $19 per share.
In total, after selling her personal shares of Retrophin, Hassan made $900,000.