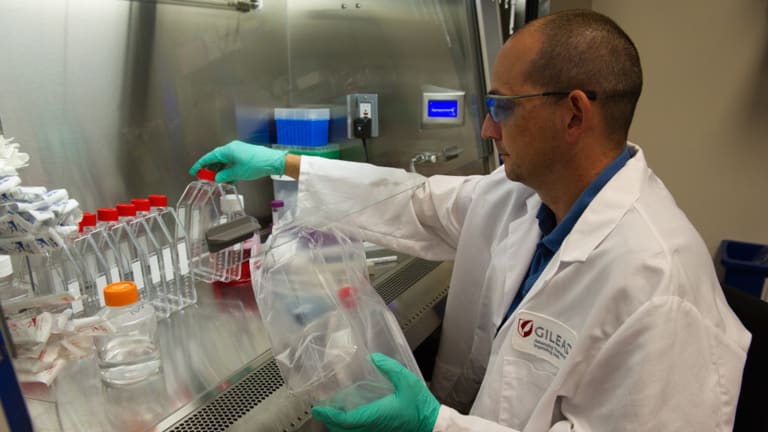 Epizyme's Positive Cancer Drug Results Likely to Catch the Eye of Celgene, J&J
Epizyme sank almost 20% since their last earnings report, but recent developments show positive data from one of its keynote drugs, Tazemetostat
Following positive interim data reports from Epizyme Inc. (EPZM) - Get Free Report for its lead drug to slow cancer tumor growth, bigger biotech giants may scoop up this B-cell technology.
Gilead Sciences Inc.  (GILD) - Get Free Report , AbbVie Inc. (ABBV) - Get Free Report , Celgene Corp.  (CELG) - Get Free Report , Johnson & Johnson (JNJ) - Get Free Report , and Roche Holding AG (ROG) - Get Free Report were all cited as those who may express potential interest in the Tazemetostat program, according to analysts at Leerlink Partners LLC.
Cambridge, Mass.-based Epizyme on June 14 reported positive interim efficacy data from phase 2 clinical trials of Tazemetostat, an EZH2 oral inhibitor. Mutations and over-expression of the EZH2 gene is linked to many forms of cancer, but inhibiting the gene may slow tumor growth.
Shares of Epizyme climbed to a close of $14.50, up 17%, Thursday, June 15. However, the company had sunk 19.2%, hitting a year-to-date low of $10.10 on Tuesday, June 13.
Gilead's oncology and hematology unit offers Tirabrutinib, a BTK inhibitor that has a potential indication for B-cell malignancies. AbbVie's Venclexta selectively inhibits B-cells and is currently straddling phase 2 trials.
Imbruvica, is another drug targeting B-cell malignancies, has been passed between J&J and AbbVie over its lifespan. Pharmacylics developed Imbruvica during the drugs phase 2 trial, which led to a partnership with Johnson & Johnson. AbbVie acquired Pharmacylics in May 2015, which explains why Imbruvia appears both in J&J and AbbVie's drug pipeline.
Investors are bearish given the uncertainty seen in scientific research, but Tazemetostat possesses potential.
"We now view it as one of the more intriguing small molecules in the B-cell malignancy field," wrote Leerlink analysts Geoffrey Porges and Bradley Canino.
Despite its smaller sample size of 120 patients, the 90% response rate and 100% clinical benefit rate for follicular lymphoma with the EZH2 mutant gene may indicate future promise. The EZH2 wild type had a 26% response rate and a 69% clincial benefit rate, generating a moderate rating in likelihood of response.
According to Porges and Canino, they would not be surprised "to see Epizyme start to show up on potential takeout candidate lists for the many acquirers looking for active and combinable molecules in the B-cell malignancy class."
Editor's pick: This article was originally published at 12:55 pm ET and has been updated.