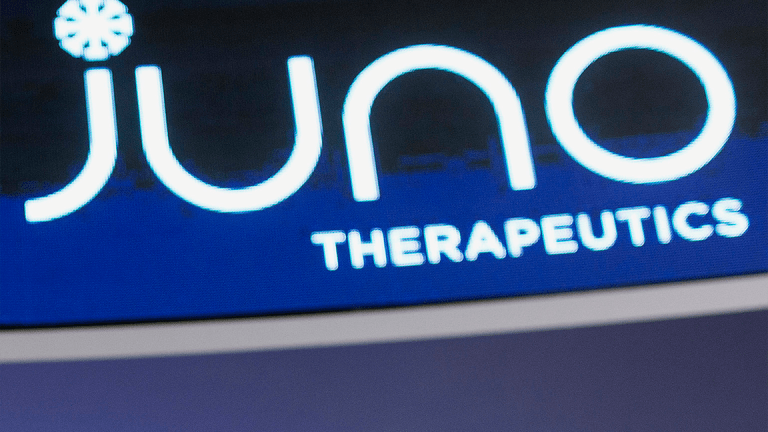 Deal Buzz Sends Juno Shares Soaring
Shares of the biotech firm jumped in after-hours trading on the heels of a report that Celgene was in discussions to acquire the company.
Shares of biotech firm Juno Therapeutics Inc. (JUNO) jumped in after-hours trading on Tuesday, Jan. 16, following a Wall Street Journal report that Celgene Corp. (CELG) - Get Report was in discussions to acquire the company.
Talks could result in a deal in the coming weeks, the report stated.
Juno's shares rose about 45% to $66.33 and Celgene's shares declined 2% to $102.70 in after-hours trading.
Seattle-based Juno focuses on cellular immunotherapies to treat cancer. Summit, N.J.-based Celgene focuses on therapies for the treatment of cancer and inflammatory diseases.
A Juno representative said the company does not comment on market rumors or speculation. A representative for Celgene did not immediately return a a request for comment.
Celgene and Juno are no strangers. The companies in 2015 signed a 10-year collaboration to develop and commercialize immunotherapies for the treatment of cancer and autoimmune diseases.
Following the WSJ report, Jefferies LLC analyst Michael Yee wrote in a note on Tuesday, "We are not surprised nor shocked to see this and view the potential acquisition as an incremental positive since it would consolidate long-term revenues and technological expertise, although we also acknowledge new revenues and external BD (business development) are favorable given that CELG needs new revenue and already have rights to the majority of JUNO's pipeline."
Earlier this month, Celgene unveiled a deal to buy San Diego-based Impact Biomedicines for as much as $7 billion, including an upfront payment of about $1.1 billion.
-- Lisa Botter contributed to this article.
More of What's Trending on TheStreet: