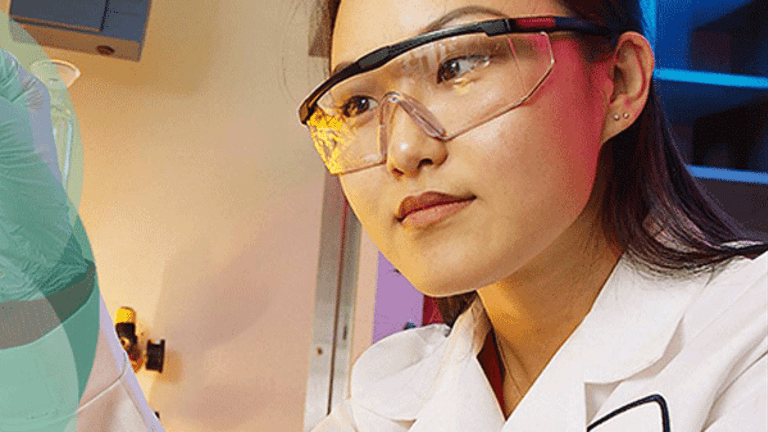 Could Merck and Leap Union Be the One for Keytruda?
The Merck collab would count as Leap's first of planned studies with immunotherapies, but the collaboration is not Keytruda's first rodeo.
On Wednesday, June 21, Cambridge Mass.-based Leap Therapeutics Inc (LPTX) - Get Report announced a new collaboration with Merck & Co. Inc (MRK) - Get Report , one that will evaluate the union of their two drugs and aim to accelerate cancer treatment.
For the week ended Friday, June 23, Leap leap shares were up 7.6%, or 45 cents, to $6.35. So far this year, however, Leap shares have crept downwards by 24%, dropping form $8.47 at the beginning o 2017.
Merck's iron horse Keytruda antibody will intermesh with Leap's DKN-01 antibody. The collaboration intends to evaluate the union of Keytruda and DKN-01 and investigate the efficacy of the two drugs in patients with relapsed or refractory advanced esophagogastric cancers. The combination is also expected to pivot the clinical development of DKN-01 as Leap begins to evaluate immunomodulatory activity within the antibodies clinical trials.
"Administering DKN-01 in combination with a checkpoint inhibitor such as Keytruda enables targeting both the innate and adaptive immune system to attack the tumor, as well as directly targeting the tumor itself," said Chris Mirabelli, CEO of Leap Therapeutics. "This initial clinical study enables Leap to evaluate the efficacy, safety, and biologic activity of DKN-01 as an emerging immunotherapy in combination with Keytruda as we simultaneously develop DKN-01 in patients with genetically-defined Wnt pathway alterations."
Keytruda has proven its past performance by slowing the spread of cancer cells in the body while DKN-01, a monoclonal antibody, has a binding affinity to Dickkopf-1 (DKK1), a protein associated with a range of cancers. Once DKN-01 binds to DKK1, it inhibits a pathway that plays a key role in cell proliferation and development.  Leap is looking to determine whether DKN-01 and Keytruda can piggyback results from anti-PD-1 monotherapies. PD-1's, or programmed death proteins, are found on the surface of immune cells.
Currently, DKN-01 belongs to multiple Phase 1 oncology studies and has demonstrated activity in treating esophagogastric cancer, biliary tract cancer, and lung cancer.
The Merck collaboration would count as Leap's first of its planned studies with immunotherapies, but the collaboration is certainly not Keytruda's first rodeo. In fact, there are more than 300 combination trials evaluating Keytruda across varying clinical settings which range from immunotherapies to radiation and targeted therapy.
"The collaboration with Leap Therapeutics announced today adds to a broad clinical program designed to explore the role of Keytruda in innovative immuno-oncology combinations - and underscores our commitment to advance the care of patients with cancer," said Eric Rubin, vice president of early-stage development for clinical oncology within Merck Research laboratories.
Editors' pick: Originally published June 23.