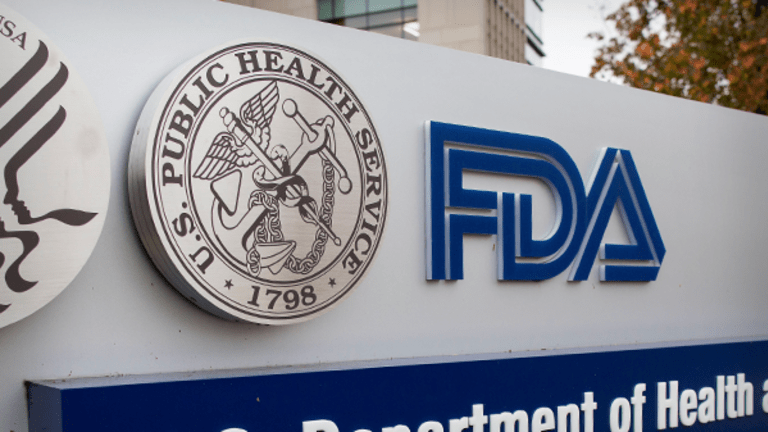 Canadian Pharma Goes Before FDA Panel Wednesday on Tamper Resistant Opioid
IntelliPharmaceuticals has a bio-equivalent to OxyContin, but says it is harder to tamper with. The pharma company is hoping to gain a recommendation from an FDA committee on Wednesday.
A Food and Drug Administration advisory committee will review IntelliPharmaceuticals International Inc.'s (IPCI) tamper resistant opioid painkiller Wednesday, July 26 and Purdue Pharma LP will be a very interested observer.
A 13-member committee will examine Rexista, a long-acting opioid-based pain med from Toronto-based IntelliPharmaceuticals that has been formulated to be tamper resistant. The drug contains a blue dye which would mark those who tampered with the drug. It also contains a nasal irritant designed to keep the drug from being easily inhaled.
Shares of IntelliPharmaceuticals were up up 7 cents, or 2.89% Tuesday to $2.49.
Opioid-based drugs are favored by physicians for its ability to short circuit severe pain by acting on specific receptors in the brain but opioids also deliver to the dopamine system within the brain, which produces psychoactive effects. But the drugs have proven to be highly addictive and have harmful side effects as well. While long-acting opioids are designed to release their medicine over time, when the pills are abused by crushing them to be inhaled or injected, abuser get the full dose all at once, contributing to both the desired high as well as the danger of overdose.
According to the National Institute on Drug Abuse, there are 90 overdose deaths every day in the United States. The Centers for Disease Control and Prevention puts the "economic burden" of prescription opioid misuse at $78.5 million a year. Opioid addiction has even become a political issue as the GOP has moved more money into addiction treatment for its repeal and replacement of Obamacare in the hopes of buying votes from senators in states where the opioid crisis has become most severe.
Rexista is bio-equivalent to Purdue's OxyContin, the well-known opioid painkiller that has developed a following among drug abusers and heroin addicts, which means if it gained FDA approval, Rexista could be prescribed in the same way that OxyContin is now. Privately held Purdue has taken steps to make its blockbuster drug, nicknamed Hillbilly Heroin, less easily abused but that hasn't dissuaded critics of the prescription med. The company has been sued by the city of Everett, Wash. alleging the company made its drugs available to unscrupulous physicians and pharmacies leading to distribution on the black market. The states of Ohio, Illinois, and Mississippi have brought actions of their own and counties in New York and California have brought lawsuits as well. Purdue has responded by noting that OxyContin accounts for less than 2% of the opioid painkillers sold in the U.S.
Purdue has brought a lawsuit of its own; an action against IntelliPharmaceuticals claiming the company has violated Purdue's patents. No matter what recommendation the FDA committee makes later this week, Purdue's lawsuit will need to be decided before Rexista is commercialized.
IntelliPharmaceutics submitted Rexista to the FDA as a New Drug Application in November 2016 and the drug has seven proposed dosage levels, 10 mg., 15 mg., 20 mg., 30 mg., 40 mg., 60 mg., and 80 mg., the same dosage levels as OxyContin.
The company did not immediately respond to a request for comment regarding the July 26 hearing or the company's efforts to gain approval for its drug.
The FDA noted in its preliminary report that the Canadian-based drug company had not included an abuse-liability study with the data that accompanied its application to market Rexista. The regulator said Rexista was less likely to be abused by inhaling, but the drug was easier to crush than OxyContin but less likely to be abused via an injection.
The committee will make its recommendation to the FDA and the regulator is expected to render its decision by September 25.
Rexista is not the only painkiller that could take a bite out of Purdue's revenues. Nektar Therapeutics (NKTR) - Get Nektar Therapeutics Report said last week that its pain drug NKTR-181 in a recent study demonstrated it was less "likeable" when compared to Oxycodone. The company said its drug is less likely to be abused because it alters the "brain-entry kinetics."
The FDA made waves in the pain-meds sector last month when it asked Endo Pharmaceuticals Plc (ENDP) - Get Endo International Plc Report to pull its extended-release version of Opana ER from the market over its potential for abuse.
Watch More with TheStreet:
5 Outrageously Expensive Jimmy Choo Shoes and Bags That Should Scare Coach