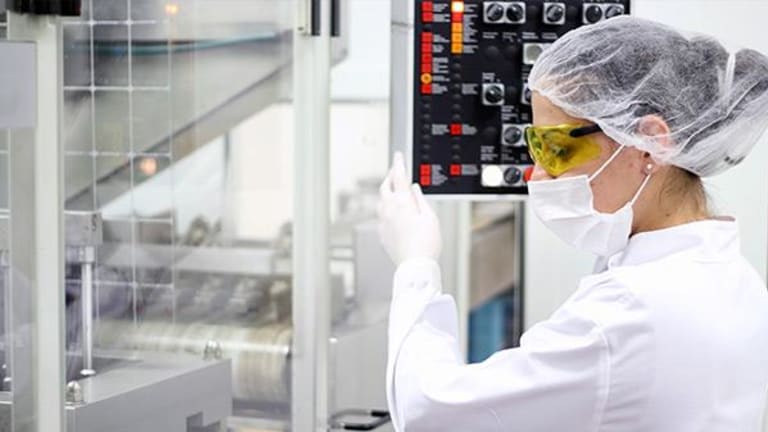 Bristol-Myers Commits Up to $1 Billion for Virus 'Armed' to Fight Tumors
Terms of the deal include an upfront payment of $50 million plus up to $886 million in development, regulatory and sales-based milestones.
Bristol-Myers Squibb (BMY) - Get Report said Tuesday it has signed a deal worth up to $936 million plus royalties to secure worldwide rights to an "armed" oncolytic virus being developed by PsiOxus Therapeutics to treat tumors.
Bristol-Myers will pay $50 million upfront and will be solely responsible for global clinical development and commercialization activities related to the NG-348 virus, which aims to address solid tumors. The deal also includes payment of up to $886 million in development, regulatory and sales-based milestones, as well as royalties on net sales.
In addition, Bristol-Myers will provide PsiOxus with funding to support activities related to the pre-clinical development of NG-348.
Oxfordshire, U.K.-based PsiOxus focuses on developing immunotherapies for the treatment of solid tumors.  
Oncolytic virus therapy makes use of modified viruses like the adenovirus, better known as the common cold virus, that selectively replicate within tumor cells and not within normal tissue. NG-348 utilizes PsiOxus' proprietary Tumor-Specific Immuno-gene Therapy (T-SIGn) platform to "arm" the virus with two additional immuno-therapeutic transgenes.
"PsiOxus has developed a novel platform of tumor-targeted delivery with oncolytic viruses focused on cancer and shares our passion for helping more patients respond to treatment," said Fouad Namouni, M.D., head of development, oncology at Bristol-Myers, in a statement. "We are excited to bring our deep expertise in Immuno-Oncology to the continued development of NG-348 and to better understand the potential role of oncolytic viruses in enhancing checkpoint blockade in multiple types of cancer in the tumor microenvironment."
New York-based Bristol-Myers and PsiOxus are familiar with each other. In June, the companies signed an exclusive clinical collaboration to study enadenotucirev, PsiOxus' systemically administered "unarmed" oncolytic adenovirus therapeutic.
Shares of  Bristol-Myers closed at $59.42 on Monday, up 1.4%.