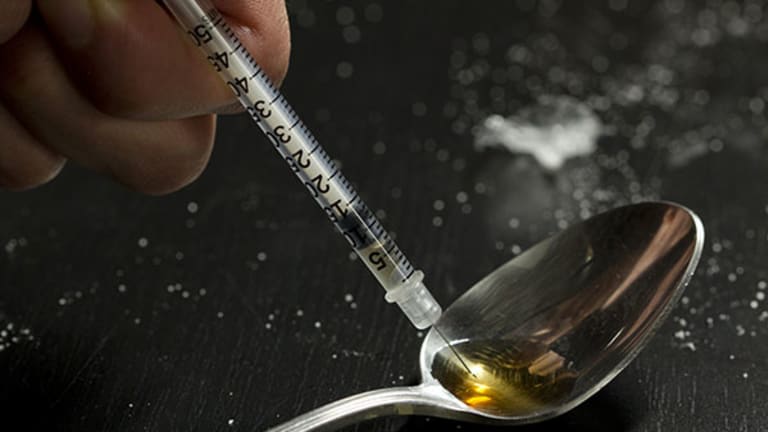 Braeburn, Camurus Send Long-Acting Opioid Addiction Treatment to FDA
If approved, it could be available as early as March.
Braeburn Pharmaceuticals Inc. and Camurus AB on Thursday, July 20 submitted their new drug application to the U.S. Food and Drug Administration for a long-acting opioid addiction treatment.
The medication known as CAM2038 uses weekly or monthly injections to alleviate lasting cravings and withdrawal for people with opioid use disorder, a disease affecting 2.6 million Americans, according to the National Institute on Drug Abuse.
CAM2038 is on the FDA's Fast Track, meaning the FDA is working to expedite the development and review process of the drug, but Braeburn -- Apple Tree Partners' private commercial-stage pharmaceutical company based in Princeton, New Jersey -- has applied for priority review of the medication, which leads to an even quicker review than Fast Track.
The FDA's goal for priority review applicants is take action on their drug within six months instead of the 10 months a typical Fast Track review can take. If the FDA approves the medication for priority review and then for medical use, CAM2038 could be available by the end of 2018's first quarter, Mike Derkacz, Braeburn's new president and CEO, told TheStreet on Thursday.
"This is what we say is our flagship product," Derkacz said. "We're exclusively focusing on being a leader in addiction medicine. Our mission is to advance what are next generation therapies that are individualized for patient needs and make a lasting impact on this awful opioid crisis."
CAM2038 uses buprenorphine, an opioid agonist that attaches to opioid receptors in the brain to reduce cravings and symptoms of withdrawal. Physicians would administer the medication under the skin, and the lipid-based technology developed by Camurus, a Swedish research pharmaceutical and biotechnology company, would slowly dissipate the medicine over a week or month depending on the formulation.
Camurus on Friday traded at $127 per share on the Stockholm Stock Exchange.
Derkacz said other buprenorphine-based treatments must be taken daily, which can be challenging for patients if they forget, making them more susceptible to relapse. Since a physician must administer the CAM2038, the patient would be compliant with the medication for the week or month it lasts.
"The product we've submitted meets an important, unmet need in the market," Derkacz said. "The patient and the physician are more in control."
The medication is part of Braeburn's "continuum of care," Derkacz said. Patients looking to treat their addiction could start with the weekly dose, transition to the monthly and then get Braeburn's Probuphine implant, which releases buprenorphine for up to six months and was approved by the FDA in May 2016. If the agency approves CAM2038, however, physicians could also start patients with monthly doses.
"When you think about what this country faces and the mission Braeburn is on to face that crisis, the next generation of therapy is treatment that can be customized, and we are very excited to be a part of that," Derkacz said.
An average of more than 90 people die of opioid overdose in the United States every day, and overdoses have risen more than three times since 2002, according to the U.S. Centers for Disease Control Control and Prevention.
Braeburn is also testing CAM2038 to treat pain, and recently completed a phase two study and is conducting a phase three study
Derkacz said it is too early to have a price on CAM2038 but that Braeburn is looking to "maximize access" to patients.
Braeburn submitted a 7.7-million-share initial public offering request to the U.S. Securities and Exchange Commission in December but withdrew it in February, citing the terms of the marketplace to be "not sufficiently attractive." Since then, Derkacz took over as CEO in June, and he said an IPO is not out of question.
"We are always evaluating our options to determine the most appropriate financial structure, but we are hyper-focused on our mission to bring treatment solutions to patients as Braeburn moves forward as the addiction company," he said.