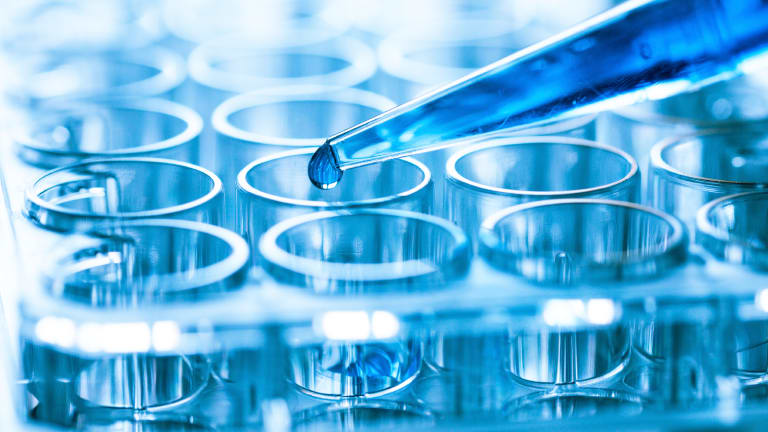 Bluebird Bio Stock Soars After Company Details Promising Cancer Treatment
The Cambridge, Mass.-based firm's presentations at the American Society of Hematology's annual meeting sent its stock soaring on Monday.
Shares of biotech firm bluebird bio Inc. (BLUE) - Get bluebird bio, Inc. Report surged on Monday, Dec. 11, following the company's presentations at the American Society of Hematology's (ASH) 59th annual meeting in Atlanta.
The stock hit a record $222.03 on Monday, then finished the trading session at $201.80, up nearly 18%. The stock is up more than 200% year-to-date.
In an interview with TheStreet, Wedbush Securities Inc. head of healthcare equity research David M. Nierengarten discussed his two main takeaways from bluebird's data presentations.
First, "the CAR-T [chimeric antigen receptor T cell] data continues to be first in class and best in class, in multiple myeloma," Nierengarten said.
CAR-T therapy involves extracting white blood cells or T-cells which defend the immune system, from cancer patients. The cells are then altered to seek out the cancer and attack it. Once infused back into the patient, the cells reproduce at a fierce pace to attack the cancer.
Bluebird and collaboration partner Celgene Corp. (CELG) - Get Celgene Corporation Report on Dec. 10 unveiled updated results from their ongoing CRB-401 Phase 1 study of bb212 in late-stage relapsed/refractory multiple myeloma. Bb212 is being developed to target B cell maturation antigen, or BCMA, a protein expressed on the surface of multiple myeloma cells, among others.

The companies said they observed an objective response rate of 94% and a complete response rate of 56% in active dose cohorts. Objective response rate refers to the proportion of patients that had a tumor size reduction of a predefined amount for a minimum time period. Complete response refers to the disappearance of cancer signs due to treatment. A cohort is a group of people that have a common characteristic.
Nierengarten expressed confidence that Celgene and bluebird can bring the product candidate over the finish line.
His other takeaway centers on bluebird's gene therapy candidate, LentiGlobin. Nierengarten noted that the company's prior effort did not generate consistently high enough levels of hemoglobin.
The new, improved process implemented by bluebird "gives us more confidence that they will have consistently good results," said Nierengarten, who has an outperform rating on bluebird's shares.
Cambridge, Mass.-based on Dec. 10 bluebird released updated results from HGB-206, its ongoing Phase 1 study of LentiGlobin in severe sickle cell disease, which is caused by a mutation in the beta-globin gene.
Bluebird said two patients that were given treatment under an amended study protocol and with a refined manufacturing process demonstrated 51% and 28% anti-sickling hemoglobin HbAT87Q at six and nine months, respectively.
"The promising early results from the first two patients treated under the amended HGB-206 study protocol indicate that the manufacturing and patient management changes we implemented may have a meaningful impact on patient outcomes," said bluebird chief medical officer Dave Davidson in a statement. "These two patients have maintained higher levels of gene-marked cells in the blood following treatment compared to the previous patients in HGB-206."
Also on Dec. 10, bluebird reported data from two studies of LentiGlobin in transfusion-dependent β-thalassemia, a genetic disease marked by reduced or absent hemoglobin levels that lead to severe anemia and ineffective red blood cell production. 
In the Phase 1/2 Northstar (HGB-204) study, 90% of patients with non-β0/β0 genotypes were transfusion-free after a follow-up of up to three years, the company said. As for the Phase 3 Northstar-2 (HGB-207) study, majority of patients demonstrated higher in vivo vector copy numbers and hemoglobin levels, bluebird said.
Then on Dec. 11, bluebird unveiled updated data from its ongoing HGB-205 study of LentiGlobin in severe sickle cell disease and transfusion-dependent β-thalassemia.
The company said two of three patients showed total anti-sickling hemoglobin levels of more than 45% and meaningful clinical improvement. All three demonstrated a rising trajectory of HbAT87Q production in the first six months after LentiGlobin therapy, bluebird added.
Watch More with TheStreet:
Uncle Sam Wants His Piece of Your Bitcoin
Here Is One Major Factor to Watch in the Markets in 2018
Forget Bitcoin: Check Out 5 of the Weirdest Cryptocurrencies