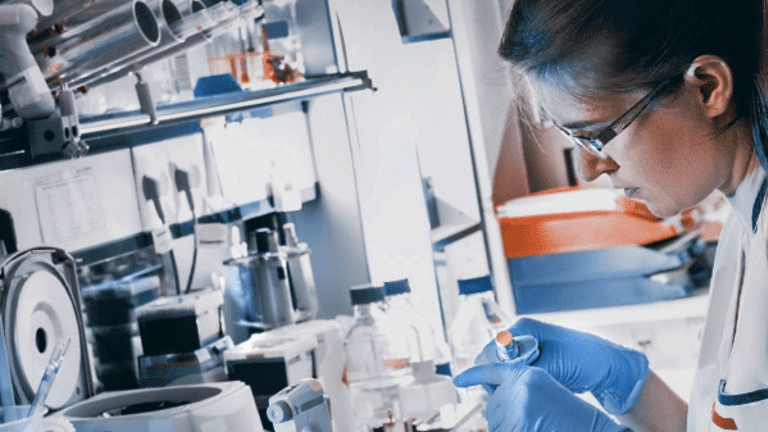 Sarepta Pops on Bullish Sentiment Around Duchenne Therapy, PDL Up on Merck Deal: Biotech Movers
Sarepta Therapeutics, Paratek Pharmaceuticals and PDL BioPharma were among the biotech stock movers in premarket trading on Monday.
Shares of Sarepta Therapeutics (SRPT) - Get Free Report were up nearly 2.3% to $33.35 in early trading on Monday.
A Barron's article over the weekend stated there's a "good chance" that sales of Sarepta's Duchenne muscular dystrophy treatment, Exondys 51, "will ramp up this year and in 2018." Cambridge, Mass.-based Sarepta is scheduled to announce its first quarter numbers on Thursday.
Meanwhile, shares of Paratek Pharmaceuticals (PRTK) - Get Free Report were up 3.2% to $22.70. The Boston firm unveiled a collaboration with with Zai Lab (Shanghai) to support the development and commercialization of omadacycline for patients in China. Paratek has granted Zai Lab an exclusive license to develop, manufacture and commercialize omadacycline for the greater China territory. The companies will form a joint steering committee to review and oversee development, manufacturing, and commercialization plans. 
Paratek will receive an upfront payment of  $7.5 million and is eligible for additional milestone payments related to development, regulatory, and commercial milestones.  Paratek will also be eligible to receive royalty payments on sales of omadacycline in the territory.
Among the other biotech movers were shares of PDL BioPharma (PDLI) - Get Free Report .
The stock was up 2.5% to $2.07 after the Incline Village, Nev.-based company said  Monday said it has entered into a settlement pact with Merck (MRK) - Get Free Report to resolve the patent infringement lawsuit in connection with Merck's Keytruda humanized antibody product. The parties agreed to dismiss all claims in the relevant legal proceedings.
Mark will pay PDL a $19.5 million one-time, lumpsum payment. PDL will grant Merck a "fully paid-up, royalty free, non-exclusive license to certain of the Company's Queen et al. patent rights for use in connection with Keytruda as well as a covenant not to sue Merck for any royalties regarding Keytruda," according to PDL's news release.