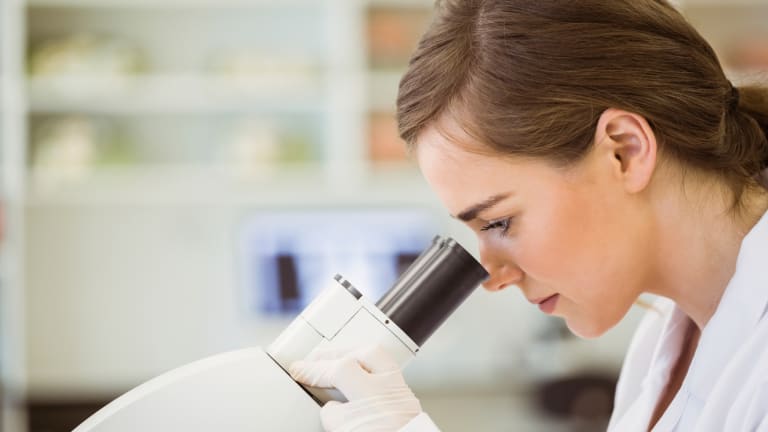 Publish date:
Biotech Movers: OncoMed Tanks After Barrage of Bad News, Akorn Rises on Deal Talk
OncoMed Pharmaceuticals, Geron and Akorn were among the biotech stock movers in premarket trading on Monday.
OncoMed Pharmaceuticals, Geron and Akorn were among the biotech stock movers in premarket trading on Monday.
Shares of OncoMed Pharmaceuticals (OMED) - Get OncoMed Pharmaceuticals, Inc. Report were down 45.2% to $4.80 on Monday after the Redwood City, Calif.-based firm said a phase two study of demcizumab in combination with Abraxane plus gemcitabine in previously untreated patients with metastatic pancreatic cancer did not meet the primary endpoint.
Also on Monday, OncoMed said Bayer Pharma has decided not to exercise its option to license the Wnt pathway inhibitors vantictumab (anti-Fzd, OMP-18R5) and ipafricept (Fzd8-Fc, OMP-54F28) for strategic reasons. Starting June,  OncoMed will retain worldwide development and commercialization rights to vantictumab, ipafricept and all other Wnt pathway biologics under the collaboration.  The small molecule program under the firms' collaboration continues.
"Under our collaboration with Bayer, we have received over $90 million in upfront and milestone payments that have fully funded the development of vantictumab and ipafricept," said OncoMed chairman and CEO Paul J. Hastings in a statement.
"While we had looked forward to collaborating with the Bayer team on the late-stage development of these biotherapeutics, we are very pleased to have worldwide rights to two promising Phase 2-ready assets. We will be conducting an internal portfolio review and prioritization as we determine next steps for all our programs, including vantictumab and ipafricept," Hastings said.
Meanwhile, shares of Geron (GERN) - Get Geron Corporation Report rose 22.8% to $2.64. The Menlo Park, Calif.-based company said Monday that Johnson & Johnson's (JNJ) - Get Johnson & Johnson (JNJ) Report  Janssen Research & Development LLC had wrapped up the second internal data reviews of IMerge and IMbark, the clinical trials of the telomerase inhibitor imetelstat in lower risk myelodysplastic syndromes and relapsed or refractory myelofibrosis, respectively.
"For IMerge, the benefit/risk profile of imetelstat in the treated patients supports continued development in lower risk myelodysplastic syndromes. A data package and proposed trial design refinements are planned to be provided to the FDA," Geron said.
"For IMbark, the current results suggest clinical benefit and a potential overall survival benefit associated with imetelstat treatment in relapsed or refractory myelofibrosis; the trial will continue unchanged to evaluate maturing efficacy and safety data, including an assessment of overall survival," the company said.
Among the other biotech stock movers was Akorn (AKRX) - Get Akorn, Inc. Report , whose shares were up 12.3% to $33.44. The Lake Forest, Ill.-based firm on Friday confirmed it was in talks with Fresenius SE & Co. KGaA unit Fresenius Kabi regarding a potential purchase of Akorn.
Shares of dementia treatment researcher Axovant Sciences (AXON) - Get Axovant Gene Therapies Ltd. Report were flying high Monday after the company announced that a former Medivation (MDVN) executive would be its new CEO.
Axovant shares were up 25% just after opening bell Monday after the company announced it had hired Mediation founder, CEO and president, David Hung, to take the helm at the company.
Hung oversaw the sale of Medivation, a company focused on cancer drugs, including Xtandi, which treats prostate cancer, to Pfizer (PFE) - Get Pfizer Inc. Report in 2016. The sale was worth $14 billion and closed in September after a lengthy bidding war that also included Sanofi (SNY) - Get Sanofi Sponsored ADR Report .