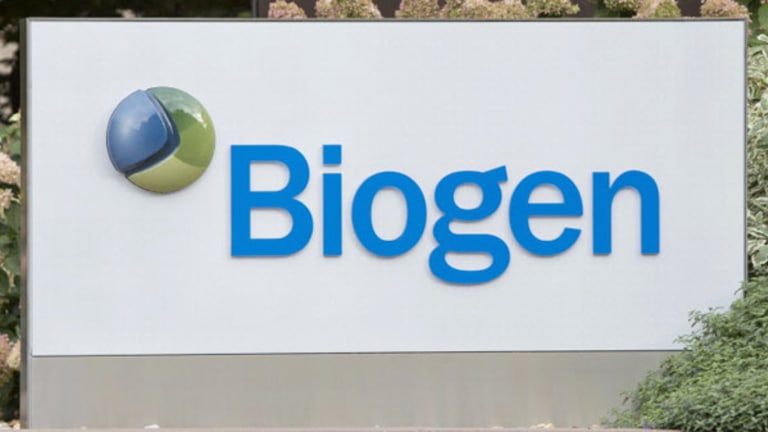 Biotech Movers: Novavax Falls Again After New Data on RSV Vaccine Fails to Excite
Novavax, Medicines Co. and Biogen were among the biotech stock movers in premarket trading on July 25.
Shares of vaccine company Novavax Inc. (NVAX) - Get Novavax, Inc. Report were down 24% to $1.15 early Tuesday afternoon. The Gaithersburg, Md.-based firm after the market close on Monday reported positive topline data from its Phase 2 safety and immunogenicity trial of the RSV F Vaccine in older adults.
In addition, it announced new preclinical data on its RSV F Vaccine construct, as well as additional findings from the prior Phase 2 and Phase 3 studies in older adults, E201 and E301. The company also gave an operational update on the Phase 3 study of the RSV F Vaccine for infants via maternal immunization.
Although the company painted the results as positive, reaction from the biotech press was skeptical. Endpoints News editor John Carroll, noted that Novavax has a long way to go before it recovers from the crushing news last fall that its Phase III study of more than 11,000 people over the age of 60 failed to significantly prevent RSV-associated lower respiratory tract disease or incidents of symptomatic respiratory disease.
That latest results come from "cobbled together topline claims on safety and immunogenicity data from a Phase II trial, some post hoc analysis from other studies, an assertion that an adjuvant approach would work better, and plans for a new mid-stage study to launch in older patients next year as it built its case that it knows now how to move ahead with a new development plan that can succeed in the wake of a nasty flop," Carroll wrote.
Meanwhile, shares of The Medicines Co. (MDCO) - Get Medicines Company Report rose 8.1% to $42.40 after the Parsippany, N.J.-based firm unveiled positive results from an interim analysis of the TANGO-2 study of meropenem-vaborbactam, Medicines' fixed-dose, investigational antibiotic combination.
The company said randomization in the study was stopped early following a recommendation by an independent Data and Safety Monitoring Board (DSMB). The board concluded that a "risk-benefit analysis of available data no longer supported randomization of additional patients to the best available therapy comparator arm," according to the news release.
Among the other biotech stock movers was  Biogen Inc. (BIIB) - Get Biogen Inc. Report . Shares rose nearly 4% to $296 after the Cambridge, Mass.-based firm reported better-than-expected second-quarter results and raised guidance. Biogen reported non-GAAP diluted earnings pre share of $5.04, compared with $5.21 in the year-ago period. Revenue was $3.1 billion , a 6% rise year-over-year and a 15% jump excluding hemophilia revenues.
Analysts have forecast adjusted EPS of $4.40 on revenue of $2.81 billion, according to Bloomberg.
Also on Tuesday, Biogen increased its full-year revenue guidance to $11.5 billion to $11.8 billion, compared with previous guidance of $11.1 billion to $11.4 billion. The company now expects GAAP diluted EPS to be between $17.05 and $17.65, compared with previously issued guidance of between $18.00 and $18.80. It now projects non-GAAP diluted EPS to be between $20.80 and $21.40, compared with prior guidance of  $20.45 to $21.25.

Biogen spun off its hemophilia business, Bioverativ Inc. (BIVV) , in January.
Worried about how to finance your golden years? Register here to watch a free webinar in which TheStreet's Jim Cramer talks with Ken Fisher, founder of Fisher Investments, about the market trends shaping retirement planning today.
More of What's Trending on TheStreet:
Walmart in Focus Amid 'Horrific' Human Trafficking Incident in Texas That Causes Nine Deaths
Alphabet Shares Tank as Wall Street Freaks Over Rising Traffic Costs
Brutal Reactions to Alphabet and Hasbro Results Show You Need to be a Trading Mercenary