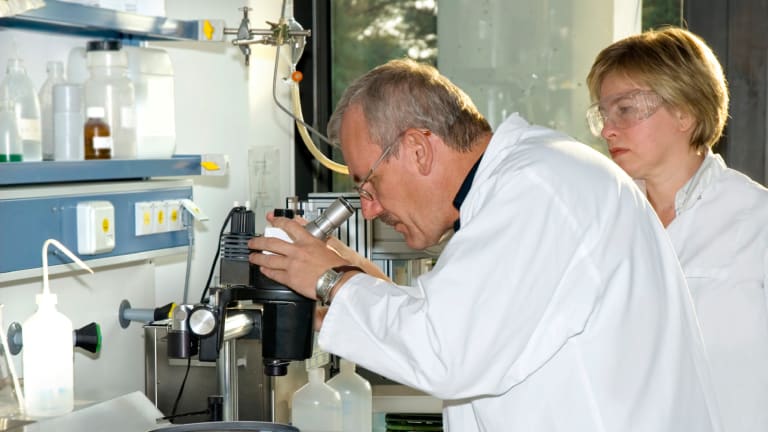 Biotech Movers: Ionis, Alnylam, Amicus, Minerva
Ionis Pharmaceuticals, Alnylam Pharmaceuticals, Amicus Therapeutics and Minerva Neurosciences were among the biotech movers in premarket trading on Monday.
Shares of Ionis Pharmaceuticals (IONS) were down 8.3% to $43.16. The Carlsbad, Calif.-based firm on Monday said a phase three study of inotersen in patients that have familial amyloid polyneuropathy met both primary endpoints. However, the company also said that during the clinical trial, two key safety findings were observed that required changes to the monitoring schedule.
Ionis said three serious adverse events of thrombocytopenia were observed in patients treated with inotersen; two patients recovered and one died because of intracranial hemorrhage. Another patient stopped treatment due to non-serious thrombocytopenia. Four patients stopped treatment because of a renal observation; two patients met a predefined renal stopping rule and two experienced serious renal adverse events. One placebo-treated patient also met a predefined renal stopping rule.
"Enhanced monitoring was implemented during the study to support early detection and management of the thrombocytopenia and renal issues," Ionis said. "All five serious adverse events occurred before enhanced monitoring was fully implemented. A detailed review of safety data from the study is ongoing."
Meanwhile, shares of Ionis rival Alnylam Pharmaceuticals (ALNY) were up 14.6% to $65.08.
Shares of Amicus Therapeutics (FOLD) were up 7.5% to $7.90 after the Cranbury, N.J.-based firm unveiled positive functional data from initial patients in a phase 1/2 study of
ATB200/AT2221 in patients with Pompe disease.
Other biotech movers include Minerva Neurosciences (NERV) . The stock was up 6.7% to $8 after the Waltham, Mass.-based company announced plans for phase three and phase four development of schizophrenia drug MIN-101.
Jim Cramer and the AAP team explain why they intend to vote for activist investor Elliott Management's nominees to Arconic's ARNC board at the May 25 shareholder meeting. Find out what they are telling their investment club members. Get a free trial subscription to Action Alerts PLUS.
Meanwhile, over on Real Money, Cramer says that if you take a second look at the crucial reports from Macy's (M) , Kohl's (KSS) , Nordstrom (JWN) and JC Penney (JCP) , you find things that you can like about these even as they don't stand out as any that must be owned.
Read More Trending Articles:
Why Snap Is Now One of the Most Hated Companies on All of Wall Street
Trump Won't Like What General Electric Is Doing to Its Workers, but Investors Should Be Thrilled