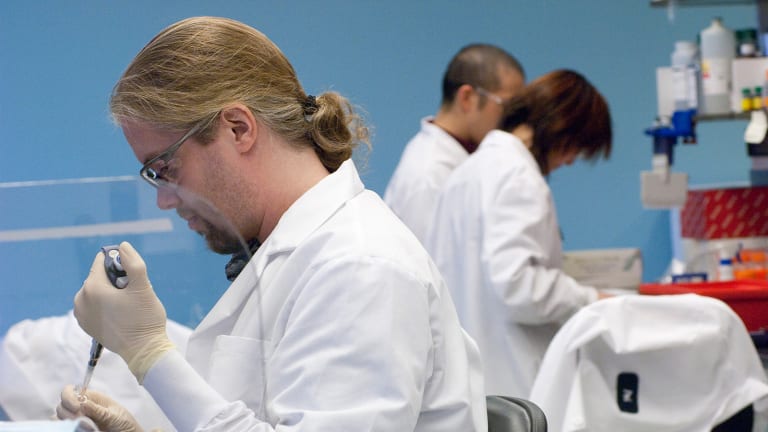 Biotech Movers: Inovio, Neurocrine, Alnylam
Inovio Pharmaceuticals, Neurocrine Biosciences and Alnylam Pharmaceuticals were among the biotech movers in premarket trading on Wednesday.
Shares of Inovio Pharmaceuticals (INO) rose 37% to $9.77 in premarket trading on Wednesday. The Plymouth Meeting, Pa.-based firm said its HIV vaccine candidate, PENNVAX-GP, generated among the "highest overall levels of immune response rates (cellular and humoral) ever demonstrated in a human study by an HIV vaccine."
The preliminary results of the study "are among the highest ever  responses we've seen with an HIV vaccine, and they are remarkably consistent with our recent data reported from our Ebola, Zika and MERS clinical trials in terms of demonstrating nearly 100% vaccine response rates with very favorable safety profile," said Dr. J. Joseph Kim, president and CEO of Inovio, in a statement.
Meanwhile, shares of Neurocrine Biosciences (NBIX) were down 6.6% to $50. The San Diego-based firm after the market close on Tuesday said that the initial phase two study of Ingrezza for the treatment of Tourette syndrome did not meet its primary endpoint.
"This study showed that we underestimated the Ingrezza dose needed for the pediatric population but also provided us with a clear-cut view into the level of dosing required for future studies," said Neurocrine chief medical officer  Christopher F. O'Brien, in a statement.
"We have developed a complete exposure-response model from this study that we believe accurately defines the appropriate dose-range to be tested in the next clinical study that will be started later this year," O'Brien added.
Other biotech movers include Alnylam Pharmaceuticals (ALNY) . Shares were down 4.5% to $71.48 on the heels of the Cambridge, Mass.-based firm's announcement after the market close on Tuesday that it has commenced an underwritten public offering of 5 million shares. Alnylam has also given the underwriter a 30-day option to buy up to an additional 750,000 shares solely to cover over-allotments.
All of the shares in the offering are being sold by Alnylam.
The company said it plans to use the proceeds for research and development expenses, working capital and capital expenditures, among others.
Jim Cramer and the AAP team say they continue to be amazed by the ability of Alphabet's (GOOG) Google "to infuse its artificial intelligence and machine learning capabilities to give marketers the best ad products available to reach the largest possible audiences." Find out what they are telling their investment club members. Get a free trial subscription to Action Alerts PLUS.
Meanwhile, over on Real Money, Cramer discusses JP Morgan (JPM) and Caterpillar (CAT) . Get his insights or analysis with a free trial subscription to Real Money.
Read More Trending Articles: