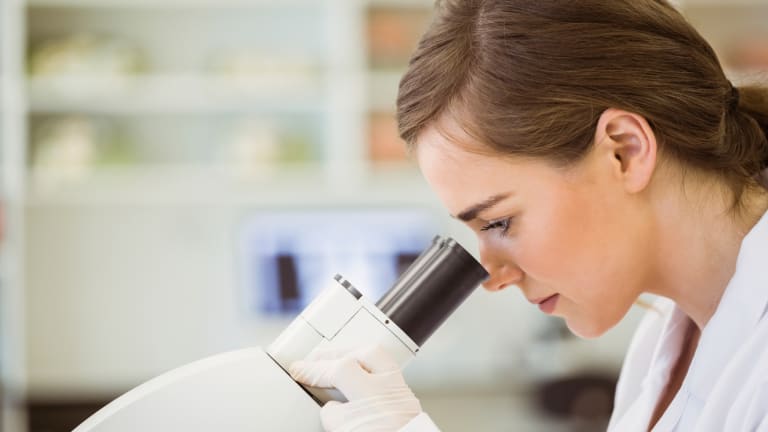 Biotech Movers: FibroGen Leaps on Results for Pulmonary Fibrosis Study
FibroGen, Depomed and Valeant were among the biotech stock movers in premarket trading on Aug. 8.
Shares of FibroGen Inc. (FGEN) - Get FibroGen, Inc. Report jumped 53.3% to $51.20 in premarket trading on Tuesday, Aug. 8, after the San Francisco firm on Monday reported second-quarter numbers and unveiled positive topline results from its Phase 2 study and two combination sub-studies of pamrevlumab in idiopathic pulmonary fibrosis.
FibroGen had a net loss per basic and diluted share of $0.48, compared with a net income per diluted share of $0.35 in the year-ago period. Revenue was nearly $29 million, compared with $89.3 million in the same period last year.
Meanwhile, shares of Depomed Inc. (DEPO) were down 18.7% to $7.50 after the Newark, Calif.-based company on Monday updated its guidance. It now expects 2017 GAAP revenue of $395 million to $410 million, compared with prior guidance of  $405 million to $425 million, and non-GAAP revenue of $400 million to $415 million, from $410 million to $430 million. The company expects adjusted Ebitda of $107 million to $117 million, compared with previous guidance of $120 million to $130 million.
For the second quarter, Depomed adjusted earnings per share of $0.08, compared with $0.19 in the year-ago period. Revenue on a GAAP basis was $100.5 million, compared with $116.7 million in the second quarter of last year.
"We continue to operate in an environment that is challenging and rapidly evolving," said Depomed president and CEO Arthur Higgins in a statement. "The increasing public focus on opioids as well as opioid manufacturers, including by government agencies and other industry stakeholders, will continue to disrupt the opioid markets."
"While our flagship NUCYNTA franchise continues to outperform the long and short-acting markets, it is clearly not immune to these developments," Higgins said, adding the despite the challenges, the company continues to "see opportunities to develop a leadership position in the treatment of pain by working with all stakeholders to encourage the appropriate prescribing and use of opioids."
Shares of Valeant Pharmaceuticals Intl Inc. (VRX) rose 9.3% to $16.80 after the company announced second-quarter results.  The Laval, Quebec-based firm on Tuesday reported adjusted Ebitda of $951 million, compared with $1.087 billion in the second quarter of 2016. Revenue was $2.23 billion, compared with $2.42 billion in the year-ago period.
The company updated its full-year revenue guidance to the $8.70 billion to $8.90 billion range, from $8.90 billion to $9.10 billion.
More of What's Trending on TheStreet: