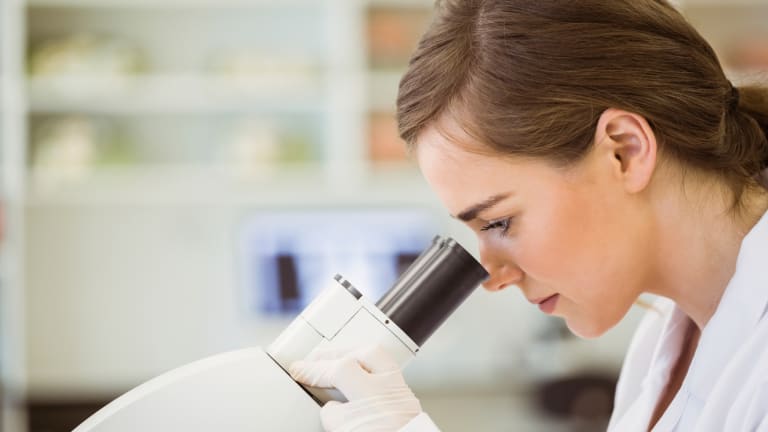 Biotech Movers: Clovis, Seattle Genetics, Rigel
Clovis Oncology, Seattle Genetics and Rigel Pharmaceuticals were among the biotech stock movers in premarket trading on June 19.
Shares of Clovis Oncology Inc. (CLVS) - Get Report jumped 44.5% to $86.65 in premarket trading on Monday, June 19, after the Boulder, Colo.-based firm said a Phase 3 trial of rucaparib achieved its primary endpoint of improved progression-free survival in all three ovarian cancer patient populations that were studied.
In addition, Clovis said progression-free survival was improved in the rucaparib group compared with placebo by blinded independent central review, a secondary endpoint.
The company said it intends to submit a supplemental new drug application within the next four months for a second-line and later maintenance treatment indication for women that have platinum-sensitive ovarian cancer who have responded to their most recent platinum therapy.
Meanwhile, shares of Seattle Genetics Inc. (SGEN) - Get Report were down 11.2% to $57.32 on the heels of the announcement that the Bothell, Wash.-based firm has ceased the Phase 3 study of vadastuximab talirine (SGN-CD33A) in frontline older acute myeloid leukemia (AML) patients. The move came after the company consulted with the Independent Data Monitoring Committee and reviewed unblinded data on June 16.
"The data indicated a higher rate of deaths, including fatal infections in the vadastuximab talirine-containing arm versus the control arm of the trial," Seattle Genetics said. "Based on available data, the safety concerns in this trial do not appear related to hepatotoxicity. Seattle Genetics is suspending patient enrollment and treatment in all of its vadastuximab talirine clinical trials including the ongoing phase 1/2 clinical trial in frontline high risk myelodysplastic syndrome (MDS)."
Seattle Genetics said it will review the data and consult with the U.S. Food and Drug Administration to determine future plans for the vadastuximab talirine development program.
Other biotech stock movers include Rigel Pharmaceuticals Inc.  (RIGL) - Get Report . Shares of the South San Francisco, Calif.-based firm were up 11.2% to $2.78 after the FDA has accepted Rigel's new drug application for tavalisse (fostamatinib disodium) as a treatment for chronic or persistent immune thrombocytopenia.
Rigel said it expects the action date for the FDA to complete its review will be April 17, 2018.
Worried about how to pay for your golden years? Ken Fisher, founder of Fisher Investments, and TheStreet's Jim Cramer will tell you what you need to know in a June 21 webinar on the market trends that are shaping retirement planning today. Register here for the event, which starts at 11 a.m. ET.