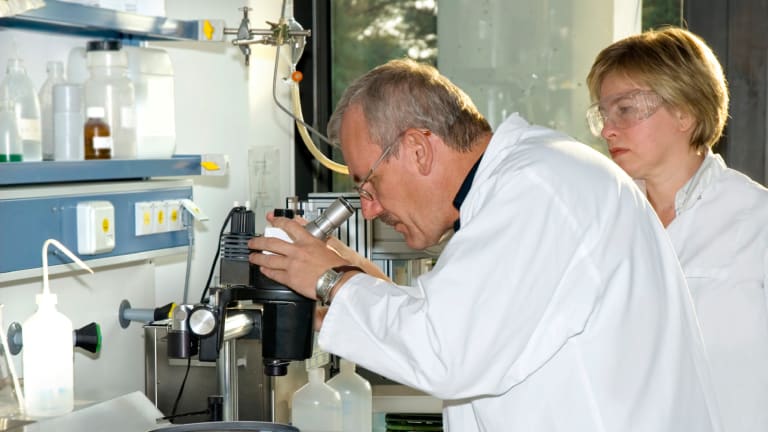 Shares of Sarepta Therapeutics (SRPT) - Get Sarepta Therapeutics, Inc. Report jumped as much as 13.3% Friday morning amid speculation about a potential transaction triggered by news of Sarepta CEO Ed Kaye's planned departure, along with word that Sarepta director Dr. Jean-Paul Kresse, a Sanofi (SNY) - Get Sanofi Sponsored ADR Report executive, decided not to stand for re-election because of time commitments and "a possible conflict of interest associated with his future endeavors."
"The timing of these two departures could be coincidental and mean nothing, or they might signal Sanofi's interest in acquiring Sarepta," wrote TheStreet columnist Adam Feuerstein.
Feuerstein added that there's "no outward evidence" that a transaction between the two companies was in the works.
The stock traded as high as $39.34 Friday morning, before changing hands at $36.94, up 6.4%, as of 10:35 a.m.
In an 8-K filing on Thursday, Sarepta said Kaye plans to resign as president and CEO and will remain a director.
In other Sarepta news, the company on Thursday reported first-quarter GAAP net income of $84.1 million, or $1.50 per diluted share, versus a net loss of $59.8 million, or $1.31 per diluted share, in the year-ago period. Non-GAAP net loss was $33.0 million, or $0.60 per share, compared to a non-GAAP net loss of $52.5 million, or $1.15 per share, in the first quarter of 2016.
Sales of Sarepta's Duchenne muscular dystrophy treatment, Exondys 51, were $16.3 million, surpassing analysts' estimates of $13.8 million. The company increased guidance on Exondys 51 sales for 2017 to a minimum of $95 million. The previous guidance was for sales of at least $80 million.
Other biotech stock movers include Vertex Pharmaceuticals (VRTX) - Get Vertex Pharmaceuticals Incorporated Report , which rose as much as 2.6% to $120.50 Friday morning on the heels of the announcement on the Boston firm's first-quarter numbers after the market close on Thursday.
As of 10:35 a.m., the stock was trading at $118.04, up 0.5%.
Vertex reported cystic fibrosis product revenues of $480.6 million, compared with $393.6 million in the year-ago period. Of the $480.6 million, Orkambi accounted for $294.9 million and Kalydeco generated $185.7 million.
Collaborative revenue was $232.5 million, versus $0.1 million in the same period last year.
The company had non-GAAP net income of $101.4 million, or $0.41 per diluted share, versus $22.4 million, or $0.09 per diluted share, in the year-ago period.
For full-year 2017, Vertex reaffirmed its guidance for Orkambi revenues and combined  GAAP and non-GAAP R&D and SG&A expenses. The company raised its 2017 revenue guidance for Kalydeco to $710 to $730 million from the previous range of $690 to $710 million.