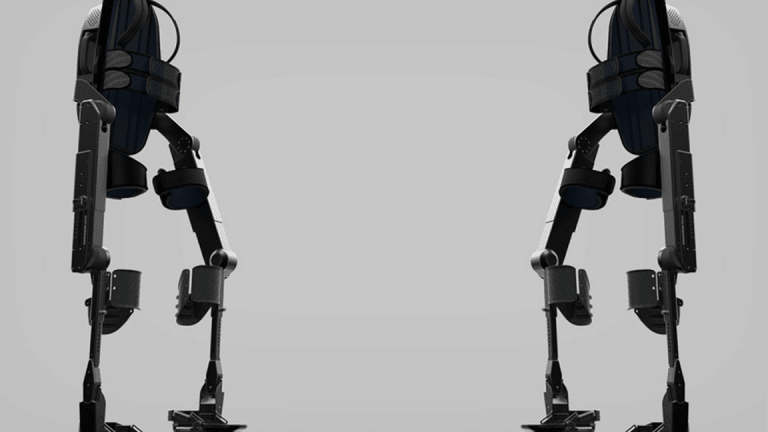 Bionik Labs Looks to Boost Mobility, Improve Quality of Life
The company is marketing arm and joint enhancement products.
Physical rehabilitation has come a long way over the years, and Bionik Laboratories Corp. (BNKL) has commercialized and is developing products that go far beyond simple strength training and work toward reprogramming the mind as well as the body.
"The InMotion stroke therapy rehabilitation robots are devices intended for medical purposes to measure, evaluate, and increase the strength of muscles and range of motion of joints," company CEO Dr. Eric Dusseux told The Deal.
The Toronto company has commercialized InMotion neuro-rehabilitation robotics for arm, hand and wrist applications. It's also developing its Arke product that will make walking possible for people confined to wheelchairs or who have very limited walking mobility.
"At Bionik we firmly believe, and clinical studies confirm, that InMotion Therapy puts neuro-recovery within reach, allowing individuals with mobility or upper limb impairments to reduce their degree of impairment, participate in activities of daily living, and improve their and their families' quality of life," Dusseux said.
"Our evidence-based approach to therapy and mobility restores hope, delivers clinically-superior results, and empowers patients, families and clinicians to persevere through rehabilitation."
The company's products have a variety of applications in reprogramming the body and the mind.
"Rehabilitation clinicians worldwide are integrating InMotion robotic evaluations and therapy to improve outcomes in patients with moderate to severe upper extremity sensorimotor impairments resulting from neurological conditions including stroke, brain injury, cerebral palsy and other neuro-muscular conditions," Dusseux said.
"The adaptive, interactive robotic therapy of InMotion Robots employs principles of motor learning and harnesses the process of neuroplasticity to achieve significant improvements in motor recovery and function as well as experience a reduction in pain and spasticity. Research shows that improvements are long-lasting, can occur many years post injury and continue after robotic therapy ends."
The market for the Arke exoskeleton is robust.
A 2017 Independent Global Study by "Market and Markets" projects the exoskeleton market will grow at a compound annual rate of 45% annually through 2023, reaching $2.8 Billion in 2023, according to Dusseux.
Data from the Centers for Disease Control indicates that as of 2015 in the U.S. alone some 18 million adults can't, or are barely able, to walk .25 miles, and another 13 million people have trouble climbing ten stairs.
The CEO provided detailed analysis of reimbursement frameworks in the U.S.
INPATIENT
Use of InMotion robots in an inpatient rehabilitation setting is covered under the diagnosis related code (DRG) and the corresponding discharge payment rate established by Medicare
Based on MedPac 2016 data: the average discharge rate for all inclusive treatment for stroke is $19,116 per patient episode
Payment is not tied to the device, but rather the treatment intervention protocol
Thus, technologies that improve operational efficiencies and/or patient quality metrics are desired
OUTPATIENT
Majority of neuro-impaired patients are discharged from inpatient hospitals with a prescription for ongoing therapy in an outpatient clinic
Reimbursement rates for outpatient care are also determined by Medicare and published in the Medicare Part B fee schedule under the CPT code set
The most commonly used CPT code used in outpatient settings is 97112. The code description is therapeutic procedure; balance, coordination, kinetic sense, poster and proprioception (awareness of one's physical position and movements)
The fee for this code on average is $35.00 per 15 minute unit of treatment; average treatment is one hour
Payment is not tied to device, but rather treatment time
The InMotion robots are used in a clinical setting and classified as IKK and BXB medical devices under FDA regulations.
Both IKK and BXB are low-risk, 510K exempt devices and do not require 510K notification to the FDA.
"Release of the product does not require any separate FDA approval and can be released to the market at the completion of the product development process with the requisite design history file," Dusseux said.
"This allows for the rapid introduction of new and improved products into the market at a faster rate than higher risk medical devices."
The company has raised $17.43 million in three private-investment-in-public-equity offerings, according to PrivateRaise, TheStreet Inc.'s private placement data service.