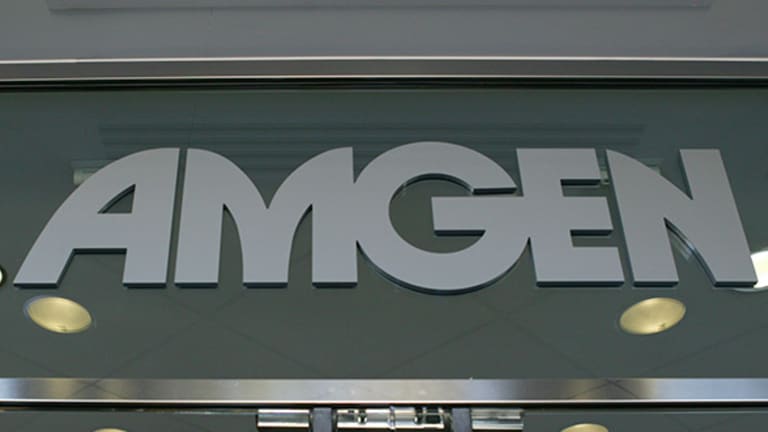 Amgen Wants to Boost Label on Powerhouse Repatha
The day before Amgen appeared in court, the biopharma giant announced a submission to change its label on powerhouse drug Repatha.
The day before Amgen appeared in court, the biopharma giant announced a submission to change its label on powerhouse drug Repatha.
On Monday June 5, Amgen Inc.  (AMGN) - Get Report announced it is asking the FDA to allow expanded label use of its powerhouse anti-cholesterol drug Repatha to include prevention of major cardiovascular events, including heart attacks, strokes and the need for coronary bypasses.
The drug retails at $14,523 per year in the United States.
"So Repatha is already approved, [and] this data has shown a successful trendline," stated Aaron Gal, senior analyst of Bernstein Research. "It was approved to reduce cholesterol, [and] in January they reported a trial that by reducing cholesterol, it actually prevents heart attacks."
The data reported in January from Amgen's FOURIER study has been submitted to add onto the label. Repatha's current FDA-approved label reads "the effect of Repatha on cardiovascular morbidity and mortality has not been determined." Now, the Cali-based biopharma giant hopes to remove these limitations thanks to statistically significant results that point to the drug's efficiency in lowering cholesterol.
"The FDA may note, however, that the number of CV deaths did not go down in Repatha treated patients, in fact they went up a non-significant 5% compared to those treated with placebo," said John Abramson, physician and lecturer at Harvard Medical School. "In a similar situation, [the] FDA restricted a drugmaker from claiming a CV mortality benefit based on a composite endpoint rather than actual reduction in CV mortality."
The announcement came just a day before Amgen's June 6 appearance in an appeals court challenge to a lower court decision upholding the validity of Repatha's patent. Amgen and Regeneron (REGN) - Get Reporthave circled one another in court over patent filings regarding the companies' rival anti-cholesterol drugs, Repatha and Praluent. According to Regenron, the Praluent's antibodies have a 26% identity similarity to that of Repatha's, yet the two drugs interact with PCSK9 receptors, hence the suit. If settled in Amgen's favor, the Amgen v. Regeneron litigation could set a new precedent regarding permanent injunctions against new chemical entities.
"Broad claims to antibodies and their uses often have been held invalid by the federal circuit, and the decision in this case has the potential to impact other claims that have been asserted in important fields such as cancer research," said David Berl, partner at Williams & Connolly and specialist in bio/pharmaceutical patent litigation. "Claims like [Amgen's] have the potential to block the field, because another company that comes along with a different antibody that blocks the same antigen may be accused of infringement."
Eli Lilly (LLY) - Get Report and Pfizer (PFE) - Get Report  both filed an amicus curiae against Amgen that details their concern about the future of creating and launching antibodies within the biotech industry.
Repatha helps alleviate "bad" LDL cholesterol, assuming a similar functionality to that of a statin. The drug is seen as a significant franchise for cardiovascular medicines due to its efficacy, but cost is its main deterrent.
"Currently, according to WHO data, despite spending so much more money on health, Americans rank 36th in the world on the number of years we live in good health, just behind Cuba," said Abramson. "Integrating a drug that will extract more than $2 million for each non-fatal CV event prevented is not going help the U.S. healthcare system move in a positive direction toward the other developed countries in terms of costs and outcomes."
At this time, it is unclear if the potential repeal of the Affordable Care Act would affect Repatha pricing measures.
"There is so much uncertainty in the direction of health reform that it is hard to say - for example, drug price regulation could certainly have an impact, but it is unclear whether lawmakers want to include any legislation directly affecting drug prices," said Ankur Pandya, physician and assistant professor at Harvard's T.H. Chan School of Public Health
Amgen earnings are expected to drop if "Repatha growth slows and the experimental therapies and biosimilars fail to launch," Leah Cann wrote, in an Oppenheimer analyst report.
Since Amgen's resubmission announcement, its shares have risen from a close of $159.15 on Friday to $161.64 through late afternoon trading Wednesday, June 7, a climb of 1.6%.
____
The author of this story owns one share of Eli Lilly.