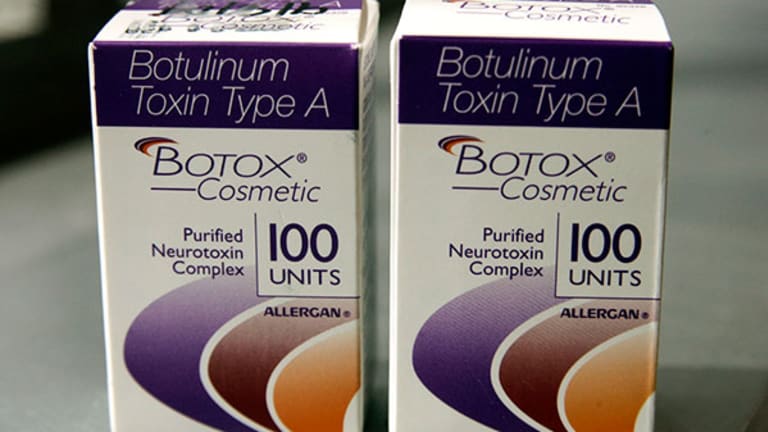 Allergan Just Can't Break Through Despite a Ton of Positive Catalysts at Its Back
Allergan's earnings weren't sterling, but with the fourth quarter conventionally standing as their strongest, here's what investors can look forward to.
Allergan's earnings weren't sterling, but with the fourth quarter conventionally standing as their strongest, here's what investors can look forward to.
Allergan plc  (AGN) - Get Report  on Thursday posted better-than-expected earnings for the second quarter, but watched its stock fluctuate between slight gains and losses.
But while many in Wall Street remain skeptical of the company, when taking a deeper look into the company's operations it is clear that there are three main areas that can drive substantial growth for the company.
Allergan operates in the white-hot sector on aesthetics, which include things like Botox, that is garnering much more attention today than it did even 10 years ago. The company also has a strong, diverse pipeline to help drive future growth, not to mention the opportunities that lie ahead to drive inorganic growth in the form of M&A.  
Allergan reported second quarter earnings per share of $4.02 on Thursday, Aug. 3. Analysts surveyed by FactSet expected Allergan to earn $3.92 per share in the second quarter. Allergan stock traded relatively flat around $251.06 on Thursday.
On the aesthetics front, the company posted $4 billion in revenue and according to analysts at FactSet, the company is expected to book $15.8 billion more in total sales through the rest of 2017.
There are approximately 30 million people alone considering a cosmetic procedure within the next one to two years, Bill Meury, Chief Financial Officer of Allergan, said on a conference call, adding that the international market has been lagging behind the United States.
"On the international front, what I would look at over the next several years as growth drivers [are] botox and fillers," said Meury, adding that fat reducing treatments, such as the company's XAF5 under eye circle reduction cream, are in the "early innings" and expected to gain steam both abroad and the in the U.S. in the coming months and years.
"This area will continue to be a focus for the company as it seeks to gain market share in what it sees as a growing market," said Jim Cramer, portfolio manager of the Action Alerts PLUS charitable trust, which owns Allergan. "The company saw growth across all of its regions, with strong growth in China, and management see Medical Aesthetics and Botox as important drivers of growth."
Allergan's 2017 acquisition of Zeltiq Aesthetics Inc. for $2.47 billion also gave the company access to drugs focused on body contouring.
"The fat reduction market is still in the early innings, but it's a market we're committed to for the long-term," said Bill Meury, Chief Financial Officer of Allergan.
But even still, the pipeline of prospective drugs, aesthetics included, also remains strong as Allergan boasts more than 70 drugs programs in its pipeline. Of course, Allergan is heavily invested in relatively three core divisions: aesthetics and dermatology (26 programs), eye care (17 programs), and central nervous system (13 programs).
On the central nervous system front Allergan may be sitting on a blockbuster as well.
Rapastinel, an antidepressant that has the potential to become an adjunctive therapy for treatment-resistant major depressive disorder (MDD), is currently in its Phase 3 trials and could be a big boon for the company. Allergan is also working on a biosimilar to explore other methods of administration as the drug is currently administered intravenously.
"As a reminder, Rapastinel could be a game changer in MDD," said David Nicholson, Allergan's Chief R&D Officer "As we all know, MDD is a condition in which patients desperately need innovation."
According to data from Zion Research, the global depression drug market was valued at $14.51 billion in 2014 and is expected to generate $16.8 billion in revenue by the close of 2020.
With an $84.03 billion valuation, the N.J.-based company went on an M&A spree over the past year to amp up its dermatology sector. Despite the collapse of the Pfizer (PFE) - Get Report merger in 2016, future M&A opportunities lurk in the women's health portion of Allergan's pipeline, which only contains two programs. Their anti-infective and urology sectors could also be areas of interest, which both stand at two programs. 
Shares of Allergan remained flat on Thursday, August 3, trading at $250.50 per share in the early afternoon.
More from TheStreet in healthcare:
Drug Price Inflation and a Patent Cliff Could Trigger a Wave of Deals in Generic Drugs Space