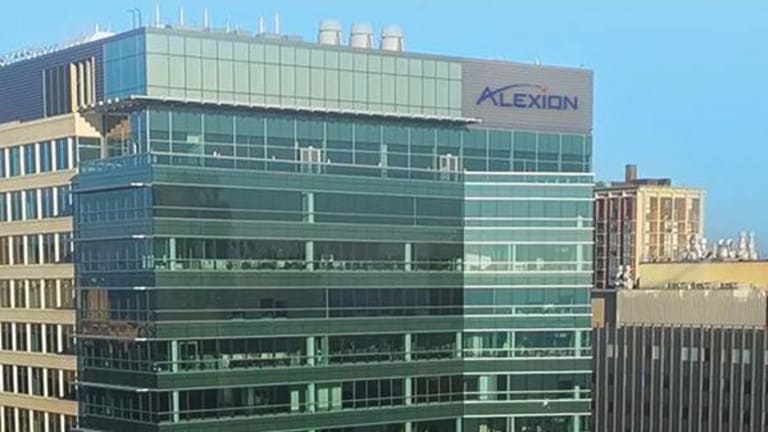 Alexion Shares Drop Amid Executive Changes
The biopharmaceutical firm on Tuesday announced changes, including the planned departure of its chief financial officer.
Shares of Alexion Pharmaceuticals (ALXN) fell by just over 9% on Tuesday after the New Haven, Conn.-based biopharmaceutical firm announced changes to it leadership team, including the planned departure of its chief financial officer.
The news comes nearly two months after Alexion installed Ludwig Hantson as CEO.
The shares dropped $10.78 to $104.64.
"Several media headlines appear to have taken changes in management out of the broader context of planned changes" by Hantson, wrote Nomura Instinet analyst Christopher Marai, PhD, in a note. Marai has a buy rating on the stock and a price target of $148.
"Alexion confirmed that these changes are part of the new CEO's plans to refocus the company, including program and leadership reviews, and not part of ongoing investigations or trial issues," Marai wrote, adding that the executives changes are "in line with industry norms when a new CEO joins a company."
Alexion said Tuesday that CFO Dave Anderson will resign from the firm at the end of August and the company is on the hunt for a new CFO.
In addition, Alexion head of research and development Martin Mackay will retire from the company at the end of the year and a search for a successor is underway.
Other announcements on Tuesday include the appointment of Brian Goff as chief commercial officer effective June 1. Goff, an alum of firms such as Neurovance, Novartis and Johnson & Johnson, succeeds Carsten Thiel, who is moving on from Alexion to pursue new opportunities.
The company also said chief human resources officer Clare Carmichael is moving on from the company to pursue new opportunities effective June 1 and a search is underway for a replacement.
Shares of Alexion closed at $104.64 on Tuesday, down 9%.
"While the Street is questioning the departure of these executives, especially the relatively new CFO (appointed in December 2016 to a one-year term), we believe today's executive departures are not entirely surprising given Alexion's ongoing strategic review," wrote SunTrust Robinson Humphrey analyst Yatin Suneja in a note.
Suneja, who has a buy rating on the stock and a $165 price target, added that Alexion management "indicates these departures 'have nothing to do' with the ongoing Brazil or FCPA investigations" and that the company "also states that there is no impact on ALXN1210 development."
The executive changes come on the heels of the appointment of Hantson as CEO in March. Hantson replaced interim CEO David Brennan, who was called into the job last December following the exits of CEO David Hallal and CFO Vikas Sinha. The executives resigned from Alexion amid an internal probe into allegations of improper sales practices tied to its top-selling drug Soliris. The Soliris sales investigation, led by Alexion's board, has not identified any facts that require the company to restate previously reported financial results, the company said in December.
Earlier this month, Bloomberg reported that Alexion's Sao Paulo offices were raided by police investigating the company's sales practices.
In his note on Tuesday, Nomura Instinet's Marai said the CFO change is "not related to Brazil/government investigations." He noted that Anderson, who came out of retirement and joined Alexion as CFO last December, "implemented best practices for the financial management of the company and aided with the new CEO transition."
Marai sees Anderson's upcoming departure as an "opportunity to bring in a new CFO with a BD strategy focus to augment ALXN's light R&D pipeline."
Jim Cramer and the AAP team give their views on the settlement between Arconic ARNC and activist investor Elliott Management. Find out what they are telling their investment club members. Get a free trial subscription to Action Alerts PLUS.
Meanwhile, over on Real Money, Cramer says former Ford F CEO Mark Fields "should have been given more of a chance." Get his insights or analysis with a free trial subscription to Real Money.