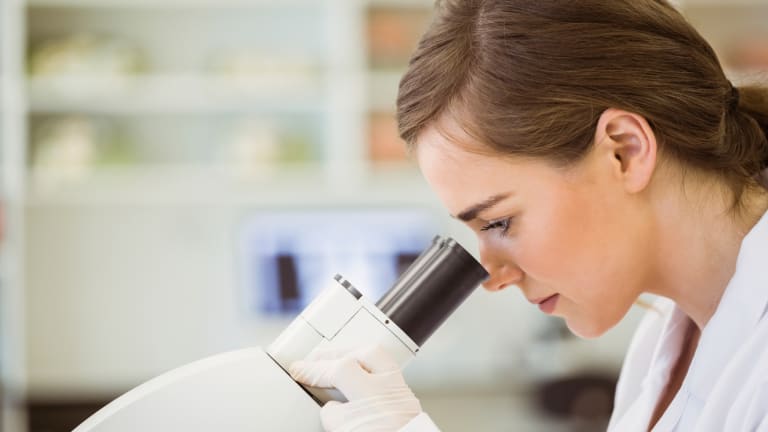 Alder Shares Plummet Almost 25% Despite Positive Data; Aralez Pops on Patent Victory: Biotech Movers
Alder BioPharmaceuticals, Aralez Pharmaceuticals and Insys Therapeutics were among the biotech stock movers in premarket trading on June 27.
Shares of Alder BioPharmaceuticals Inc. (ALDR) - Get Report were down 23.5% to $14.30 in premarket trading on Tuesday, June 27 despite the announcement that eptinezumab, the Bothell, Wash.-based firm's lead product candidate for migraine prevention, met primary and key secondary endpoints in a Phase 3 study.
"The trial met its primary endpoint of demonstrating a statistically significant reduction in monthly migraine days from baseline in the treatment group compared to placebo, but the separation was not as profound as expected (average of 4.3 less monthly migraine days in the eptinezumab 300 mg group (p=0.0001), 3.9 days in the 100 mg cohort (p=0.0179) and 3.2 days for placebo)," noted Seeking Alpha.
Leerink Partners LLC analyst Paul Matteis wrote in a note that the Promise 1 study "showed a statistically significant reduction in migraines, along with a high rate of 'super responders' (75% and 100% reductions), that looks very competitive compared to phase III results for other anti-CGRPs (calcitonin gene-related peptides)."
"While the approval of the IV - pending data from PROMISE2 - is mostly derisked, the results raise the question of what ALDR will do with its self-administration as the higher 300mg dose appears better than 100mg," added Matteis, who has an outperform rating on Alder's stock.
Meanwhile, shares of Aralez Pharmaceuticals Inc. (ALDR) - Get Report rose nearly 7% to $1.38 on a patent dispute victory.
The Mississauga, Ontario-based firm said that the U.S. District Court for the District of New Jersey upheld the validity of two patents owned by an Aralez unit and licensed to Horizon Pharma plc covering Vimovo (naproxen/esomeprazole magnesium), and that Dr. Reddy's Laboratories Inc. and Dr. Reddy's Laboratories Ltd., Mylan Pharmaceuticals Inc. (MYL) - Get Report , Mylan Laboratories Ltd., and Mylan Inc. and Lupin Ltd. and Lupin Pharmaceuticals Inc. would infringe at least one of the two patents with their proposed generic naproxen/esomeprazole magnesium products. 
Other biotech stock movers include Insys Therapeutics Inc. (INSY) . Shares of the Phoenix-based firm were up 7.4% to $14.20.
Jim Cramer and the AAP team think that Walgreens Boots Alliance Inc.'s (WBA) - Get Report stock "can win on two different fronts unrelated to the pressures in the industry." Find out what they are telling their investment club members. Get a free trial subscription to Action Alerts PLUS.