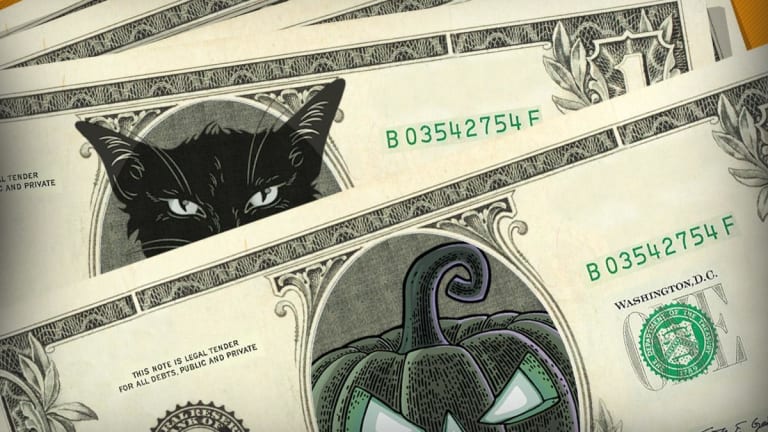 2019 Halloween Decorations on a Budget: DIY Ideas
Halloween is just around the corner. Get your home ready for a spooky scene without breaking the bank with 15 of our DIY decoration ideas.
Decorating for Halloween is a good opportunity to show your creative side and turn your home and yard into a spooky adventure.
While your neighbors might drop hundreds of dollars or more each year trying to outdo one another with the latest frightening electronic gadgets, you can avoid keeping up with the Joneses by finding some cheaper decor to make your house a scary, but fun experience.
Whether you're having a Halloween party or just trying to scare the bejesus out of the neighborhood kids, here's how you can save some money on your Halloween monsters, ghosts, goblins and witches and creepy crawlers.
Here are 15 Halloween decoration ideas that will meet your budget.
15 Halloween Decoration Ideas on a Budget
1. Shop Online 
If you're not the type to make your own decorations to get a haunted house look, load up on decorations close to Halloween and look for them on Etsy (ETSY) - Get Free Report , eBay (EBAY) - Get Free Report and other craft retailers. Once the holiday gets closer, stock on some overstocked decors like inflatable ghosts and witches that will be on sale.
2. Buy Electronic Gadgets the Day of Halloween or Afterward
Sometimes the newest and latest electronic gizmos and monsters are not popular and will be deeply discounted. Shop at party stores, major retailers and even home improvement stores to get a variety of items and ideas for the following year.
3. Create a Cemetery in Your Yard 
This is one of the easier projects where you can take some old boxes and paint them gray to look like gravestones. Use a marker to write R.I.P. and glue the signs to yard stakes. You can stick them in your front yard or along the path to your front door so trick-or-treaters see them.
4. Mask Wreath
You can hang this wreath on the front door of your home or even at the office. Buy a dozen or so vintage paper masks from eBay and other shopping websites and hot glue the masks of animals and villains to a craft ring.
5. Edible Garland
Grab some fishing line and a needle to poke a small hole in candy corn or popcorn. String a few dozen candies or popcorn to make several garlands that you can hang around your fireplace, stairs or outside around your patio.
6. Candy Wreath
A candy wreath might be more palatable to your co-workers. Buy a variety of candy with wrappers in various colors, wrap a foam wreath from a hobby store in ribbon and hot glue the pieces of candy on it. Add a bow or small jack-o'-lantern on the wreath.
7. Elegant Candy Filled Candles
If you want a more upscale look, buy some mason jars or glass hurricanes and fill them with candy corn or other hard candies and place either a white or black candle or both in it.
8. Pumpkin Candy Holder
Cut a circle onto the front of a pumpkin by tracing a bowl on it. After scooping out the seeds, add candy and hot-glue some small decorations such as black bats on the pumpkin.
9. Halloween Lights
Dig out your white or colored Christmas lights and cut out witches, goblins and jack-o'-lanterns from black, orange or white construction paper and tape them onto the string of lights. Hang these around your front door or stairs.
10. Permanent Jack-O'-Lanterns
If you don't want to deal with the mess of a real pumpkin, you can make your own jack-o'-lanterns by buying a dozen or so orange tissue-paper balls to decorate your mantel, buffet table or front porch. Buy some black construction paper and cut out some eyes, a nose and mouth to make different expressions and glue them on.
11. Spooky Party Drinks
Get a galvanized tub to store some soft drinks and other alcoholic beverages and add some dry ice with some water so that it creates a fog and spooky look when you turn down the lights. Make sure you don't touch dry ice with your bare hands and wear gloves.
12. Make Some Ghosts
Draw a ghost or another apparition onto frosted window film, cut it out and the mouth and eyes with an X-Acto knife and stick it on mirrors in your bathroom and around your house to freak out your guests.
13. Foggy Jack-o'-Lantern
You can place these both inside and outside of your home to greet your guests or neighborhood trick or treaters. After you've carved your pumpkin, place a piece of dry ice into it and add some water so the fog seeps out of the face you created.
14. Spooky Party Cups
Buy some black plastic cups and some googly eyes. Stick the eyes onto the cups and wait for people's reactions.
15. Smokey Cauldron
Buy an inexpensive black bucket to make a cauldron and add some water and dry ice to give it the foggy look. Add some sticks from branches in your yard along with some string lights or battery-powered candles. Or you can buy a couple of fog makers and place them into the bucket for a similar effect.