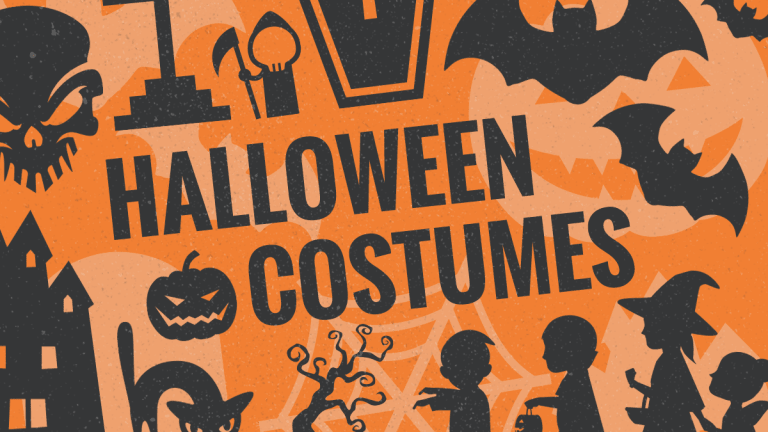 24 Halloween Costume Ideas for Any Budget for 2018
You can impress everyone at a Halloween party with your costume, whether an expensive one or an easy DIY one. Here are 24 costume ideas for any budget.
Halloween is fast approaching. Do you have your costume figured out? Based on the fact that a panicked Google (GOOG) - Get Alphabet Inc. Class C Report search brought you here, we're guessing not.
Deciding on a Halloween costume is a surprisingly stressful experience. Do you have time to put it together? Is your reference still going to be timely by the time you have a costume party to go to? What if you forget again and need an emergency last-minute costume?
Not to worry. There are plenty of options for any budget for a costume that will be a hit at the party, costumes that are either timeless or timely. Whether you have time to create something or just need a cool costume to buy, here are some ideas.
8 DIY Costume Ideas
Maybe you're someone who likes crafts, or someone who likes quickly finding three things you already have in your house to create a costume from. Here are some options for the person who wants to (or has to) create their costume themselves.
1. Rosie the Riveter
Do you have a blue button-down shirt? Do you have a red bandanna? Congratulations, you have enough for a costume! Draw white polka dots if need be, roll those sleeves up, and any woman has an immediately recognizable costume - not to mention a chance to flex. 
2. Comic Book Pop Art
The pop art costume has become a more and more popular DIY costume lately because the most important component of it is the makeup. If you are or know a good makeup artist, contouring everything just right, combined with a fun kitschy outfit, can bring the image of an old-school comic book aesthetic to life. And everyone is always impressed with the effort that goes into the makeup!
3. Any Person Emoji
Take a look through your phone and look at some of your most commonly used emojis. If they're that much a part of your conversations, why not turn it into a costume? If you're in a hurry, many of these literally just require a blue or purple shirt. You have one? You have a costume. You just may have to keep shrugging your shoulders all night to give the full effect. Maybe even go as a two-person emoji as a fun date idea.
4. Brawny Man
The lazy man's dream: a costume that is mostly the flannel shirt he was already going to wear that day. Get out your finest red plaid, tuck it into your pants, and of course carry around your iconic Brawny paper towels with you. It's the rare costume that also provides practicality; if it's a good party, you'll likely need to make use of those paper towels. Maybe bring a couple of rolls with you.
5. The Dude
Here are your instructions for becoming The Dude from the Coen Brothers classic "The Big Lebowski:" Wake up. Put your robe on. You are now The Dude. A simple combination of a white t-shirt, shorts and sandals underneath your beige robe completely transforms you into him. A pair of sunglasses helps the act too, and maybe search the house for a long wig. Or, alternately, grow your hair and beard out for a few weeks.
6. Dominoes
A fun group idea that involves a bit of craft work, you and your friends will need to wear all black. From there, use white paper to create the dots and lines of the different dominoes necessary for the game. If you're feeling particularly colorful, you can also use red and blue clothing and become the Domino's Pizza (DPZ) - Get Domino's Pizza, Inc. Report logo.
7. Taco Bell Sauces
Another group craft idea. Coordinate your colors to the different Taco Bell sauces, from the red Fire to the green Verde. From there, it's about using paper and markers to turn your shirt or dress into the famous sauce packets. It's a fun costume, but if you really wanna win over everyone at the party, might I suggest also bringing actual Taco Bell?
8. Classic Ghost
Look, not everything needs to be high-effort makeup and crafting. Sometimes the only thing you have time to do is cut out eyeholes into a white sheet, and suddenly you're a ghost. It's not a bad costume. If anything, it's a throwback, a fun retro costume from your childhood.
8 Cheap Costume Ideas
There are some classic costumes you can pull off, and not at too high a price either. What are some good cheap costumes to pick up on short notice?
1. Waldo
If you're emotionally prepared for everyone at the party to see you and go "I found you!" as the joke gets less and less funny, "Where's Waldo?" is a simple and easy costume that's sure to go over well. It's also, as a costume that's just clothes with red and white stripes, not going to break the bank. Target (TGT) - Get Target Corporation Report sells a Waldo shirt for just $14.99, and Walmart has the hat (WMT) - Get Walmart Inc. Report for $9.99.
2. Calvin & Hobbes
Another striped shirt option, "Calvin & Hobbes" is a beloved institution, and a costume you can create pretty easily by just buying a couple of common items. One, a red- and black-striped shirt. Two, optionally, a stuffed tiger to be your Hobbes. Tiger or no tiger, channeling your childhood is an easy way to have a hit costume.
3. Unicorn
The unicorn costume could also be a DIY costume, but you'll likely need to pick up a few more things to get everything just right. A horn, a rainbow wig, and of course, lots and lots of glitter. If you're a parent looking for a unicorn costume for your child, those can also be found relatively inexpensively. There are girl's unicorn costumes on Party City's website for $24.99, and one on sale on Amazon (AMZN) - Get Amazon.com, Inc. Report for $25.99.
4. 'Stranger Things' Characters
You have some options with this one. "Stranger Things" is a runaway hit, and any of the main characters can make for a good costume - especially if you and your friends coordinate to create a big group costume. What works in your favor is that the main characters on the show are just... kids. So while costumes exist, there are also just clothes you can find. The right pink dress and blue jacket can transform you into Eleven. A white and red hat along with a $19.99 t-shirt from Spirit turns you into Dustin in an instant.
5. Bob Ross
The perfect costume for the soft-spoken man with a mess of curly hair. Don't have curly hair? Spirit has a wig/beard combo for $19.99. That means if you already have a decent button-down shirt, the hair is all you'll need to pay for to become the beloved painter from the PBS series "The Joy of Painting."
6. Mime
Similar to the pop art costume, the bulk of becoming a mime is the makeup. If you already have that covered, it's not hard to find an affordable version of what is a classic costume. Amazon has a women's mime costume available for $18.95 and a men's costume for $24.99. Frankly you'll have a harder time staying quiet at the party than finding the costume.
7. Disney Princess
As a parent, there's a good chance your young daughter might start asking to go as her favorite Disney (DIS) - Get Walt Disney Company Report princess for Halloween. The name brand attached may make that seem expensive, but they're such popular costumes that you won't have to look too far to find her a quality costume without breaking the bank. Try Target, which has a girls' Elsa costume for $19.99 and a Moana costume starting at just $14.29.
8. Cat
Why not? It's not the most original idea in the world, but what's a Halloween party without a cat? And the simplicity of the costume gives you a surprising amount of variety; you can buy a full cat costume, or just some cat ears and a tail, letting the makeup do the rest of the work. It's not the flashiest costume, but it's an undeniable classic.
8 Fun Costume Ideas
What are some of the other fun ideas for a 2018 Halloween party? These are a little more expensive, but they're fun, timely and sure to get noticed.
1. Mister Rogers
The documentary "Won't You Be My Neighbor?" has thrust children's television icon Mister Rogers back into the spotlight. Everyone loves Mister Rogers, and they'll love anyone who shows up in his familiar, comforting outfit. You'll just need to see what you have in your closet; if you don't have everything, you'll have to go clothes shopping first. After all, you can't be Mister Rogers without the iconic red cardigan over a white button-down, tie and comfortable sneakers.
2. Killmonger
The highest-grossing film in the U.S. in 2018 has been "Black Panther." The titular character is certainly an option for any child or adult comic book fan, but the film's antagonist, Erik Killmonger, proved to be a breakout hit. Killmonger is also a character with a few different looks to choose from when deciding on a costume. One such look is available in costume form via Spirit in adult sizes for $59.99.
3. Mercy
At this point, characters from PC games are as notable to young audiences as characters from movies and TV shows. Even with adults, you'd be amazed at how many people would recognize you as Mercy from "Overwatch." One of the biggest games of the past few years, intricate costumes like Mercy are going to run a little pricier. Spirit has Mercy costumes that go as high as $199.99.
4. Skull Trooper
If you'd prefer the biggest video game of 2018, though, you're more likely to be in the market for a "Fortnite" costume. The game is an absolute phenomenon, and as such many of the skins available in the game are proving to also be popular costume choices. Why not go with something like the fan favorite Skull Trooper? If you can afford it, Amazon has Skull Trooper costumes for kids and adults that are around an astonishing $200.
5. Prince Harry and Meghan Markle
A particularly regal couple's costume, becoming Prince Harry and Meghan Markle, the latest pairing to have a royal wedding, can show not just how regal you two are but how in love you are. It'll also show how much you are both willing to spend on clothes! Whether emulating their wedding attire, their reception attire, or even just some of their more notable outfits when pictured out and about, you'll be paying quite a bit for such regal dresses and fancy suits.
6. 'Venom'
"Venom" was not exactly a critical darling, but it was a runaway hit in its first week at the box office. Why not capitalize on the success now while it's still popular with the moviegoing public? The famous "Spider-Man" villain is never going to be a more timely costume, and the sooner you order it the less expensive it will be. Party City has boy's Venom costumes for $29.99 and men's for $49.99.
7. Edna Mode
Another particularly popular movie this year was the long awaited sequel to Pixar's "The Incredibles," and one of the most popular characters in the franchise is fashion designer Edna Mode. Immediately recognizable for children and adults alike, it's the rare costume that has probably been a hit at any party for over 10 years. Party City's women's Edna Mode costume costs $59.99.
8. Any Avenger
Seriously. If you want to look good at a Halloween party and have a crowd-pleasing costume, anyone from "The Avengers" movies is on the table. Whether Captain America or Thor, Black Widow or Loki, an authentic-looking Avengers costume is easily the best way to make a grand entrance to any Halloween party.