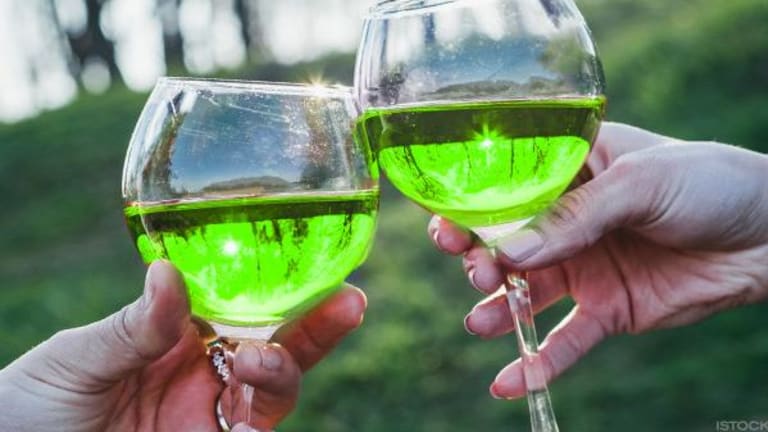 Green Wines to Drink for St. Patrick's Day
You deserve more than beer doused in food coloring. Take a more sophisticated approach to celebrating the foremost patron saint of Ireland.
You deserve more than beer doused in food coloring. Take a more sophisticated approach to celebrating the foremost patron saint of Ireland.
While we show no judgment if you opt to drink green beer (you understand there's food dye in it, right?), there are tons of ways to celebrate the anniversary of St. Patrick's death with wine. 
So whether you choose to go with color, conservation or something for your corned beef, consider this your all-inconclusive St. Patrick's Day green wine guide.
Pour Green in the Glass
If you're looking to match the color of your green-beer compadres, pick a Pinot Grigio, Albarino, Chenin Blanc or Muscadet wine. While they have a much lighter green hue than that doctored beer, there are hints of green nevertheless.
Most these wines need to be served cold and are even called "green," because they are young.
Or pour a Vinho Verde. "This Portuguese wine's name translates to 'green wine' -- not because it is literally green, but because it is young and fresh," says Chicago's James Beard award-winning sommelier Belinda Chang.
It has a little effervescence and is low in alcohol, so you can drink it all day if you're starting early at a parade. 
Go Green
While this whole organic wine thing is somewhat of a joke because winemakers are farmers and they always put Mother Earth first, the greenies still want to see a mention on the label.
So if you're looking to "go green" on St. Pat's, here's a quick cheat-sheet to your wine label's eco-friendly terms.
-Organic. Organic wine must be made from organically grown grapes and the farming process must utilize renewable resources and conserve soil and water. In addition, no sulfites, a type of preservative, can be added to the wine. This is the only case where you'll see an actual government seal from the United States Department of Agriculture (USDA) on the label if it truly is 100% organic. 
-Biodynamic. Being biodynamic is more of a belief system based on the findings of Austrian scientist and philosopher Rudolf Steiner, who at the beginning of the 1900s, believed that the crops and livestock should all be considered in the farming decisions. But some wineries will mention this on the label. 
-Sustainable. Sustainable vineyards do as much good as they can for the environment while still paying the bills. But if saving the Earth gets too costly, they may back down on those sustainable practices until they have the money to do it again.
Big note: And if your favorite wine doesn't have any of those three words on the label, don't fret. It probably just means the company doesn't feel the need to broadcast the fact that it is saving the Earth every day.
Pair With Your Irish Meal
"It's probably best to go with a wine that's slightly sweet with all that salt and sour that comes with Irish food," says Jennifer Simonetti-Bryan, Master of Wine and author of the upcoming Rose Wine: The Guide to Drinking Pink.
So here are a few suggestions to go with your favorite Irish fare.

-Irish Stew: Pick a Cabernet Sauvignon
The classic Irish stew includes lamb and root vegetables, a hearty dish that immediately calls for a full-bodied Cabernet Sauvignon. Emblem is a structured wine with firm tannins, and yet it shows delicate aromas of blackberry and earthy tones, which complement this dish perfectly.
Consider the 2013 Emblem Cabernet Sauvignon.
-Corned Beef and Cabbage: Either a Cabernet or Vinho Verde
Chang loves a Vinho Verde with her corned beef and cabbage, but no surprise, Cabernet Sauvignon will work great too. You need a wine with earthy and sweet notes to complement and neutralize the salty nature of corned beef.
Consider the 2015 B.R. Cohn Cabernet Sauvignon North Coast Silver Label.
-Irish Soda Bread (American Style): Grab a Riesling
The classic Irish soda bread does not include dried currants or raisins, but American bakers love to add them. And no surprise, we tend to add sugar too. So to complement the light sweetness of the bread, you need a wine that's also slightly sweet. So look for a Riesling that has the word "Spatlese" on the label - which means its slightly sweet.
Consider the 2014 J.J. Prum Graacher Himmelreich Spatlese Riesling
-Shepherd's Pie: Needs a Pinot Noir
This hearty savory meal usually has peas, corn and lamb in it, so it needs an earthy wine with some fruit, like fresh raspberry and plum, to balance all those flavors.
Consider the 2014 Trinity Hill Hawkes Bay Pinot Noir
-Brisket: Sky's the Limit
"If you're going with brisket, the sky is the limit," says Sharon Sevrens, sommelier and owner of Amanti Vino wine shop in Montclair, N.J. You just need a big red, so think Bordeaux, California Cabernet or a Northern Rhone Syrah.
Consider the 2014 Leoville Barton. Owned by the Barton family, Thomas Barton was part of the Bordeaux wine trade movement with Ireland, says Andrew McMurray, vice president at Zachys Wine & Liquor in Scarsdale, N.Y. Barton left Ireland for Bordeaux in 1722. "This Bordeaux is tannic with structure that is the perfect accompaniment to brisket and other fatty meats," says McMurray.
"And if you really want to have some St. Patty's Day fun, pull out your porron," suggests Chang (Check out this video to watch us use one!) Then you can pour your favorite wine right into your drinking buddy's mouth. "Tie a napkin around the neck of any first timer," she says. 
Because like all things St. Patrick's Day, it could get sloppy.
Editors' pick: Originally published March 17.