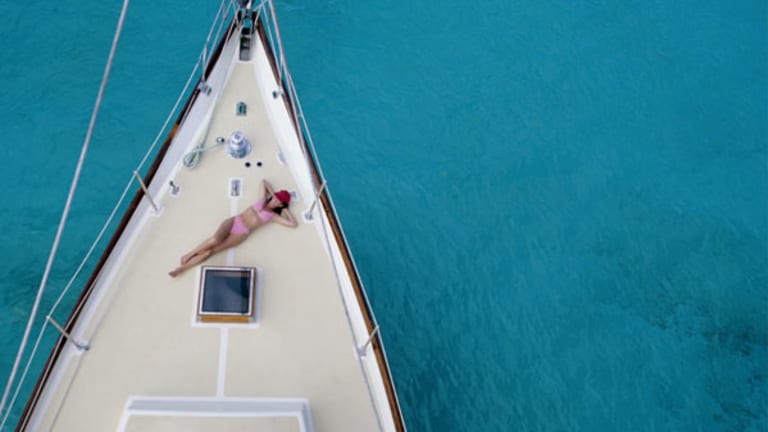 Go Summer Yachting a la J.P. Morgan
Yacht owners often need to make back their investment, and that means private luxury cruises that can be rented.
BEVERLY HILLS, Calif. (
) -- For anyone floating their way through the Mediterranean this summer, the line between the merely wealthy and the uber-rich will be drawn clearly by the fleet of super-yachts afloat in waters from Marbella to Istanbul's Bosporus. From helipads and secret submarine chambers to on-demand beach clubs and kitchens staffed with Michelin-star chefs, many owners of these exclusive vessels monetize their investments and lighten the burden of the seven-figure expenses associated with upkeep by letting others charter them. The result is a sensational inventory of charters for the summer season that can have you cruising in parity with Russian oligarchs and Hollywood film directors, with few people ever really knowing who owns and who rents in the season's chicest harbors.
is one of the world's leading yacht charters as well as offering yacht sales, construction management, technical consultancy and maintenance. Burgess and its astute staff also helps yacht owners looking to leverage their investment through an array of high-end charters. Their inventory of ships, most over 130 feet, is humbling, from the sleekest of sailing yachts to the new breed of gigayachts and even historic boats that recall a grander era in sea travel for summer charters.
For those migrating from yacht owner to charterer, one of the many obstacles is finding a style that best suits your needs. Sizing in at just under 200 feet,
Twizzle
is a stunning sailing yacht that accommodates up to eight guests looking for a glamorous sailing experience in key Mediterranean destinations such as Porto Cervo or the Greek Islands through summer 2012.
Inside Twizzle, an evolved interior design mixes more modern decor with soothing teak, creamy color fabrics and neutral art meticulously selected to take into account eye-line view, as well as a stunning desktop lounge arrangement that sits under the vessel's voluminous white sails. An
Armani
Casa-like feel extends to guest cabins with acid-washed oak details and personal details such as cashmere throws and pressed linens. Twizzle's showier perks include a swim platform that lowers off its rear in virtually any water depth.
Those looking for a bit more history can opt for a charter of the iconic Cristina O, the infamous motor yacht owned by Aristotle Onassis and Jackie Kennedy-Onassis. There's also the lesser-known
, a standout in the charter industry, inspired by the "Corsair" yachts built in the early 20th century and owned by the likes of financier J.P. Morgan. A new Nero was built in 2008, capturing the iconic Corsair silhouette of Morgan's infamous cruising yacht but infused with all the prevailing technology and contemporary styling demanded of a modern luxury yacht.
A total of 12 guests arrive to a wrap-around promenade deck of Burmese teak and series of outdoor resort areas that include a foredeck pool with four separate lounges connected to an indoor "snug" hideout. Interior walls lined in ash and limed oak paneling define a grand staircase that connects the main living areas, library and dining salon. Those footing the bill find a master stateroom like few others, including a private sitting room and his-and-hers bathrooms. For those a bit more active than the late Morgan, Nero offers five jets skis and Seabob underwater scooters for those too fabulous for snorkeling fins, as well as a custom-built 31-foot classic cabin cruiser tender for grand arrivals at St. Tropez's Club 55 or the Hotel du Cap.
The Siren
lights up many a Mediterranean harbor with its German-built 241-foot facade and evening rooftop deck, which comes with its own outdoor cinema and film library. In terms of design, soothing monochromatic interiors are accented in dark hardwood floors, and there's a 20-person dining parlor, modern art collection and series of staterooms connected by a private elevator. A lido-style lounge deck offers its own outdoor bar as well as rear boat resort deck with jacuzzi and double teak staircase leading to a swim platform ready for its French paparazzi close-ups. As for hidden perks, the boat features a Novurania Custom Line tender, three-person wave runners and on-ship gym for pre-beach club workouts.
Those looking for a little more value in a summer Mediterranean charter can opt for the 121-foot Couach yacht called
Kadimo's
, which has a sleek design that cruises at 25 knots through its key Western Med destination. With room for up to 10 guests, a sexy white and navy profile offers forefront lounge deck as well as rear-ship dining area with lower-level swim platform. Inside, neutral colors contrast with dark woods and wrap-around windows in the central living area, complete with French satellite TV to follow summer's Olympics or Roland Garros action. The ship's smaller size allows for better availability in harbors from St. Tropez to Cap Ferrat with a price tag of some $155,00 for weekly rental ideal for those implementing austerity programs for their summer charters.
Michael Martin is the managing editor of JetSetReport.com, a luxury travel and lifestyle guide based in Los Angeles and London. His work has appeared in InStyle, Blackbook, Elle, U.K.'s Red magazine and on ITV and the BBC.