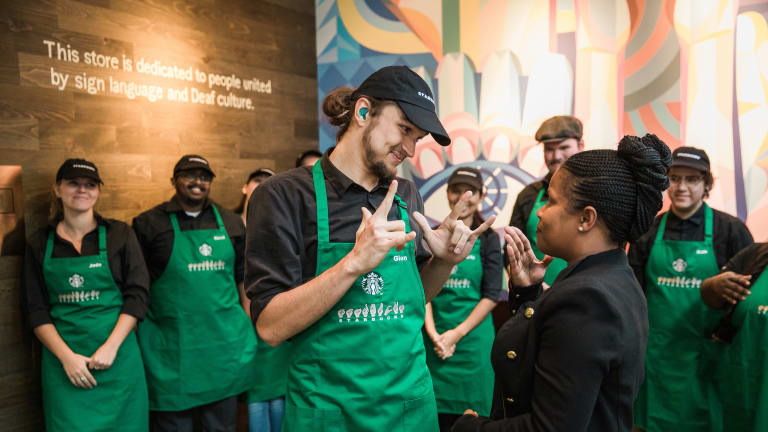 Starbucks Opens Shop for Deaf, Hearing Impaired
Starbucks has opened its first sign language store, located in Washington, D.C.
Starbucks Corp.  (SBUX) - Get Starbucks Corporation Report has opened its first store catering to the deaf and hard of hearing in the U.S.
Called the Signing Store, the Washington, D.C., location is near the intersection of 6th and H streets close to the campus of Gallaudet University for the deaf and hearing impaired.
The American Sign Language-centric coffee shop offers staff proficient in ASL. Staff either wear green aprons embroidered with Starbucks logos in sign language hand symbols or traditional branded aprons with pins that say, "I Sign," to show they have gained proficiency in signing.
The coffee giants said the store not only serves those who are deaf or hard-of-hearing, but also aims to teach others about "deaf culture, like seeing the way Deaf partners interact with each other, or being a hearing customer able to communicate with partners and order a beverage without speaking a word."
Staff of the store are also a mix of deaf, hearing impaired and those without disabilities.
Up to three of every 1,000 children in the U.S. are born with some level of hearing loss, and about 15% of American adults over 18 have some difficulty hearing, according to government statistics.
Starbucks set to release its fourth-quarter earnings on Nov. 1.