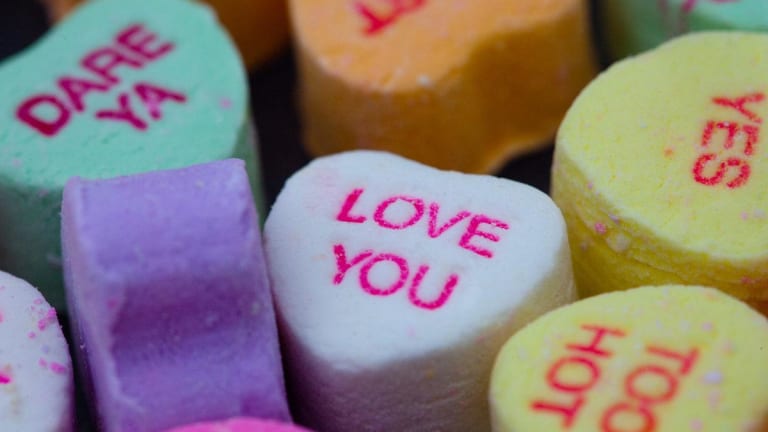 Sweethearts Candies Won't Be Available This Valentine's Day
You're not likely to find the classic 'Be Mine' heart candies on the shelves this Valentine's Day.
You're not likely to find the classic 'Be Mine' heart candies on the shelves this Valentine's Day.
Sweethearts, the iconic "talking" hearts and arguably the most popular Valentine's Day candy, won't be there when you do your last-minute gift shopping.
The famous messenger hearts, with lines like "Be Mine" and "Love You," won't be available this year, according to Spangler Candy Company. Spangler bought both Sweethearts and NECCO wafers in September 2018.
Despite the enduring popularity of Sweethearts candies, the company that produced them, New England Confectionery Co. (NECCO), struggled financially. Last March, it filed for Chapter 11 bankruptcy. The company was put up for sale, and several months later was purchased by Round Hill Investments. Round Hill proceeded to sell both the brands and equipment for Sweethearts and NECCO wafers to Spangler, which was previously known for its Candy Canes and Dum Dum lollipops.
The time of inactivity between NECCO filing for bankruptcy in March and Spangler purchasing Sweethearts in September meant the company did not have time to produce the amount of hearts needed. In a press release from Spangler, Chairman and CEO Kirk Vashaw said, "There are a lot of manufacturing challenges and unanswered questions at this point, and we want to make sure these brands meet consumer expectations when they re-enter the market." Vashaw also said he and the company "look forward to announcing the Sweethearts relaunch for the 2020 Valentine season."
Sweethearts candies, first created in 1901, are among the absolute most popular candies when it comes to Valentine's Day, a holiday that leads to big business for some candy companies. CandyStore.com estimates that Valentine's Day candy brings in $1.8 billion, and claims that NECCO would produce as many as 8 billion Sweethearts a year.