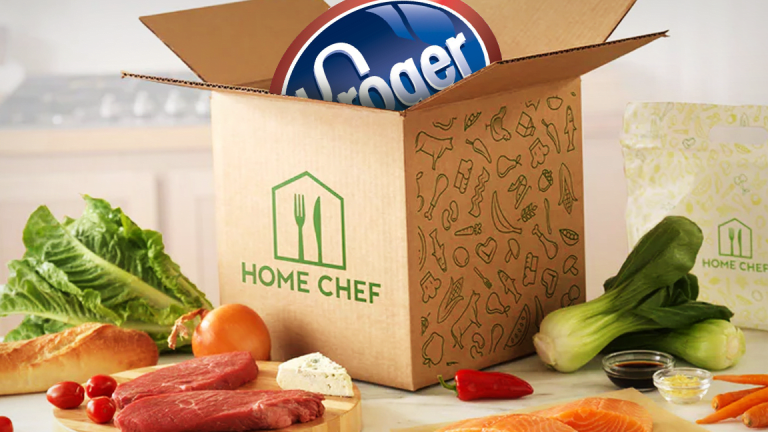 Kroger, Walgreens Want to Crush Amazon With Food Service Push
Kroger and Walgreens are advancing their partnership by expanding the number of drugstores that will sell Kroger's food and meal services.
Kroger Co. (KR) - Get Report and Walgreens Boots Alliance, Inc. (WBA) - Get Report  are hungry to sell food together, upping the number of Walgreens drugstores that will offer food and meal services from the Ohio grocery chain.
Kroger is both expanding its meal kits program to 65 Walgreens stores around Chicago and building on the Kroger Express test program with the drugstore, said the company Tuesday, Dec. 4. Kroger Express will move into a total of 13 Walgreens in Kentucky, not far from Kroger's headquarters in Cincinnati, in a continuing test to feel out demand for the program. They started with one store earlier this fall; 12 more locations are set to roll out in early 2019.
Through Kroger's Home Chef's Express business,shoppers at the Chicago Walgreens will be able to purchase meal kits with a starting cost of $17 for two servings. 
Kroger Express offers some 2,300 products -- including meal kits, organic foods, dairy and meat -- that are selected using customer data analysed by 84.51°, a subsidiary of the grocery chain. Customers can order the products on kroger.com then pick it up at Walgreens.
The moves come as grocers face tighter competition, after Amazon bought health food supermarket chain Whole Foods Market last year. Various food startups have cropped up around the country as well, offering food delivery subscriptions services and alternatives to the typical in-store shopping of a generation ago.  
Shares for Kroger were down about 1% and Walgreens about a 0.5% by 10 a.m.