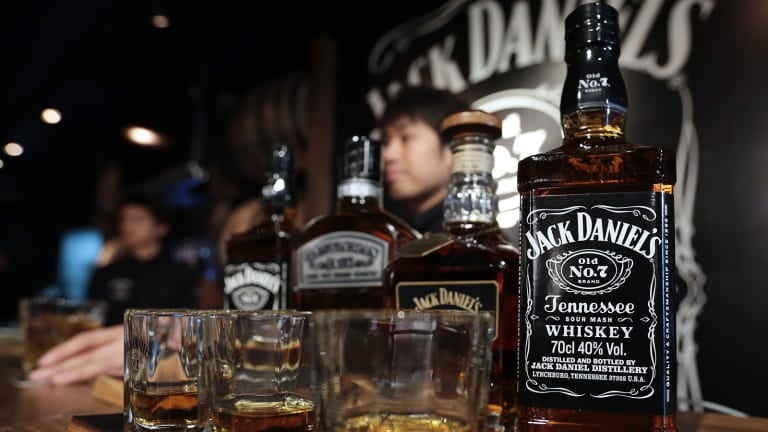 Brown-Forman (BF.B) -- owner of Jack Daniel's -- saw a steady drip down of shares on Wednesday as the liquor and wine company released mixed quarterly earnings.
The company posted earnings per share of 47 cents for the third quarter -- up 20% from the same time last year and ahead of analysts' expectations. 
But net sales only increased by 3% from a year earlier to $904 million. Brown-Forman said third-quarter sales were hurt by a percentage point because of lower net prices to distributors in certain markets used to offset tariffs.
Operating income rose 4% to $320 million.
"Our portfolio of premium spirits brands delivered solid rates of sustained sales growth, led by the strength of our bourbon and tequila brands, as well as the international expansion of the Jack Daniel's trademark," said Lawson Whiting, Brown-Forman's chief executive, said in a statement. 
Among the strong sellers for the quarter were Jack Daniel's brands, which reported 2% growth; Super-premium American whiskey brands, including Woodford Reserve, that rose 21%; and Herradura that rose 9%.
Mexico was a strong customer for the company -- thanks to sales of Herradura, New Mix and el Jimador -- and so was Russia. Sales also increased in Poland. Sales also increases throughout the year to China, Ukraine and India.
For the entire 2019 fiscal year, Brown sees competition ahead and takes note of recently enacted "retaliatory" tariffs on American whiskey, it said.
Assuming tariffs remain in place, Brown expects earnings per share of $1.65 to $1.75 for the full year.
Shares declined 6.66% to $48.06.